A weekend trip to the Charlottesville area also coincided with the birthday of Thomas Jefferson. Of course, we had to celebrate the occasion by visiting Virginia wineries located near Jefferson's home, Monticello. On our list of places to go was Keswick Vineyards, and fortunate for us we met up with award-winning winemaker, Stephen Barnard. Stephen treated us to a tasting of current releases, samples of upcoming releases and in the process gave us his impressions of the tricky 2011 harvest.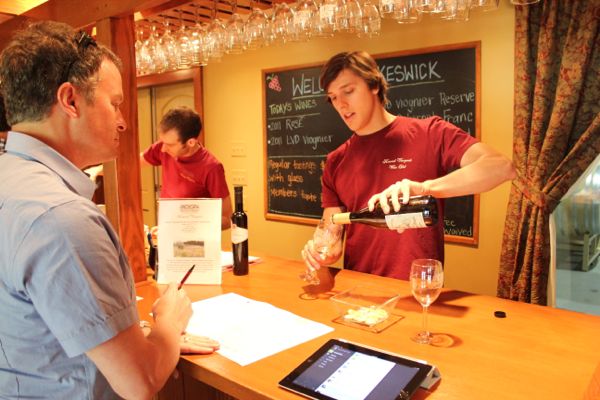 Of the current offerings, my favorites was the 2010 Viognier with its honeysuckle and coconut aromas and flavor of apricot; it also offered a heavier mouth-feel thanks to barrel fermentation and aging in neutral French oak barrels for ten months. The 2010 Cabernet Franc was my favorite red with its aromas of violet and mixed red berries; it presented a spicy edge to boot! However, the 2009 Les Vent d'Anges Rives Red should not be ignored. Made from the Syrah grape, its smoky nose and dark fruit flavors should partner well with any thing that moos.
We were interested in 2011 wines, though, and Stephen was more than willing to oblige us with samples of current and upcoming releases from the vintage. Some are already in bottles. One version of a 2011 Rose was made from Cabernet Sauvignon and recalled fruity Spanish-style Roses with abundant red berry flavors. Another version that is now being poured in the tasting room is likewise dry but lighter with bright strawberry and melon flavors. Both presented a refreshing acidity. The 2011 Viognier Signature (which bears the signature of owner Al Schonberg) was similar to the 2010 Reserve; a well-balanced wine, tasters may think that it resembles Viognier produced from France. Rich yet fruity with some coconut aromas, I thought that it was delightful.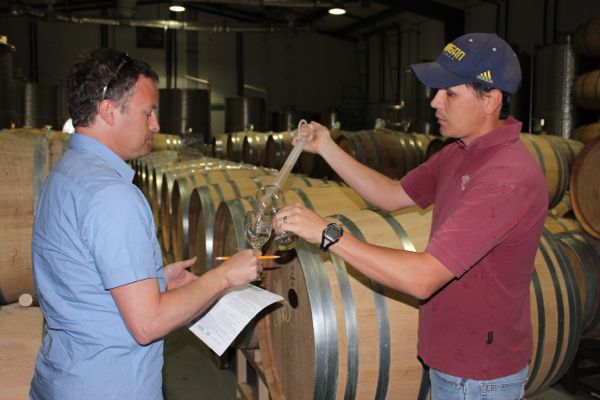 Stephen then treated us to several barrel samples. A couple of standouts here would include a big barrel of the 2011 Chardonnay. This was my favorite of the barrel samples. It was creamy, well rounded, and presented a nutty finish. Paul really enjoyed the sample from the 2010 Cabernet Sauvignon in American oak. It was fruit forward, with notes of sweet tobacco, cherry and raspberry. This will probably be blended with a barrel of 2010 Cabernet Sauvignon in a French oak barrel. Another interesting barrel sample came from the 2011 Norton in new American oak. Paul is not a big fan of Norton but enjoyed the fruity nature of this wine. Blueberry really came through. With the chance to try these barrel samples, we can see there are some great wines to come from Keswick.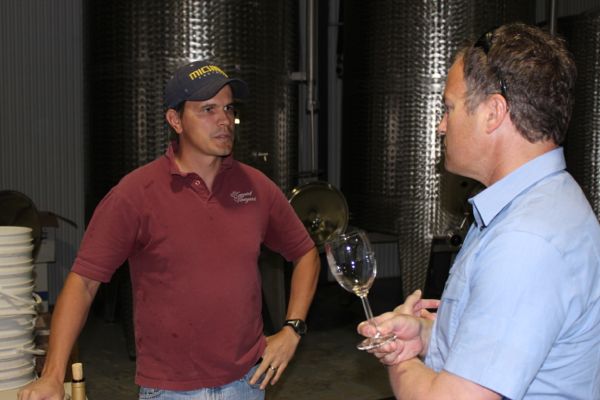 So what was Barnard's take on the 2011 growing season? "I think it was a good thing for winemaking in Virginia. The 2011 wines will present more acidity and more finesse than what is evident in the 2010 wines." Stephen's comments seem to represent a trend in opinions from winemakers across the state. Was it a troublesome season? Yes. Will it be impossible to make quality wines? No. Much of this will have to do with vineyard location, of course. However, the winemaker's diligence and skill will also play a role. We were very pleased with the 2011 samples that we tasted at Keswick Vineyards.
As we left Keswick Vineyards, we spied a Thomas Jefferson impersonator in period clothing and telltale red ponytail. We are sure that the original Mr. Jefferson would approve of the wines at Keswick Vineyards. Be sure to visit Keswick Vineyards, and remember to mention that you read about the wines at Virginia Wine Time.