Yes, mind the wines at Chester Gap Cellars—they are quite good. We made a pre-spring break visit to the winery, and as always, Bernd Jung's wines continue to impress.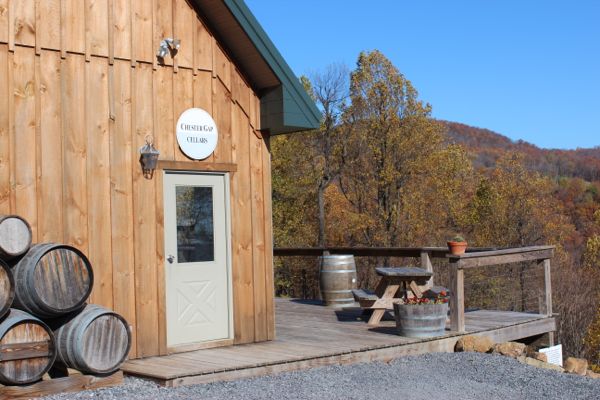 Our tasting started with the two dry white wines, the stainless steel fermented 2009 Viognier and the creamier Viognier Reserve that is aged in oak barrels. Guess who preferred the oaked version? I did, of course. The eight months of aging in oak barrels imparted a weightier mouth feel while presenting peachy fruit characteristics. Paul goes for the crisper white wines that stainless steel fermentation tends to produce. I actually liked this one too with its intoxicating floral notes and, as Paul noted, "really peachy flavors."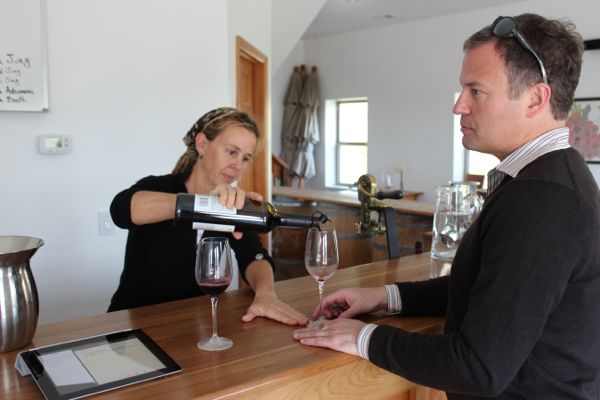 The red wines were likewise very solid. We both enjoyed the 2009 Merlot and appreciated its aromas of cherry, raspberry, dried herbs and sweet tobacco. We also noted similar fruit characteristics in the mouth, and Paul observed a "smooth finish." Paul is the Merlot fan, and he jotted down, "daily sipper" on the tasting sheet. The 2009 Cabernet Franc proved to be a bit bolder but also well crafted with characteristic dark berry, eucalyptus and spice elements. However, the ultimate red wine had to be the young 2009 Vintners Red. Aged for 24 months in oak barrels and just bottled in February, this blend includes 53% Cabernet Franc, 27% Merlot, and 20% Petit Verdot. Earthy elements prevailed; however, swirling coaxed dark fruit and spicy aromas to appear. Buy now but drink later is my advice; in fact, I purchased a bottle for a future dinner that may feature leg of lamb!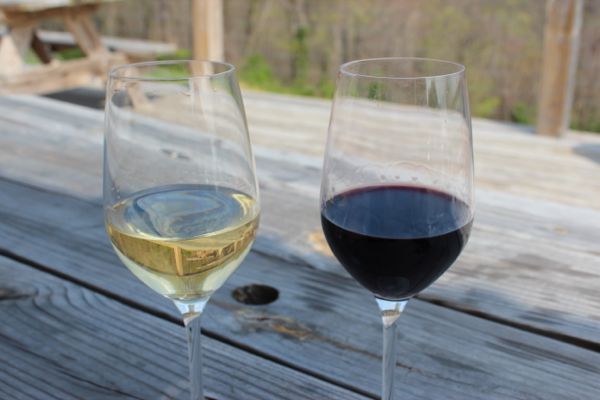 Our tasting finished with the 2010 Petit Manseng. We are starting to hone our knowledge on this upcoming varietal in Virginia as it is appearing more frequently on tasting menus in the state. This one was presented as more of a dessert wine with residual sugar just under 6%. We also learned that Bernd Jung has planted Rousanne vines, and we were treated to a sneak pour of a newly bottled Rousanne. We're not sure of Jung's plans for the Rousanne grapes, but we intend to keep up with this development.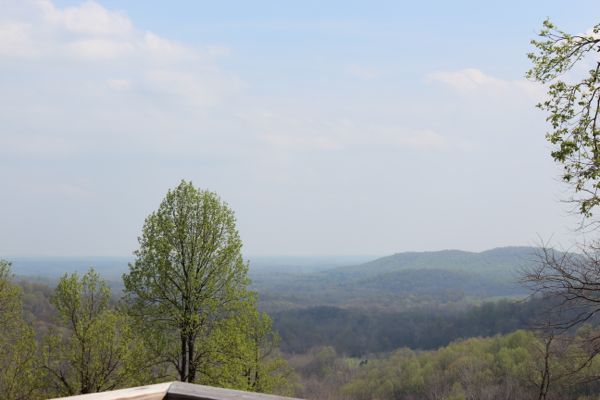 So as we tasted away at the tasting bar, Paul and I made note of the ever-present crack in the tasting room's cement floor, and our tasting associates confirmed that indeed the crack had become a conversation piece as well as a permanent fixture. In fact, a future plan may be some sort of social media site entitled, "Mind the Gap." We liked the idea as much as we enjoyed the wines. Paul and I shared a glass of the 2009 Merlot while enjoying a warm afternoon on the winery's deck. Of course, we made sure to purchase some of our favorite wines. Plan a visit to Chester Gap Cellars, and be sure to mention that Virginia Wine Time sent you.