Valentine's Day is now a fading memory, but we hope that love for Virginia is still in the air as we head toward spring. A recent visit to Philip Carter Winery found us participating in a blind tasting of roses from Virginia. The event was held on the snowy weekend before Valentine's Day, and it featured four rose wines from across Virginia including Philip Carter's 2011 Rose.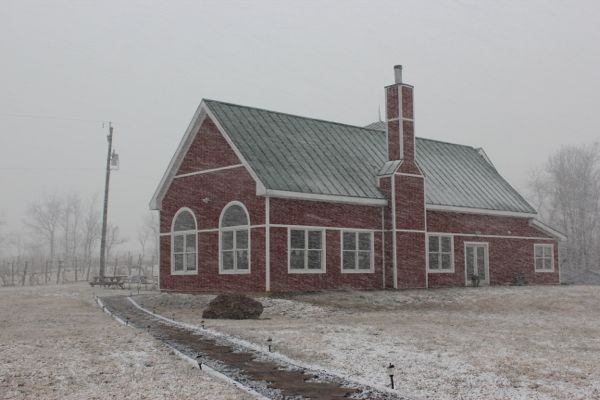 Tasters were asked to evaluate the wines based on color, aroma and taste. The blind tasting included the following wines: 2011 Danielle's Rose from Philip Carter Winery, 2010 Make Me Blush from Naked Mountain Winery, 2010 Rose from Veritas Vineyards, and the 2010 Fiore from CrossKeys Vineyards. (For novices, blind means that although we knew which wines were being poured, we did not know one wine from the other when they were poured into our glasses. The labels were hidden from view.) Our panel of four tasters judged wine #4 to be the best in all categories. Its salmon-pink hue and strawberry/melon aromas were classic characteristics of Old World rose wines. In the taste category, it again earned the unanimous "best in show" award. Crisp and bone dry, it presented flavors that mirrored the enticing aromas that wowed the small group of tasters. Wine #3 likewise earned praise from the group with some banter between Paul and another taster about the possibility of Wine @2 scoring higher in the aroma category. In the end, though, it was #3 that won second place. Like wine #4, it was crisp and dry, but its tone was a much fainter pink; the aromas and flavors were likewise quite similar but less vibrant.
Wine #2 did induce conversation. Paul and another taster really liked the more fruit forward aromas with this one; however, a sip revealed a sweeter wine that, while refreshing, put it at odds with Wines #3 and #4. Its color was also the darkest of the four wines and on par with some Spanish roses that are popular during the summer. However, I do tend to tire of these sweeter rose wines rather quickly unless paired with really hot, 5-alarm barbeque sauces served with grilled fare on a 105-degree day in August. After some discussion, we all concurred that while wine #2 had its place, a winter's afternoon (though a warm one by Virginia standards) was not one of them. That meant wine #2 placed third in the pecking order. Unfortunately, one of the rose wines had to finish last, and that was wine #1. Its color was somewhat similar to wine #3, but its nose suggested very sweet. And a taste revealed that it was sweetest of the contenders. I jotted down, "strawberry short cake in a glass." Paul drew a frown face next to it. I do believe that this rose wine can be best appreciated in the summer and like wine #3 is best suited for a hot day; in fact, I'd serve this as a dessert wine with cheesecake. However, next to the drier rose wines that were poured, it did seem less elegant and sophisticated.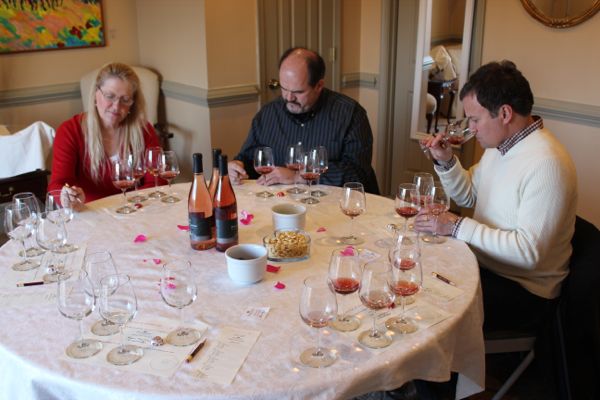 Okay—so which wines were which? Here they are:
1. Wine #4—2010 Rose from Veritas Vineyards
2. Wine #3—2011 Danielle's Rose from Philip Carter Winery
3. Wine #2—2010 Fiore from CrossKeys Vineyards
4. Wine #1—2010 Make Me Blush from Naked Mountain Winery
Rose wines have made a comeback in recent years, and we hope that the sickly sweet White Zinfandel craze that tarnished the reputation of rose is well behind us. As this tasting proved, Virginia wineries can produce some excellent rose wines. Before we left Philip Carter Winery, we made sure to purchase a bottle of the 2011 Danielle's Rose made from the Tinta Cao grape. I also made a note to procure a bottle (or two) of the 2010 Rose from Veritas Vineyards.
Whether your tastes for rose wines are dry or sweet, Virginia wineries are certain to have a rose or blush wine to please. Of course, you need to get on the wine trails to find out where your favorites are being produced. Visit the wineries mentioned in the post to conduct your own comparison but mention that Virginia Wine Time sent you.