Allan Liska of Cellarblog organizes an annual wine tasting fundraiser to help in the fight against multiple schlerosis. This year the event was held at Vinifera Wine Bar in Reston, and since it took place on February 12, just two days before Valentine's Day, chocolates from a local chocolatier called MC2 Confections were also served. Loudoun County wineries poured their wines at the event, and these included 8 Chains North, Fabbioli Cellars, Loudoun Valley Vineyards, Notaviva Vineyards, and Tarara Winery.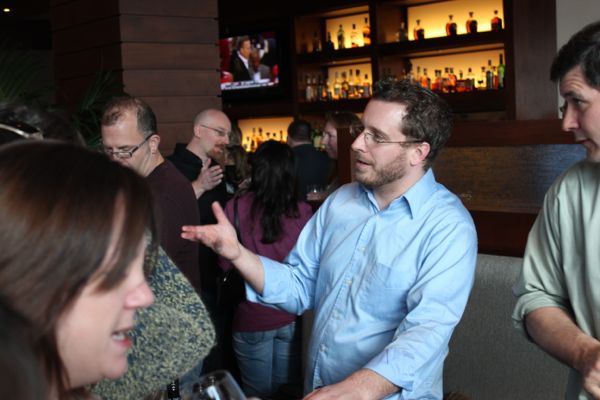 The bar was absolutely packed when we arrived as attendees lined up at tasting tables to enjoy tasting samples of Virginia wines. We also made certain to enjoy the chocolates. A favorite wine and dark chocolate pairing is always the Raspberry Merlot from Fabbioli Cellars. White wines were also poured, though, and I did enjoy a fume-style Sauvignon Blanc poured by Jordan Harris of Tarara Winery.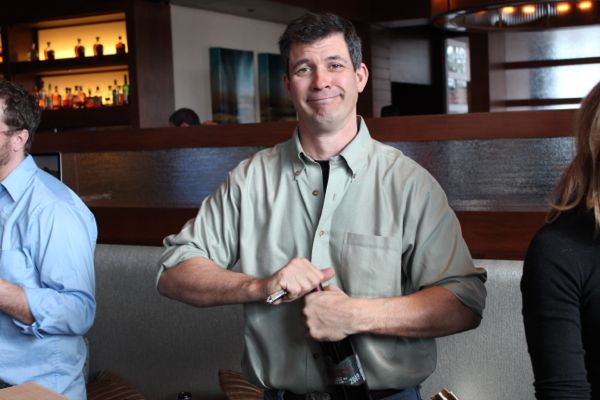 We also ran into the dynamic duo who write Swirl, Sip, Snark. We compared tasting notes and caught up with our travels on the wine trails.
Wine and chocolates are always a great way to celebrate Valentine's Day. It's even better when the wine and chocolates are locally produced and then team up for a good cause. Allan Liska's goal was to raise $4000 from the event, and we hear they surpassed $7000! That's great!
Vinefera was so packed for the successful event, it was difficult to take some decent photos. Even without the photos, we had a great time enjoying the wines and chocolates. If you visit any of the wineries mentioned or even MC2 Confections, let them know Virginia Wine Time sent you!