We always look forward to an afternoon at Linden, and we make certain to sign up for the cellar tasting. Linden fans know that these tasting are verticals of white, red and dessert wines, and they allow tasters to compare vineyard-specific wines from the Boisseau, Avenius, and Hardscrabble sites. On a recent occasion, we were able to sample three 2009 Chardonnays, three 2008 red blends, and one dessert wine. Our favorites are presented here.
Readers already know the differences between the three sites and the wines that they produce, so no need to repeat that information here. (See previous posts to find out more about them.) A brief summary, though, might provide some review and perspective. The Boisseau Vineyard is the warmest site with more vigorous soils; they tend to produce the most accessible wines. Avenius Vineyards are on higher elevations and features very rocky, flinty soils while the Hardscrabble site is located on rocky slopes that contain granite and clay soils. Hardscrabble wines tend to be more complex.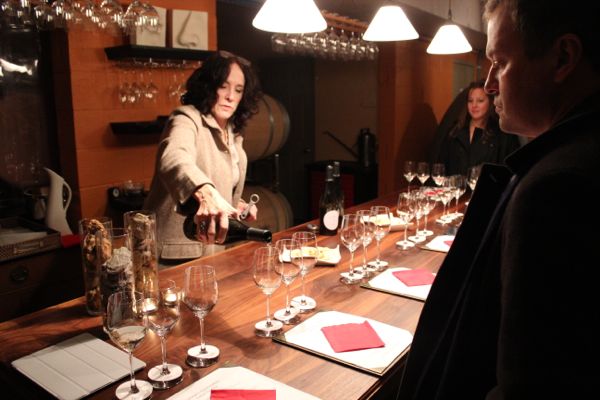 With that review in mind, I'll present our favorites at the cellar tasting. Our first vertical presented three 2009 Chardonnays, one from each site. We both concurred on the 2009 Hardscrabble Chardonnay. A true Burgundian-style wine, this complex Chardonnay was truly exquisite with floral, citrus and pear aromas; a tart apple flavor component suggested a crisper wine. My second choice was the rounder Boisseau Chardonnay that seemed more New World compared to the Hardscrabble. A creamier texture and toastier edge suggested a more food-friendly wine, but I'd sip it on its own.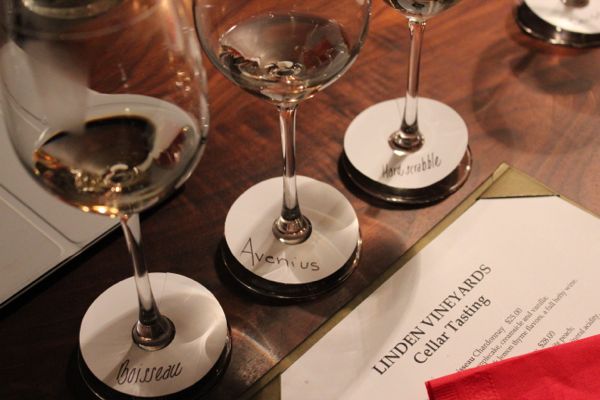 We reached a split decision on the red wines. I favored the complex 2008 Hardscrabble Red with its dried berry and cocoa flavors. I underlined the words firm and dusty on the tasting sheet, so I concurred with those notes. I'm a big Hardscrabble Red fan anyway, so my decision may have already been made before I tasted the 2008 vintage. Paul preferred the more fruit-forward Boisseau Red; Petit Verdot prevails here and may explain the darker fruit and spice components that he noted on the tasting sheet.
The 2006 Late Harvest Vidal concluded our tasting, and it was paired with a Gorgonzola cheese. Lovely apricot, citrus and honey elements prevailed here, and it was a decadent way to end the experience.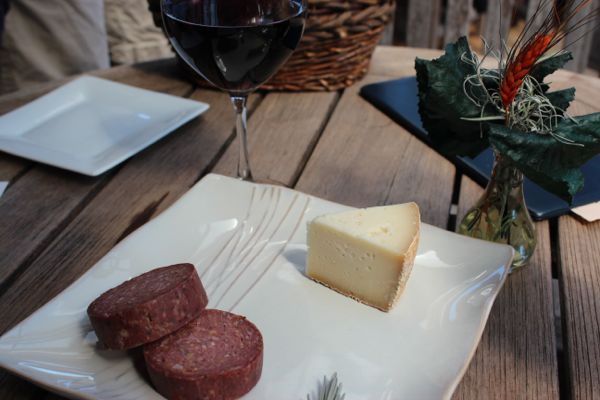 With our tasting done, we opted to enjoy summer sausage and cheddar cheese on the veranda while gazing upon Linden's gorgeous mountain views. Jim Law promises a Zen experience, and he does indeed deliver. We enjoyed a glass of the featured library wine, the earthy 2003 Claret with our lunch. 2003? The year of Hurricane Isabel? Yes, it offered proof that experienced and diligent wine makers can make quality wines even in off years. Smoky aromas with dried fruit and tobacco notes were observed, and tannins were velvety smooth. It proved to be the perfect local wine to enjoy with local foods and local landscapes.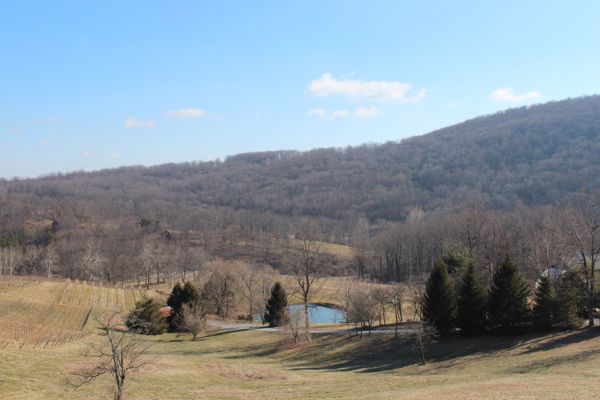 Plan a trip to Linden and be sure to participate in the cellar tasting. A knowledgeable staff member conducts these sessions, and you are sure to get an education in micro-climates, vineyard-specific sites, and the wines that are produced by the premier winemaker in Virginia. Be sure to mention that Virginia Wine Time sent you.