This past weekend we headed to Breaux Vineyards to pick up my latest Cellar Club selections. While there we decided to do a tasting to see what had been added to the tasting menu. We were treated to a few vertical tastings of new wines and some classics. While we enjoyed all of the Breaux wines, I'll only inform you of the wines that were included in our vertical tastings.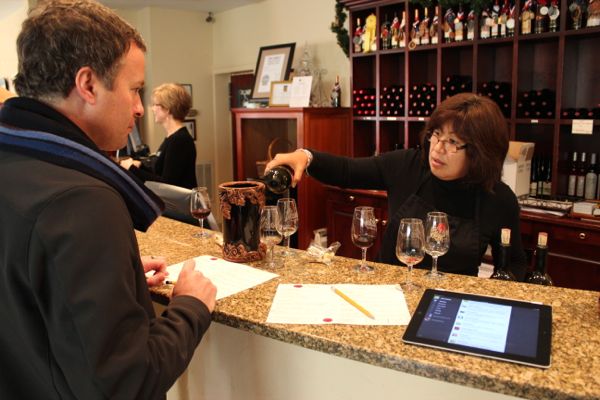 We began with merlots. Breaux is now tasting the 2005 and the 2006 at the tasting bar. Our favorite tasting associate Silvia, walked us through our tastings. The 2005 Merlot is a wonderful wine. We noted cherry, chocolate, dark fruit, and finish that was smooth. We thought this one could be enjoyed on its own or with food. The 2006 Merlot presented early, herby characteristics with acidic notes. We noted spice, plum, and cherry. We think this one needs another year or two to be a superb wine. We suggest you purchase it now and let it sit on your rack to enjoy in the years to come.
Our second vertical consisted of the cab sauvs from 2005, 2006, and 2008. Warren and I were split on our gold stars for the cab sauvs. I preferred the 2008 with its fresh, fruity, sweet nose with bright berries and light tannins on the tongue. The 2008 was a perfect example of the fruity characteristics I expect from a 2008 red. Warren selected the 2005 for his gold star. He described it as a classic cab sauv. He noted dark cherry, pepper, coffee and chocolate and noted the subtle oak would accompany food rather well. We both thought the 2006 presented a green characteristic (not green pepper though) with wet wood notes. We both think this one will get better with time.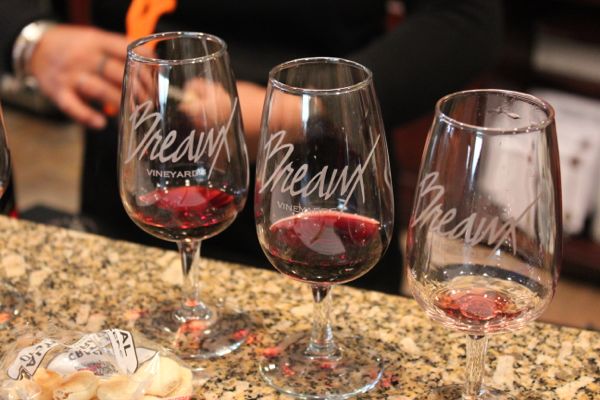 Our final vertical included the 2006 Nebbiolo and the 2008 Barrel Select Nebbiolo. Our gold star went to the 2008 Barrel Select Nebbiolo. We noted a fruity nose with blackberry and dark currants in the mouth. We noted the chewy quality of this wine. The 2006 Nebbiolo presented herb, spice, tobacco, tar, and coffee. This one also had a chewy quality to it.
We really enjoyed our chance to taste so many vintages. We were excited about the Cabernet Sauvignons. So much so we are planning to attend the Cabernet Sauvignon Vertical tasting on January 14th. If you are planning to attend the event, let us know so we can all sit together. And if you visit Breaux Vineyards anytime soon, be sure to tell them Virginia Wine Time sent you!