Many of you know that my favorite wine of the moment is petit verdot. Petit verdot is used all over the state as a blending grape. While many winemakers do an excellent job of using it as a blending grape, I think a stand alone petit verdot is the way to go. I've had several stand alone petit verdots from Virginia and I do think it will become a more prominent grape but until more wineries create a stand alone, I'll continue to enjoy those that have seen the light.
Last spring Stephanie at Gadino Cellars gave us a barrel sample of the 2009 Petit Verdot. At that time we thought it was showing very well and anticipated its release. Last weekend we visited Gadino Cellars and Derek presented us with a preview bottle of the 2009 Petit Verdot. Oh how we love getting to taste wines ahead of their release. The 2009 Petit Verdot from Gadino Cellars will be released this weekend.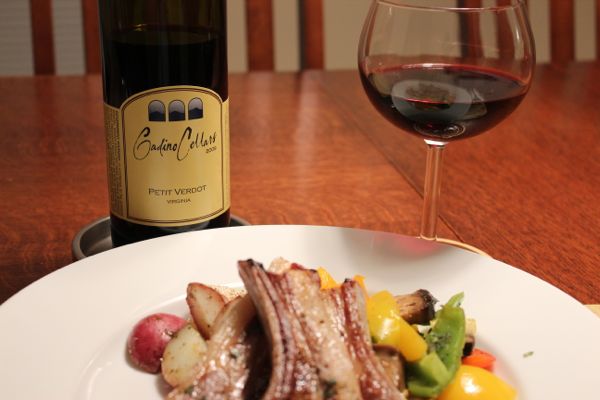 Last night for dinner we had lamb chops, roasted veggies, and red potatoes. What better wine to pair with this meal than the 2009 Petit Verdot. On the nose we noted dark plum, dark cherry, crushed dried herbs, and tobacco. In the mouth we noted similar characteristics of dark plum, dark cherry, and a creamy caramel finish. Warren detected a mocha component to this more complex wine. It paired beautifully with our meal.
Tasting this wine made me think about the 2008 reds. I wondered if I was enamored with 2008 reds or was I enamored with characteristics of 2009 reds. Such a dilemma. We decided we need to taste more 2009 reds. Either way, we completely enjoyed this 2009 Petit Verdot from Gadino Cellars. We suggest you get your bottle soon and enjoy this 2009 Petit Verdot. And you know, if we don't like something, we don't write about it. If you visit Gadino Cellars anytime soon, be sure to tell them Virginia Wine Time sent you!