Last Sunday Warren and I headed to Loudoun County for a day of horseback riding and wine tasting. We began the day at Providence Farm for a trail ride. There was still snow on the ground and fall colors in the trees. Besides the beautiful views, we saw deer, all kinds of birds, and other wild life. After our memorable trail ride, we headed to Breaux Vineyards for some wine tasting. We were also there to pick up my latest Cellar Club selections.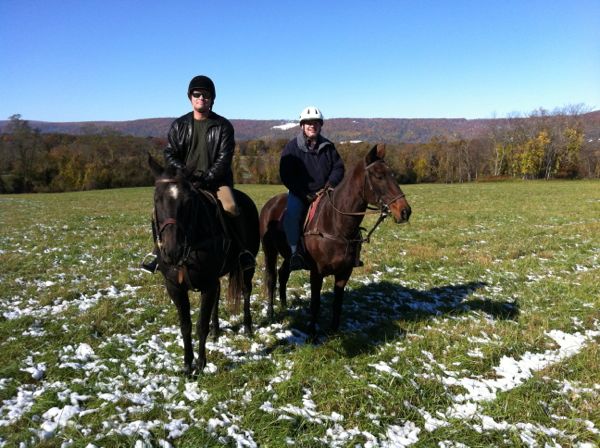 The snow on the ground with the fall colors on the trees made for some beautiful pictures at Breaux!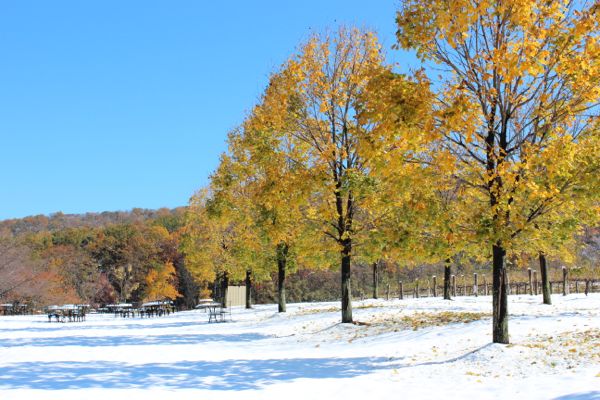 One of our favorite tasting associates Silvia conducted our tasting. We always enjoy chatting about wine with Silvia when we visit Breaux Vineyards. We've tasted all the wines on the regular tasting menu several times but enjoy seeing how they are evolving in the bottle. The 2010 Viognier is really evolving. We tasted it for the first time at the Wine Bloggers Conference back in July. We then tasted it again in September. This time we noticed honeysuckle really standing out. It's a complex wine that will continue to delight our palates. The non-vintage Equation is also evolving nicely in the bottle. Each time we taste it something different arrives on our tongues. This time the plum and berry flavors really stood out. This one is a great sipper and would go well with pizza or burgers.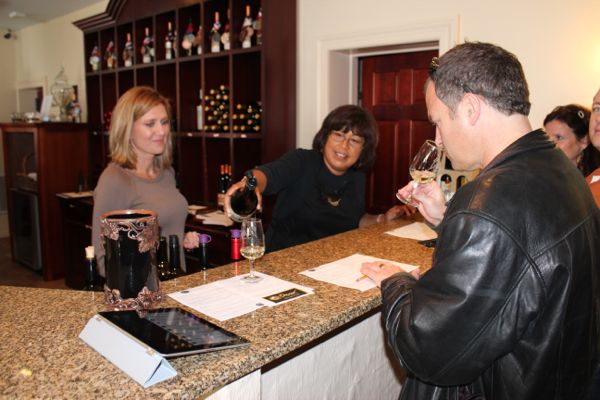 During our tasting we were able to chat with Jen Breaux and taste some of the Cellar Club selections. We were able to taste the 2010 Lot 10-08. This is a blend of Chardonnay and Seyval Blanc. Its light and crisp and presents citrus and stone fruit notes. It had a tart finish with a hint of merinality. I decided this one would make a great sipper for the beginning of a dinner party. I brought home two bottles for that exact reason. The 2008 Six Degrees is a blend of Nebbiolo and Barbera. Warren noted violet, plum, blackberry, dried fruit, and tobacco. He thinks it would pair well with prime rib. Yum!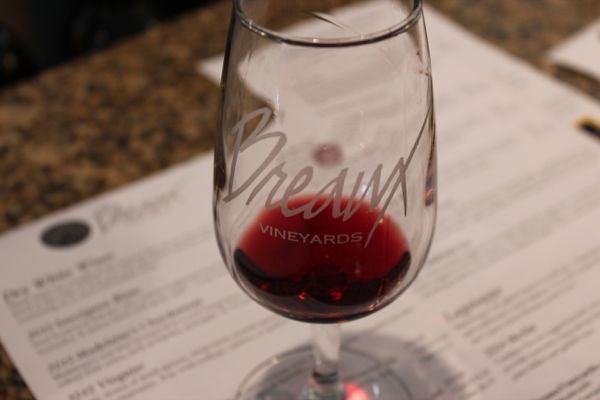 After our tasting we enjoyed some of the 2010 Lot 10-08 with cheese and baguette slices. Jen treated us to a glass of the 2001 Nebbiolo! Thanks Jen! The 2001 Nebbiolo is a stand out wine. It is developing beautifully in the bottle. Its light and smooth and is effortless to enjoy. If you ever get the chance to try this one, you simply must. We had a great afternoon at Breaux enjoying the wines and running into our friends Jeff and Stacey! If you visit Breaux Vineyards anytime soon, meet some friends, enjoy the wine, join the club, and be sure to tell them Virginia WIne Time sent you!