We had friends over for dinner this past Saturday, and we decided to pour Virginia wines as aperitifs.  After all, it is Virginia Wine month!  Guests were greeted with the Governor Fauquier from Philip Carter Winery and Sarah's Patio White from Chrysalis Vineyards.  Both were off-dry wines and produced from the Vidal Blanc grape, a Riesling-like hybrid that grows very well in Virginia.  Like Riesling, Vidal Blanc is very fruity and refreshing, so some of the appetizers that I served with these wines were a bit spicy. Some of these dishes were captured by Paul, the cameraman.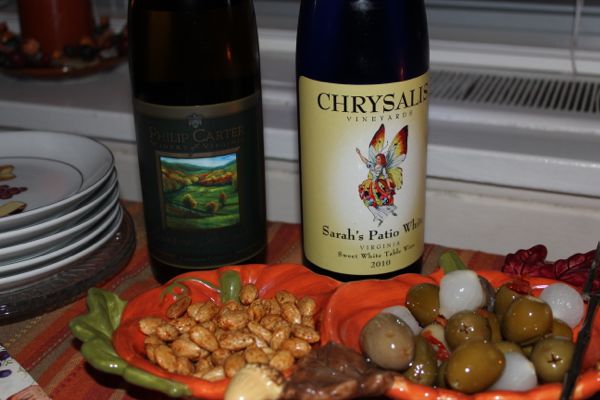 Cheeses: Brie topped with hot peach chutney, or for the faint of stomach, plain brie and red grapes.
Nuts: Chili-lime flavored almonds; plain almonds for the wimps.  Not sure if olives pair with these wines, but the gourmet olives were stuffed with sun-dried tomatoes and were absolutely delicious! 
Meats: Smoked salmon
So what was on tap for the rest of the evening? I did splice in a couple of Napa wines from Clos Pegase winery; one was a Sauvignon Blanc that I sampled at a wine tasting and thought it was unique—tropical fruit flavors (as opposed to cat pee/grapefruit) with a refreshing acidity that seemed a perfect match with an acidic tomato dish.  The other was a Cabernet Sauvignon that has been resting on the wine rack for several years, but according to the wine mags, needed to be appreciated now.  And indeed it was appreciated!  It was quite good with the beef; however, the fruitier Virginia offering was very well-received by my dinner guests. A number of Virginia meritage blends would have paired quite nicely with my beef dish; however, I went with the Gray Ghost option based on my experience at the Gadsby's Tavern winemaker dinner which featured the Ranger Reserve with a very similar beef dish.  Empty wine bottles indicated that the Virginia option was as popular as the California one. 
Anyway, here was the menu:
Fresh tomato soup paired with Clos Pegase Sauvignon Blanc 2009 
Garlic-herb crusted beef tenderloin with roasted potatoes and squash paired with Clos Pegase Cabernet Sauvignon 2005; Gray Ghost Ranger Reserve 2008
Pumpkin bundt cake served with Gray Ghost Adieu 2006
Community Brand Coffee and Chicory (found only in New Orleans)