The latest addition to the growing list of Loudoun County wineries will host its grand opening this weekend. 29 Vines will officially open its tasting room located in Purcellville on Saturday. Paul and I visited the tasting room before the official grand opening just to get a sneak preview of what tasters can expect.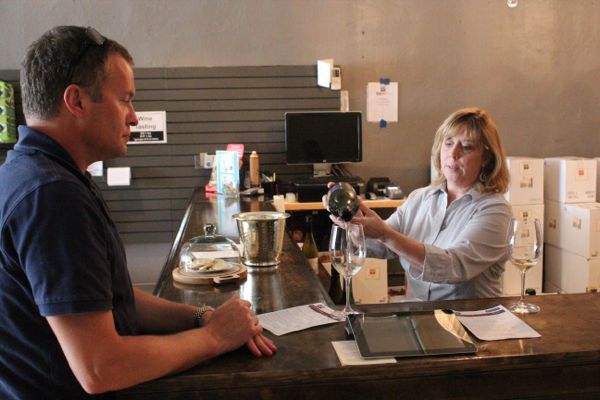 Owners Matt and Mary Beth Barbagallo describe 29 Vines as a "micro-winery…dedicated to delivering wine education, excellent customer service and unpretentious wines." Matt Barbagallo is also the winemaker, and he studied under local guru, Jim Law, to learn winemaking skills. He produced his first vintage of Chambourcin, Cabernet Franc and Merlot in 2009. Mary Beth is operations manager and also designed the tasting room's interior to create a contemporary yet classic feel that blends in with the local area's historic surroundings. In keeping with the stated goal to deliver wine education, the Barbagallos pour wines from other Loudoun County wines in addition to their own. These include pours from Tarara Winery and Fabbioli Cellars. Wines that bear the 29 Vines label are produced from the couple's 29 grapes vines located in their own vineyard as well as grapes grown in other Virginia vineyards.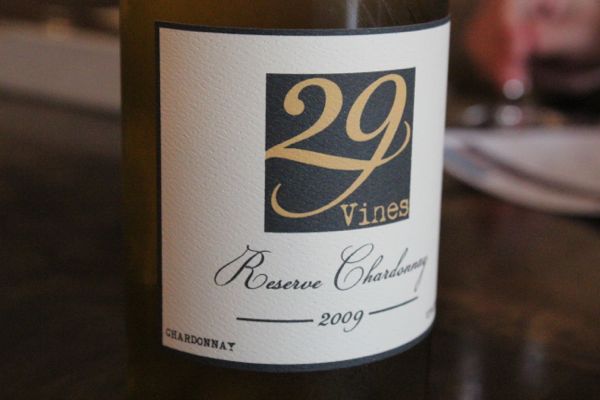 The samplings from Tarara Winery present some of the best from Tarara winemaker Jordan Harris. These include the crisp 2009 Tarara Viognier, 2009 Tarara 3 Vineyards Chardonnay (one of my faves), 2008 Cabernet Franc, and the 2008 Long Bomb Edition 2. Fans of Fabbioli Cellars Raspberry Merlot will be also pleased to try this luscious dessert wine in the 29 Vines tasting room. Offerings from the 29 Vines production include barrel-aged 2009 29 Vines Reserve Chardonnay, the 2010 29 Vines Sweet Rebecca Lynn, 2010 29 Vines White Chambourcin, and the 2009 29 Vines Karma. The 2010 Sweet Rebecca Lynn is a blend of Traminette and Seyval Blanc and is actually not that sweet; at .5% residual sugar, it's an off-dry pour with floral notes and tropical fruit and citrus flavors. A food-friendly crowd pleaser, it could also be enjoyed on its own. The Bordeaux-style Karma is a Merlot-based blend with wild berry/cherry characteristics that should open up nicely after some time on the wine rack.
Another unique twist offered by 29 Vines is the tasting room hours—Friday through Monday from 12 PM to 10 PM. From classy happy hours to late evening wine gatherings with friends, 29 Vines can accommodate and educate!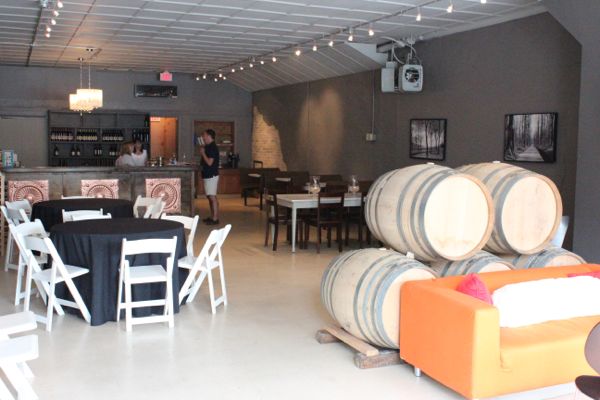 With our tasting done, I enjoyed a glass of the Reserve Chardonnay while Paul sipped a glass of the Sweet Rebecca Lynn. We also admired the tastefully appointed tasting room that included elegant chandeliers and lighting fixtures. These created a soft, unpretentious atmosphere that invited tasters to stay a bit longer. However, we did eventually have to leave, and we thanked Mary Beth for guiding us through our tasting. Please plan to attend the grand opening of 29 Vines in Purcellville, and mention that Virginia Wine Time sent you.