Our late summer swing through the distant wines regions of Virginia brought us to the Southern Virginia Region and a trip to Annefield Vineyards. We've sampled Annefield's wines at wine festivals, but we have never been able to trek out to the tasting room for a full tasting of wines. Owners Stephen Ballard and Michael Leary graciously accommodated a Monday tasting for us, and at the end of our tasting, a case of Annefield Vineyards' wine found its way into the car!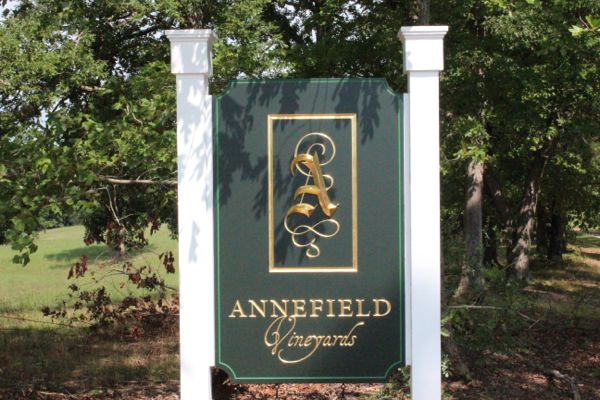 The vineyards and tasting room are located on historic countryside property south of the James River. The tasting room was renovated by Ballard and Leary to reflect its 19th century elegance and grace and in fact was once a plantation house built in 1858. Ballard and Leary purchased the house in 2005 after it had been neglected for many years, and they restored the house so that it could be used as both a weekend home and tasting room. It is worth the effort to visit the winery's website to compare photographs of the house in its dilapidated state with those of the current house in its restored glory. The contrast is quite remarkable! And the interior is well appointed with antique pieces that could fit quite easily into a traditional-contemporary setting. All that we needed to feel at home was a glass of wine!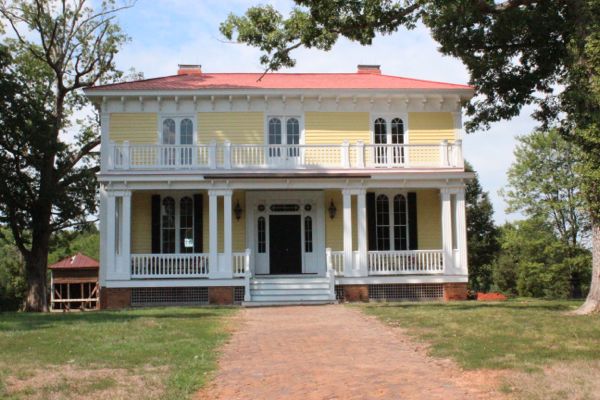 And wine we did receive! On tap for tasting were four white wines that included the 2009 Chardonnay, 2009 Viognier, 2010 Viognier, and the Annefield White. All were well crafted. The elegant 2009 Chardonnay was an immediate favorite with its tropical notes and vanilla finish. Nice on its own, I'd like a glass of this one with shellfish. Of the Viogniers, Paul liked the 2009 Viognier with its melon flavors and crisper finish; however, I preferred the 2010 Viognier with its bright honeysuckle nose, tropical fruit flavors and fuller mouth feel. Poultry or fish served with a cream sauce should partner well with this more complex Viognier. While we expect summer to fade into fall, the Annefield White, a blend of Chardonnay, Rkatziteli and Vidal Blanc is a fruity crowd pleaser and could be served on the patio after work or before dinner alongside appetizers.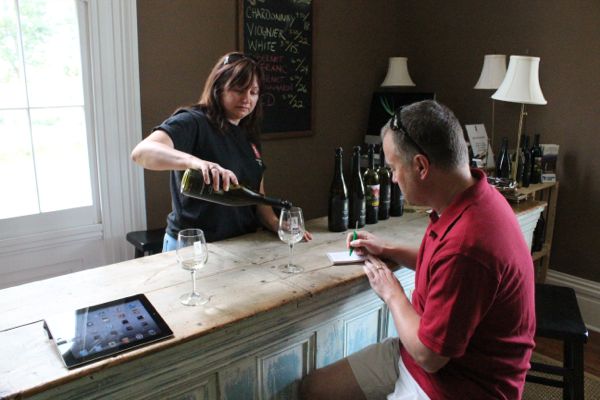 The red wines were likewise well made, and these included the 2009 Cabernet Franc, 2009 Cabernet Sauvignon, and 2008 Annefield Red. We both agreed that the well-structured 2009 Cabernet Franc was the favorite; it presented classic raspberry and plum characteristics with nuances of dried herbs and black pepper. With fall around the corner, consider the 2009 Cabernet Franc as an option for Thanksgiving dinner! It's still summer, though, and with steaks or chops still sizzling on the grill the 2008 Annefield Red should pair nicely. A blend of Cabernet Sauvignon, Cabernet Franc and Merlot, this Bordeaux-style blend with its dark berry elements and tobacco notes was fuller-bodied yet accessible.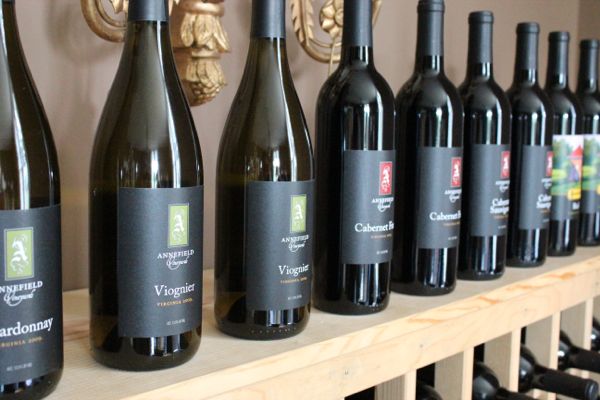 Owners Stephen Ballard and Michael Leary have assembled an outstanding team of experts who have created a solid line up of wines. Renowned winemaker Michael Shaps crafts the wines for Annefield Vineyards, and expert viticulturist Joyce Rigby serves as winery consultant. Of course, excellent wines are made in the vineyard, and the Annefield Vineyards benefit from excellent rocks and soils that date back to the Precambrian period. The soils profiles include descriptors as "strongly acid" and "low in natural fertility", qualities that are much desired for wine-producing grapes. In addition, a 500-foot elevation provides for optimal air drainage., Ballard and Leary started the vineyards in April 2006 with plantings of Viognier, Cabernet Franc, Cabernet Sauvignon, and additional plantings were added in 2011 that include Vermentino, Pinot Grigio, and Vidal Blanc.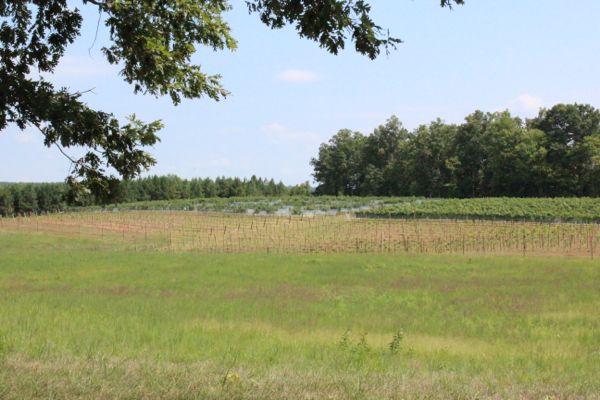 With our tasting done and case of wine procured, we bid adieu to Annefield Vineyards with a promise to return. Be certain to visit Annefield Vineyards and mention that Virginia Wine Time sent you.