We continue to recount our winery experiences in the southwestern part of Virginia, and this post will feature three wineries in the scenic Blue Ridge Region: Abingdon Vineyard and Winery, Attimo Winery, and West Wind Farm Vineyard and Winery.
Abingdon Vineyard and Winery: This place gets an A+ for scenic beauty—a babbling stream, majestic trees, and a mountain view located in the quaint mountain town of Abingdon, the setting seemed like something out of the Waltons (that TV show in the 1970s about John Boy, Jim Bob, Mary Ellen, Bubba Joe, etc.) Lots of wines to taste here, and the winery offered six wines for a complimentary tasting; therefore, we each picked six different wines to taste and then compared notes. Of the dry white wines, Paul liked the crisp 2009 Viognier that was aged in stainless steel tanks and presented citrus notes and flavors. For those who like oakier white wines, the 2009 Chardonel was aged in oak barrels for 15 months, and it exhibited pear flavors and a toasty finish. Of the red wines, the 2009 Chambourcin with its smoky nose and dark fruit nuances might be one to serve with burgers or grilled beef. Abingdon Vineyard and Winery is located near the Virginia Creeper Trail enjoyed by hikers, bikers, and horseback riders, so readers who plan to take a hike in that area should take advantage of that trail's proximity to Abingdon Vineyard and Winery for an after-hike wine tasting!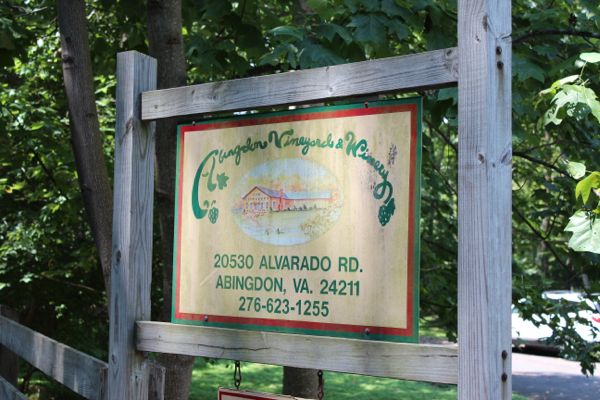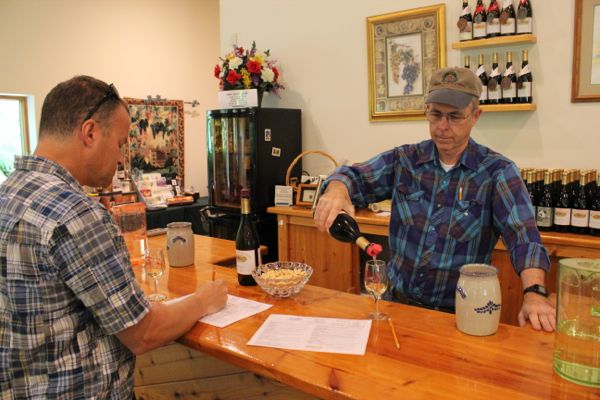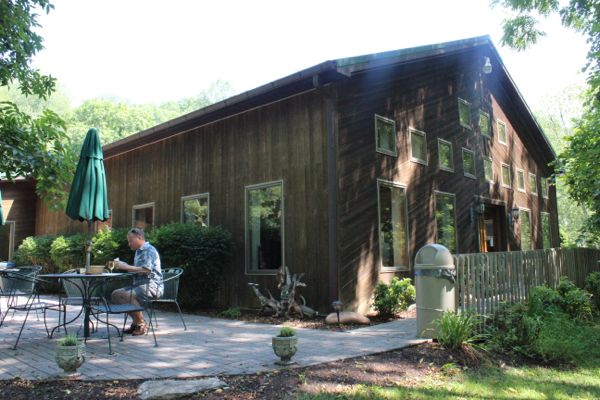 Attimo Winery: Owners Rik and Melissa Obiso opened Attimo Winery in July 2011. Before opening the winery, they spent years learning the winemaking business and made certain to select only the best property to grow vines. The term Attimo roughly means "live the moment" and the wines are named after special moments. Our tasting was conducted at a small dining table in the new tasting room, and John, our tasting associate, wheeled the cart of wines to our table to provide us with an expert tasting. Of the white wines, our most special experience was with the Sonnet 98, a crisp Vidal Blanc with floral notes and tropical fruit flavors. The label also bears Shakespeare's Sonnet 98, so literature buffs may develop a personal connection to this one! Of the red wines, we preferred the 2010 Deep Silence made with Cabernet Franc. Aged for nine months in French oak barrels, we noted a smoky nose and raspberry flavors. It's called Deep Silence because owner Rik Obiso was so impressed with the quality of the wine as it developed in the barrel that when he tasted it, the wine left him in a moment of reflective silence.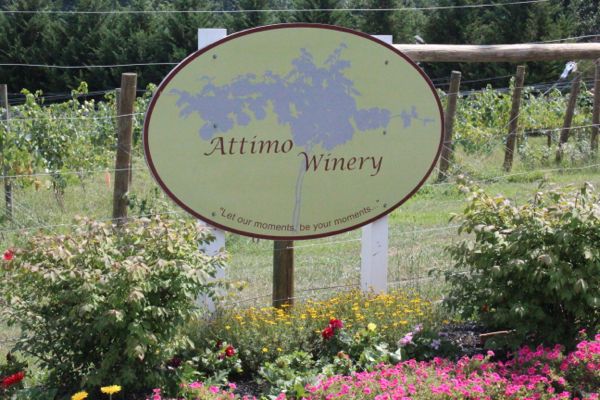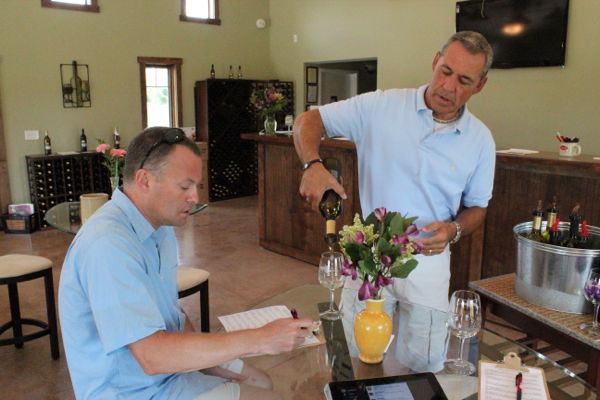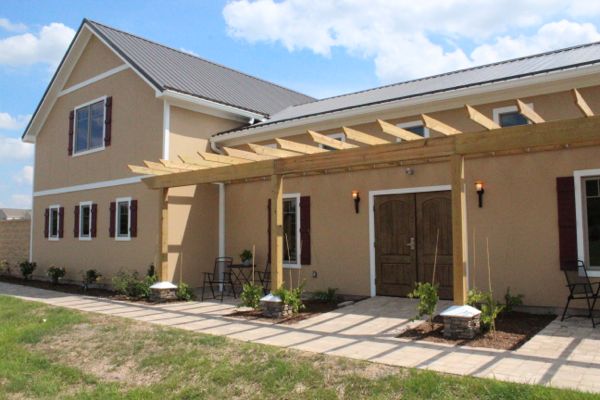 West Wind Farm Vineyard and Winery: We were the first wine bloggers to visit West Wind Farm Vineyard and Winery back in 2007, so we made certain to pay another visit this time around. David Manley was on hand to conduct our tasting, and this began with our favorite of the white wines, the 2010 Galena Creek White. This dry wine was made with Vidal Blanc with one-third of it fermented in Minnesota oak and the remainder fermented in stainless steel tanks. Nice melon aromas and flavors with a mineral finish made for a nice sipper especially on a hot day. Of the red wines, I found the 2008 Chambourcin to be quite nice. Its smoky/peppery nose and plum flavors was easy to sip but could be served with a barbeque dinner. Paul preferred the more complex 2009 Heritage Reserve made from selected lots of Cabernet Sauvignon, Merlot and Petit Verdot. It was certainly young, but swirling produced a whiff of violet along with notes of dark cherry, plum, and black pepper. Paul noticed a lengthy finish to boot.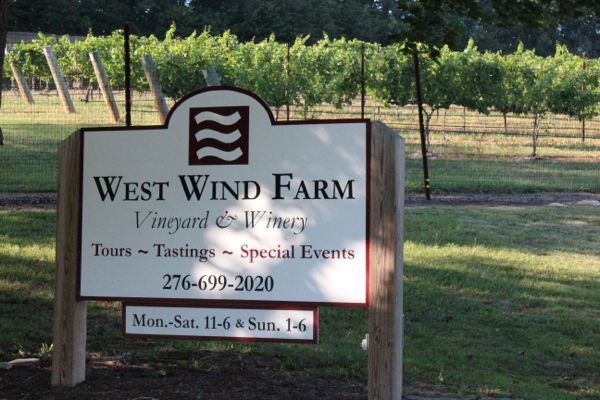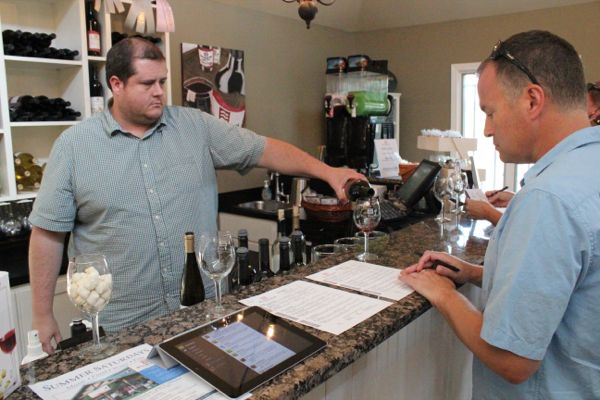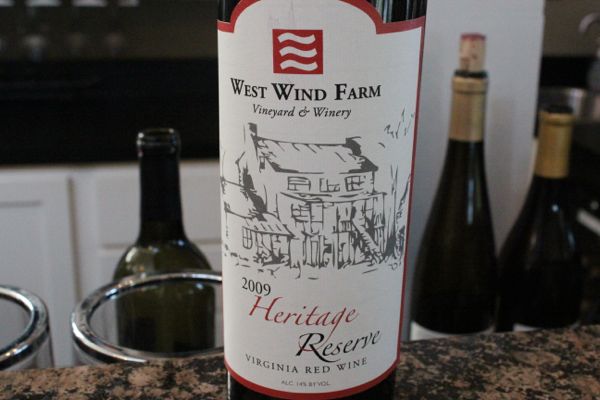 We still have more to report from our swing through the southern-most portions of the state, so stay tuned for continued posts about the trip. In the meantime, be certain to visit these wineries and mention that Virginia Wine Time sent you.