We survived hurricane Irene last night. We had lots of wind and rain but very little damage and the power never went out! While weathering the storm we decided to enjoy some Pollak Vineyards wines with our nibbles and dinner. We haven't been to Pollak Vineyards in awhile so we need to see what new wines are on the tasting menu.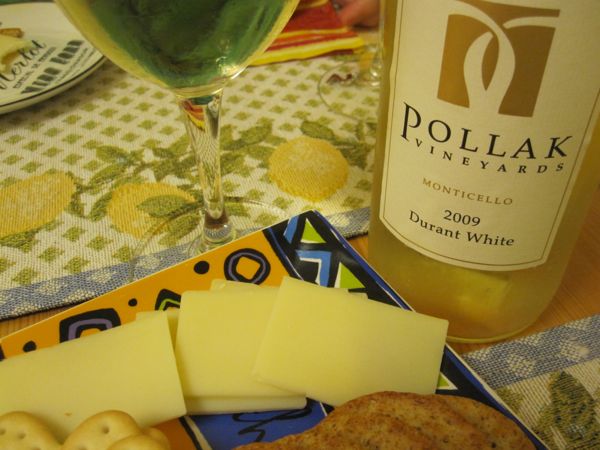 To begin our evening we started with the 2009 Durant White from Pollak Vineyards. We selected cheese and crackers to accompany this wine. We noted apple, pear, and citrus on both the nose and in the mouth. It paired well with our cheese and crackers. We wondered if the 2010 is as crisp as this one. This was my last bottle so we'll have to get some more soon.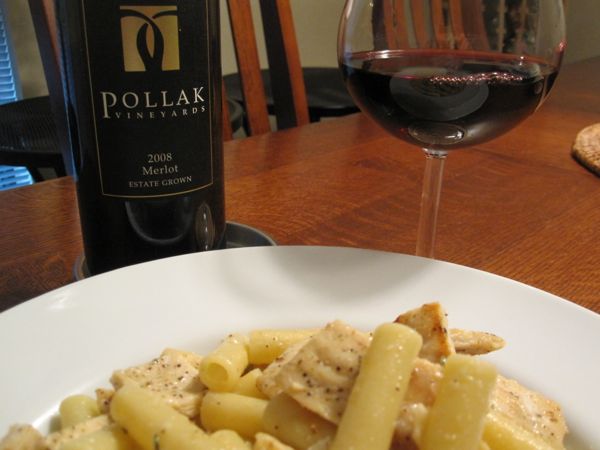 For dinner we made a chicken and pasta dish. Since we just had a white wine with our nibbles, we decided we needed something a little bigger but not too big. We selected the 2008 Merlot from Pollak Vineyards. This is a medium bodied wine with lots of fruit characteristics. Since I'm currently enjoying the 2008 reds, this one was just as I expected. We noted lots of dark fruit…plum, dark cherry, blackberry…with a really smooth finish. It was the finish that made it possible to continue to sip this one well after we finished our meal. Yet another reason to get to Pollak Vineyards soon and check out the latest vintages. If you visit Pollak Vineyards anytime soon, tell them VIrginia Wine Time sent you!