We have been preparing for hurricane Irene. Warren bought caned foods, water, and batteries. He's a veteran hurricane survivor and knows just what to do to prepare for such a storm. As part of our hurricane preparedness, we enjoyed some Virginia wines last night around dinner time.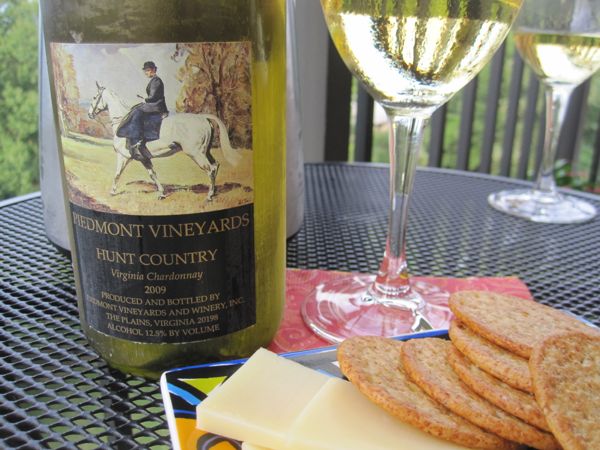 Our hurricane preparedness sipper was the 2009 Hunt Country Chardonnay from Piedmont Vineyards. We enjoyed this wine with some swiss cheese and crackers while sitting on the balcony trying to enjoy the humid weather. We noticed a whiff of pineapple and pear on the nose and a touch of citrus and a crispness in the mouth. Of course it paired beautifully with our cheese and crackers. It also helped manage the humid temperatures on the balcony.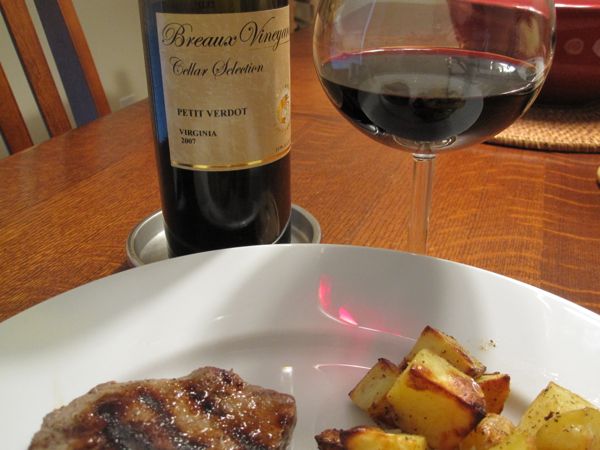 For dinner we opted to move indoors and enjoy the air conditioning. We were having steaks and roasted potatoes for dinner and we selected the 2007 Petit Verdot Cellar Selection from Breaux Vineyards. This was a perfect wine to prepare for the oncoming hurricane. We noticed characteristics of concentrated dark fruit, lots of dark plum, dark cherry, leather, tobacco, and carmel. Warren even noticed some pepper. We did pour it through the Soiree to help give it some air as we filled our glasses. When we poured the last drops into our glasses, we were wishing we had another bottle! The wine paired wonderfully with our dinner choices.
Are you prepared for the hurricane? Make enjoying some Virginia wine part of your preparing for the storm. If you happen to visit Piedmont Vineyards or Breaux Vineyards in the near future, tell them Virginia Wine Time sent you!