We had a very busy weekend and had the chance to enjoy some really nice Virginia wines. Each evening there was one wine that stood out. While we normally write about all the wines we enjoyed, we thought we'd focus on just two this time. Unfortunately I didn't have my big spiffy camera to take some nice photos. The first one was taken with the iPad and the second was taken of an older vintage of the same wine.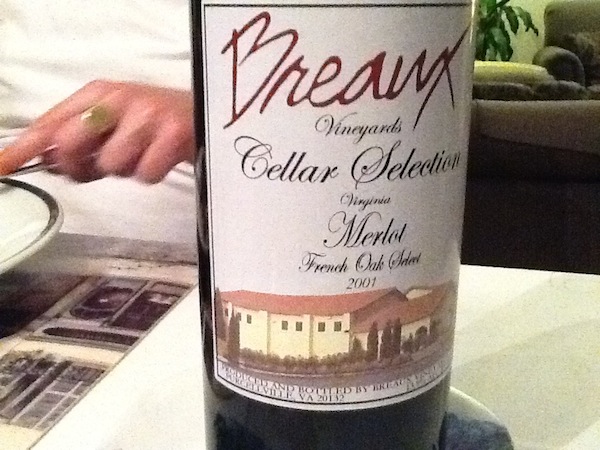 On Saturday evening we decided to have some nice filets for dinner. Warren selected the 2001 Cellar Selection Merlot French Oak Select from Breaux Vineyards. How many ten year old Virginia wines do you get excited about? This one was amazing. We opened it about an hour before dinner just to let it breath. We had thick filet mignon, roasted potatoes, and veggies for dinner. This wine went perfectly with the filets. It started with a dark fruit nose which gave way to dark fruit and tobacco flavors in the mouth. What amazed me was how smooth it was. Ten years in the bottle treated this wine well. Even after dinner we continued to enjoy just sipping it. It's the kind of bottle you don't want to end. The next time we're at Breaux, we need to see if they have any more!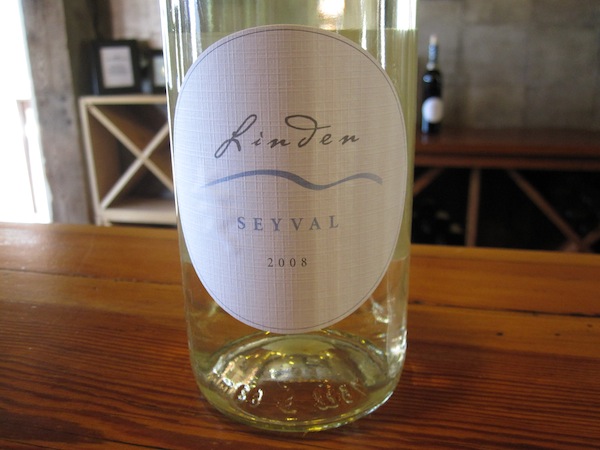 Sunday evening we had some friends over for dinner and served the 2009 Seyval from Linden Vineyards. We had this with soft cheeses, crackers, and olives. On the nose we noticed lime and melon. On the tongue we noted wonderful lemon flavors that complimented the cheeses and olives. The acidity and crispness of this wine was perfect for a warm evening. Our guests talked about how much they enjoyed it. I think I have one more bottle on my rack. Even though the weather has cooled down somewhat, this one still remains one of our summer favorites.
What wines did you enjoy this weekend? If you visit Breaux Vineyards or Linden Vineyards anytime soon, tell them Virginia Wine Time sent you!