This past week, Paul and I ventured west to the Shenandoah Valley AVA to visit wineries. Cave Ridge Vineyard was first on our list of wineries to visit; we sampled the wines at Cave Ridge Vineyard when owner and winemaker Randy Phillips first opened the winery in 2007. At that time, we were very impressed with the lineup of wines, and we were eager to see how things had progressed since that initial visit.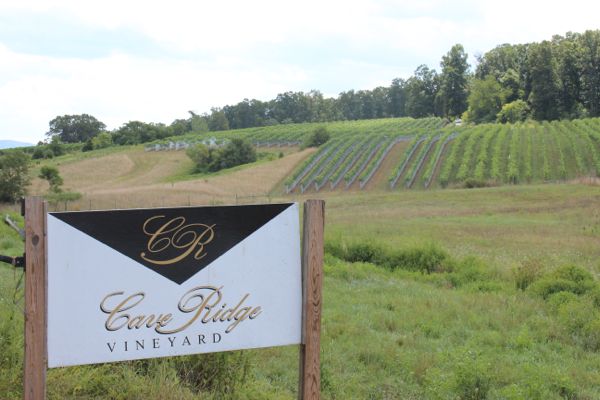 Since our 2007 trip to Cave Ridge Vineyard, a tasting room with a patio has been added. The shaded front patio includes a lovely fountain, and tasters can enjoy a glass of wine while admiring the mountain landscape. A walk through the patio brought us into the tasting room where we availed ourselves to a tasting of current releases. We were pleased with the Viogniers during our 2007 visits, and the current 2009 vintages are likewise quite solid. The crisp Viognier 2009 was done in stainless steel and presented melon and pear flavors; food friendly, it could also be enjoyed on its own. We both preferred the Viognier Barrel Aged 2009. Aged for eight months in French oak barrels, this one offered more floral aromas with tropical fruit characteristics, and a fuller mouth feel. I also detected a bit of vanilla at the end. Any creamy dish like risotto should pair nicely, but I'd also enjoy a glass with a nice brie and fresh fruit.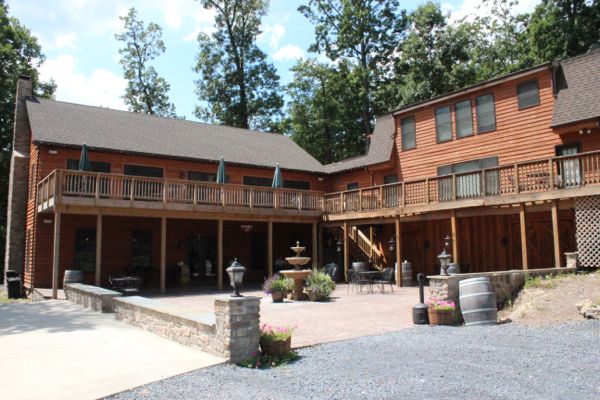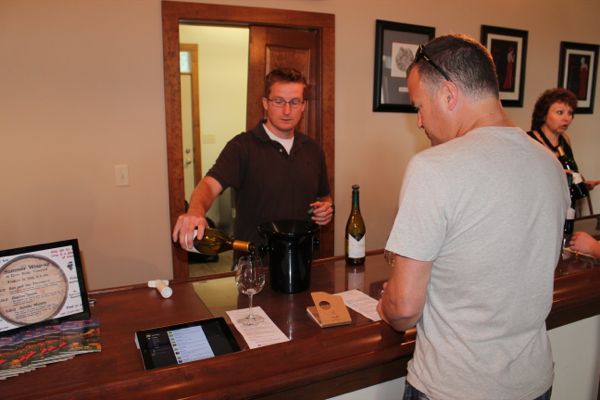 The red wines were also well crafted. With grilling season still in high gear, burgers and other grilled fare should match up well with the lighter-bodied 2008 Chambourcin and its berry and tobacco aromas. Our ultimate favorite, though, was the Fossil Hill Reserve 2008. Fossil Hill is not only the home to the vines that produced this more complex pour, but it is also the gravesite for ammonite fossils that are millions of years old. (How is that for some history!) Anyway, the more complex Fossil Hill Reserve 2008 blends Cabernet Franc, Petit Verdot, Syrah, and Chambourcin to present elements of dark cherry, plum, spice and mocha. Paul described the tannins as smooth, and I concurred. This one could age on the rack for a bit, but it is certainly ready for immediate enjoyment with a nice steak dinner. Randy Phillips offered us a sneak peak of the upcoming Fossil Hill 2009, and earthy aromas prevailed with this one complemented by brambleberry flavors in the mouth. It will be released in October 2011 and in time to celebrate Virginia Wine Month.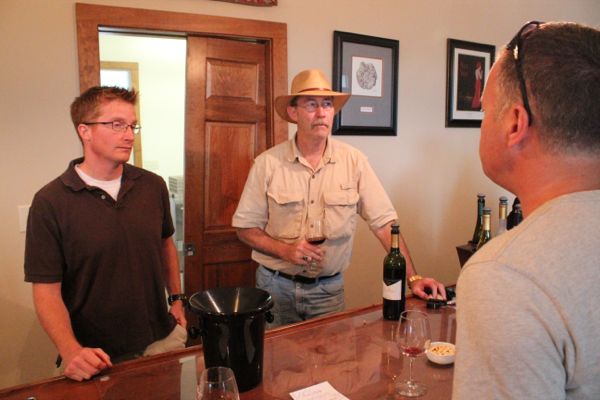 We chatted with Randy for a bit as we sipped at the tasting counter. His case production is currently at 2600 cases, and he will soon add a Cabernet Sauvignon to the tasting menu. Also, Cave Ridge wines can be tasted and enjoyed at Wine on the Water, a wine bar in Harrisonburg, Virginia. When I asked Randy about the 2011 growing season, his assessment was similar to other winemakers in the state—early! In fact, the Chambourcin was already in veraison. This then led to my next question—did the Shenandoah region have any particular challenges in regard to growing grapes? Randy Phillips replied, "Shenandoah is the future of the Virginia wine industry. Our limestone soils and elevations are most similar to Bordeaux and we have low rainfalls." It seems to us that Randy Phillips has exploited these advantages to produce some solid wines.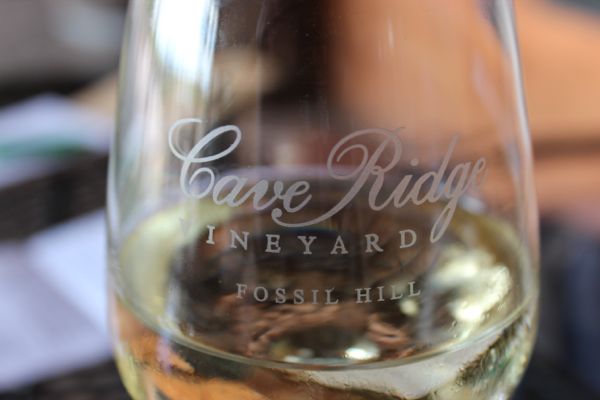 With our tastings done, we shared a glass of the Viognier Barrel Aged 2009 while relaxing on the patio. With the splashing sounds of the fountain and butterflies aflutter, it was hard for us to imagine a better way to spend the afternoon. However, all good things must end, and we made sure to purchase our favorites before we left the winery. Plan to visit Cave Ridge Vineyard, and be certain to mention that Virginia Wine Time sent you.