We continue to gradually add more wineries to our "visits" list, and Catoctin Creek Winery brings our total to 128. As readers may know, we attended the WBC 11 conference that was recently held in Charlottesville, and we met Jim Hanna, owner and winemaker at Catoctin Creek Winery, at the conference. To be more exact, we met Jim at the Monticello tasting event that was held at the historic Monticello residence. Jim was one of the winemakers who participated in the tasting, and we determined to pay Jim a visit at his tasting room to find out more about both the owner/winemaker and the wines.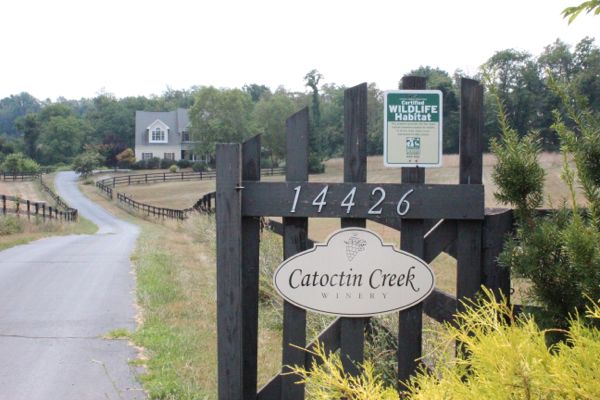 On a scorching hot day, we met Jim Hanna at his home in Loudoun County to chat with him and to sample his wines. His vineyard and tasting room are all located on his personal property, and the tasting room is located in the basement of his home. Jim started a vineyard four years ago with a small planting of Viognier. However, Jim quickly realized that just managing a vineyard was itself a full-time, challenging job. Having just retired from a career with the World Bank, Hanna wanted to pursue other passions that included winemaking and photography. With these goals in mind, he opted to buy fruit from established vineyards so that he could pay full attention to the skill of winemaking. Therefore, all grapes that are used by Catoctin Creek Winery are grown at either Breaux Vineyards or Fabbioli Cellars, and Jim Hanna plays an active role to monitor the progress of grapes as they evolve in the vineyards. And who are Hanna's teachers in the school of winemaking? Professors Dave Collins, former winemaker at Breaux Vineyards and now at Big Cork Vineyards, and Doug Fabbioli of Fabbioli Cellars consult with Jim Hanna to produce quality wines that bear the label, Catoctin Creek Winery.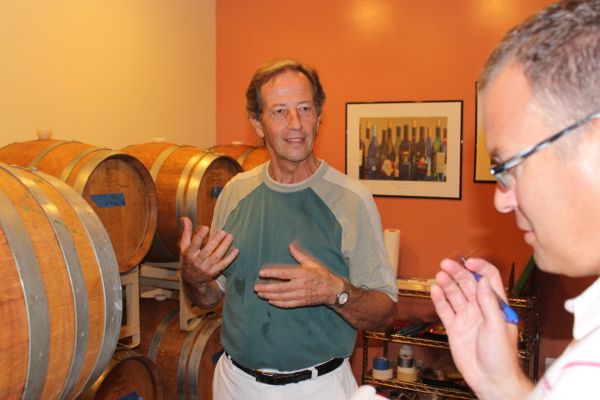 Jim Hanna began marketing his own wines in the spring of this year, and they are tasted in the basement of his home. A basement, you might ask? Words like moldy, dank, and dark might come to mind; however, Jim converted this space into an environmentally controlled facility that is actually quite comfortable. Given his small production level, now at 200 cases, it actually serves his needs quite well. A small room to the right of the tasting bar serves as a barrel room, and the twelve French oak barrels house wines from the 2008 through the 2010 vintages. Converting this space into a small tasting/barrel storage facility allows Hanna to keep overhead costs at a minimum; therefore, he can devote time and resources to his main focus—the production of quality wines.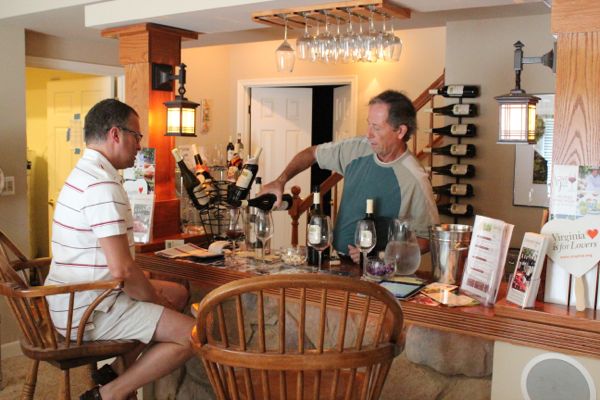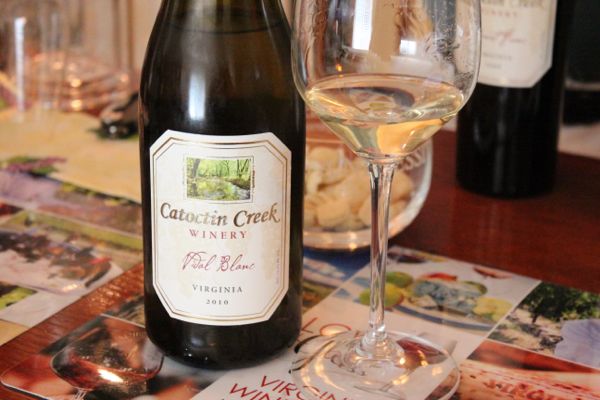 So what about the wines? Four wines were available for tasting, and these included a 2010 Vidal Blanc, 2009 Cabernet Franc, 2009 Syrah and 2009 Cabernet Sauvignon. The 2010 Vidal Blanc was our immediate favorite, and it presented tropical fruit characteristics with a refreshing minerality. Done in stainless steel, it is also bone dry and therefore quite versatile; serve on its own or with foods that might pair with a dry Riesling. We also enjoyed this one at the Monticello tasting event as did a blogger from California who ordered a case to be shipped out to his home! Of the red wines, we both preferred the 2009 Cabernet Franc with its notes of plum, dark cherry, and black pepper. Soft tannins made for an accessible, elegant pour.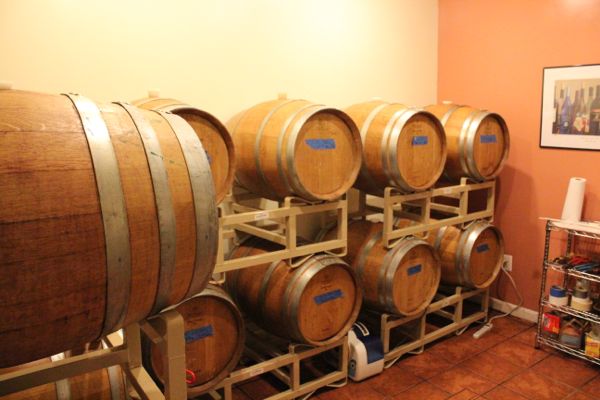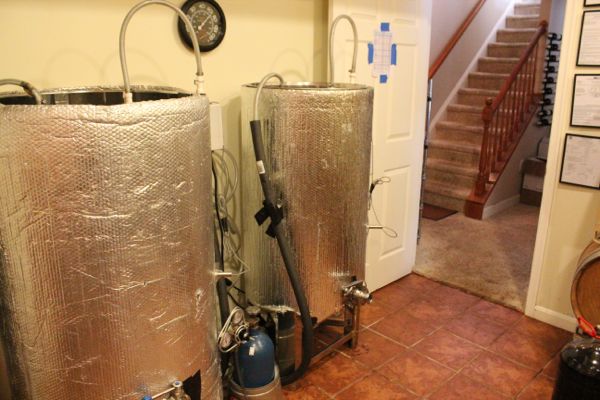 Future changes at Catoctin Creek involve the other two red wines—the very peppery 2009 Syrah and the 2009 Cabernet Sauvignon. True to his commitment to crafting quality wines, Hanna will change the future lineup of wines and phase out the Syrah with a Malbec. The 2009 Cabernet Sauvignon, which earned a medal for Hanna, will give way to a Bordeaux (or Meritage) blend.
As we swirled, sniffed and sipped, Jim continued to present his philosophy on winemaking. Among his many skills, Jim is also an expert photographer who sees winemaking as an artistic craft that is constantly being perfected; as the photographer captures a perspective in the camera, so too does the winemaker with grapes. The winemaker's point of view is captured in the bottle much like the photographer's is preserved in digital format. Therefore, Jim will continue to produce small quantities of wine that reflect his own winemaking philosophy in much the same way that pictures present his artistic philosophy. Sounds too serious? Actually, for Jim Hanna, this is all about "keeping it fun". After we sampled his wines and viewed his photographs, we can conclude that Jim Hanna is having a blast. Light-hearted and with a sense of purpose Jim Hanna and Catoctin Creek Winery are well positioned to experience further success.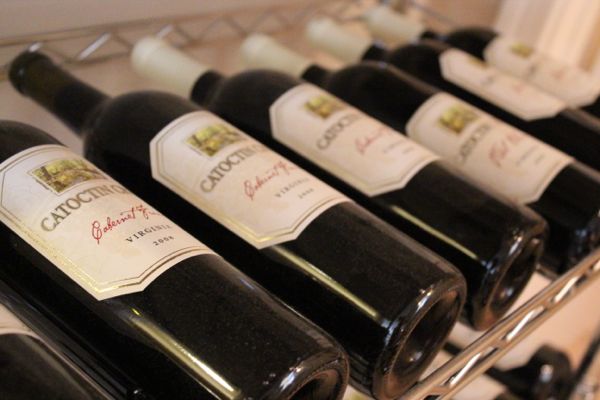 While Paul and Jim continued to chat about photography, I enjoyed another sample of the Cabernet Franc (and wondered what I did with that Kodak Insta-matic from 1975 as I was certain that it needed more flash cubes!) We will continue to follow the developments at Catoctin Creek Winery, but readers should be certain to sample Jim Hanna's current releases. Just remember to mention that Virginia Wine Time sent you.