So I'll conclude my wrap up of the WBD 11 conference here with this shorter post that will focus on break-out sessions, presentations and the awards dinner.
Break Out Sessions:
A number of break out sessions were available for bloggers to attend. We attended the sessions on millenials and wine, drinking local, and the future of blogging. Of these, I found the drinking local conference most interesting and useful for our purposes. The session was moderated by Frank Morgan of Drink What You Like, and panelists included Lenn Thompson of New York Cork Report, Remy Charest, blogger at The Wine Case in Canada, and Washington Post critic Dave McIntyre. McIntyre defined drink local as "a story that is just beginning." If this is the case, then bloggers do play a critical role in the whole drink local movement. When we began our own blog six years ago, we were one of a handful of blogs writing about Virginia wine. We opted for a drink local focus because, although we both enjoyed wines from around the world, Virginia wines seemed less likely to be featured in the wine media, traditional or online. As the other 46 states continue to develop their own wine industries, bloggers will continue to play a key role in the process. After all, there is little to indicate that the established industry resources will regularly feature non-traditional wine regions. Other topics included the issue of price and local wines with McIntyre noting that if a local wine earns the same accolades as a wine from France or California, then the matter of price should be a non-issue.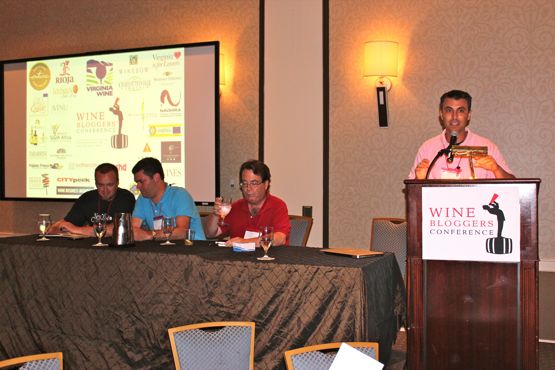 The session on millennials and wine was probably the session that least held my attention. A basic summary of this session seemed to be that millennials like to be engaged and entertained and are more likely tune out information they deem to be boring or useless. No tasting notes or references to terroir for them. And f-bombs are okay with them. I'm not so sure that I bought any of this, but then again I'm closer to 50 years of age than 25. I was once 20-something with a short attention span, so I understood the gist of what I heard. However, I did come away with a conclusion that the millennials are unencumbered by elitist attitudes toward wine and thus more likely that boomers to try wines from other regions. I do think that it is a more open-minded generation. And I don't think dropping f-bombs is necessary to grab their attention.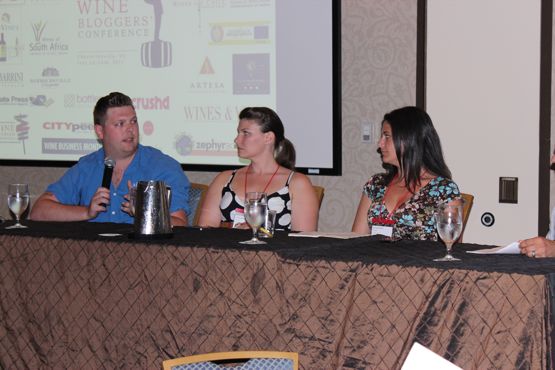 Paul attended the future of blogging session on Sunday morning. I was able to sneak in a bit later after grabbing some breakfast. This session was blogger led and supposed to be about the Present and Future of wine blogging. The first part was a discussion about how Twitter is used and the roll of Facebook in wine blogging. There was technical talk but the discussion really revolved around basically three bloggers discussing how the wine blogging community could come together and help change things in the wine world..like the use of certain enclosures. Before we knew it, the session was over. If it had continued, I'm sure we would have gotten to some more substantive topics. I actually think the conference should have more sessions like this one…more time for bloggers to talk about what is relevant to us. Either way, it was a good time to hear other bloggers talking about what they are so passionate about.
Presentations:
The Ignite presentations were given by bloggers, and these ranged from infomercial to entertaining to controversial. My favorite was given by ECoastWines.com who gave an excellent comparison of east coast wine regions to those on the American west coast and Bordeaux. The most controversial presentation was one that attempted to debunk the cork shortage issue and asserted that plastic or screw cap enclosures are actually rather harmful to both wine and drinker. From our own experiences with enclosures, we still prefer cork but do not mind the screw caps. The plastic enclosure? Not so much. If we have to dump a bad bottle of wine, it is usually one that had been sealed with a plastic cork.
Awards Dinner:
This event accomplished two things: 1) it showcased Virginia and its history as a wine producing region, and 2) it recognized bloggers for jobs well-done. Part of the showcasing included featuring locally grown food with locally produced wines, and I do have to admit that a couple of the food and wine pairings were a bit curious. For example, the corn chowder with Virginia rieslings were not as successful as the duck pate paired with the Horton Sparkling Viognier. I'm not sure how Virginia rieslings even made the menu, but I will acknowledge that the Lovingston Petit Manseng was the bright star in the lineup. The dessert pairings which featured local cheeses partnered with the Gray Ghost Adieu and the Rockbridge V d'or were quite solid.
Before the dinner, bloggers were awarded for excellent work. Nominees included Virginia's own Swirl Sip Snark! Winners included the New York Cork Report, Fermentation, Enobytes, and Vinography. Congratulations to these outstanding writers.
Al and Cheryl Kellert from Gray Ghost Vineyards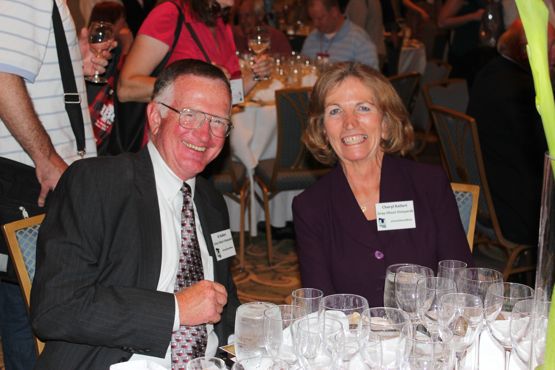 Jen Breaux Blosser and Chris Blosser from Breaux Vineyards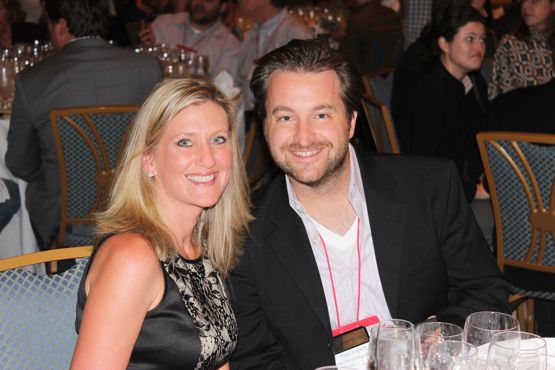 Conclusion:
All in all, this was a positive experience for us. This was our first blogger's conference, and we came away with renewed energy to continue to support local wine. We met lots of bloggers from all over, and we learned that their experiences were likewise quite positive. The heat? Not much to do about it except deal with it. Conferences? We heard some complaints about lack of content at this event, and that might be worth revisiting for next year's organizers. For example, with this year's advice given by keynoters Jancis Robinson and Eric Asimov still fresh in our minds, a writers' workshop might be useful. Wines? Overall, the feedback by those who actually tasted lots of Virginia wine was positive; this has been acknowledged by Virginia winemakers with whom we chatted during and after the conference. Were all of the wines excellent? No, but that has to be expected regardless of wherever the conferences are held. We concur with Frank Morgan at Drink What You Like who commented on one blog's rather negative post—for those who left their hotel rooms and actually participated in the events with an open mind, there was much to learn and experience. Would we consider attending another blogger's conference? Absolutely! And to close, another thank you to Annette, Amy and Mary Catherine of the Virginia Wine Board for a job well done!
The Virginia Wine Blogger Clique