Paul and I attended the 2011 Wine Bloggers Conference held in Charlottesville.  Wine bloggers, winemakers, and other industry people from around the world came to the conference to talk wine, pour wine, and appreciate wine.  Along the way, bloggers got the opportunity to hear words of advice from industry experts as well as from each other.  I will post a summary of the conference and my impressions of it in a two part post. Today's post will feature keynote addresses and important events that allowed bloggers to interact with each other, with winemakers, and of course, wine
Keynotes
If there was an official start of the 2011 Wine Bloggers Conference, it was delivered on Friday by keynote speaker and wine industry legend, Jancis Robinson.  After an amusing recap of her storied three-decades long career in the wine writing business, Robinson offered advice to bloggers: 1) be more investigative; 2) be more creative; 3) fine tune the writing and use the Economist magazine as a stylistic model; 4) date what you write; 5) be accurate; 6) be authentic, and 7) try to write for a more international community.  Some of these tips seemed to concur with Saturday's keynote address given by New York Times wine critic Eric Asimov who likewise encouraged bloggers to be more investigative and creative.  In fact, Asimov advised bloggers to eschew posts that present tasting notes other than to describe wines as either sweet or savory.  Like Robinson, Asimov offered accuracy and authenticity as critical assets to quality blogging.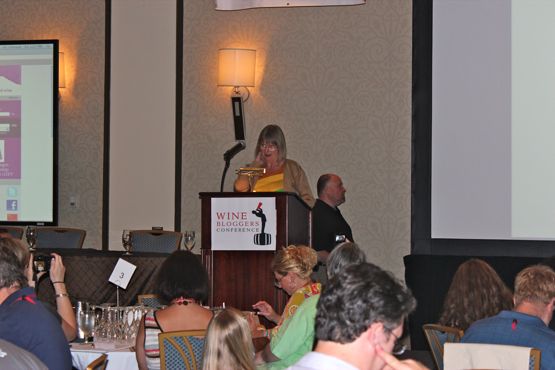 We certainly internalized and reflected upon these critical pieces of advise from these renowned voices in the wine writing field.  It certainly is very easy to become too comfortable with a known formula for topics and blog posts especially with the hectic realities of day to day living (like jobs, for example)!  However, Paul and I used the days after the conference to brainstorm a list of topics that are outside of our usual focus on winery visits.  We may even plan to revive our Extra Pour feature that presented lengthier articles and required more investigation and research.  However, I'm not sure about abandoning tasting notes in our posts.  For us these notes present our sensory experience with wines and how they matched with food.  Why? When I read reviews of wines, either on blogs or traditional media, I like to read the tasting notes. How do these palates compare to mine? If the review features a wine that I've already tasted, did I get similar characteristics? Were my own taste buds off? What are other nuances that I should be able to detect?  In other words, I consider the tasting notes part of the educational experience both for my readers and myself.
Interactions
Wine Tastings: In my opinion, these offered the best opportunities for bloggers to interact with each other, wine makers and other industry people about the one subject we all enjoy—wine.
1) Speed Tastings: Two of these were conducted, and the first one was held on Friday evening before we all went out to Monticello for a tasting of Virginia wines.  The Friday session featured white wines from around the world including Virginia, and the second session was held on Saturday before the awards dinner.  The second session presented red wines.  The pace of these was certainly rapid with five minutes given for each winery to present its wine to tasters who than frantically tweeted their impressions.  Despite the pace, we were able to compare notes with other bloggers.  I don't remember how many wines were tasted, but the whole thing lasted for almost an hour.  Needless to say, I did lots of spitting.  I do recall enjoying a bubbly from Gloria Ferrer and a Pinot Noir from King Estate in Oregon.  I allowed myself to swallow a sip of those before reluctantly hitting the dump bucket.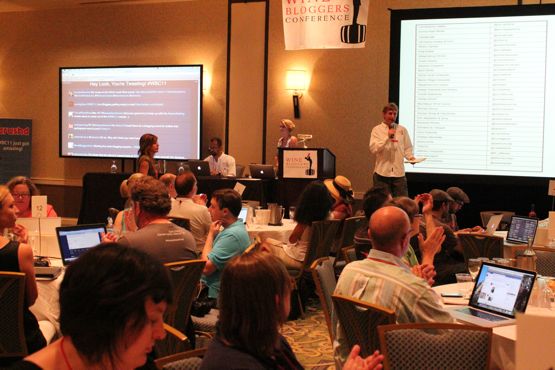 2) Monticello Dinner and Tasting: Mother Nature intruded on this Friday evening event and delivered a 100+ degree scorcher.  Heat and humidity was definitely an issue both for tasters and winemakers who had to present their wines in less than optimal conditions.  At least 30 Virginia winemakers were on hand to pour one white wine and one red wine for guests. Tasters seemed to be in the mood to try white wines, and in conversations with other bloggers who had never tried Virginia wines, Virginia Viogniers seemed to excel.  One blogger noted the aromatic nature of Virginia white wines; another applauded the array of Viognier styles with each seeming to be well-crafted.  We made the round of white wines first then enjoyed small portions of food that included cheese grits with shrimp, fried green tomatoes, and crab cakes.  The heat did make some sippers leery of trying red wines, but those who did commented on the solid Bordeaux-style wines; however, the most buzz was generated around the Pinot Noir from Ankida Ridge.  In fact, wine experts Richard Leahy and Dave McIntyre both gave me a thumbs up when I asked their opinions about it.  One blogger from Oregon did also mention this one as a favorite of the Virginia reds.  How did they all respond to the heat?  I'm from New Orleans, so I felt like a fish in water (literally), and I'm able to roll with this kind of weather.  I did ask one blogger from British Columbia how she fared in weather that had to be foreign to her, and she replied, "I just dealt with it.  I'm here to experience local wines and talk to other wine bloggers about wine.  I'm not sitting in the hotel room because it's hot."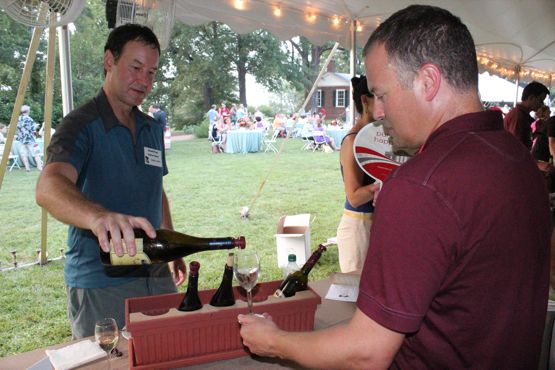 3) The Other 46 tasting: I was surprised that more wineries from other states did not participate in this, and I was even more surprised that most bloggers did not attend.  With an increasing focus on drinking beyond West Coast and Western Europe, I expected this session to be heavily attended.  To be honest, this was conducted after the Monticello event, so some bloggers may have been heat fatigued.  However, the heat did not seem to dampen the enthusiasm for private parties that occurred at the same time.  For me, this was a chance to try wines from Indiana, Missouri, Ohio, Texas, and Maryland.  Several of us left with bottles of Missouri bubbly, Missouri Norton, and a very nice Missouri Vignole.  I was also surprised by a Texas Tempranillo and a dry Riesling from Ohio.  At the end of the session, a table of us Virginia bloggers were joined by a winemaker from Canada, a blogger from Vermont, a representative of Boordy Winery in Maryland, and Jen Breaux Blosser from Breaux Vineyards to chat about wine and the different varieties and styles offered by the various states.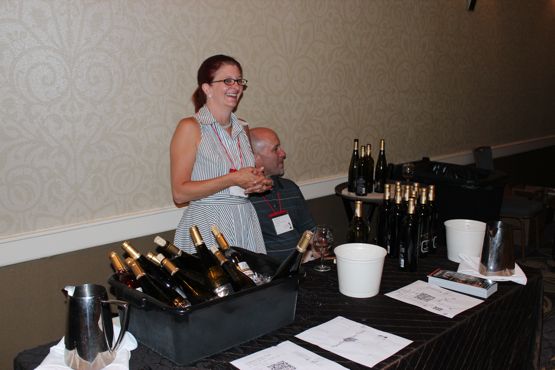 4) Winery Visits: This was held on Saturday afternoon, and bloggers boarded different busses each destined for at least two Virginia wineries in the Charlottesville area.  Our particular bus (bus 4 rocked with DrinkWhatYouLike, Swirl Sip Snark, Cellar Blog, and Breaux Vineyards) headed for newly opened Pippin Hill Farm and Veritas Vineyard and Winery.  We were particularly impressed with Pippin Hill, and its gorgeous setting prompted more than one blogger to snap as many pictures as possible.  Wines included a Chardonnay, a Viognier, a Rose and a Blended Red.  I'll spare the details about the wines for a future post, but I will say that the wines were all well received as I spotted bloggers leaving with bottles.  What may have helped to sell the wines were food pairings offered with each wine sample.  Winery chef Amalia Scattena prepared a plate of seared scallops, chicken salad wrapped in grape leaves, and a muffin topped with frosting and a drizzle of chambourcin.  I would have stayed longer just for more of the scallops and Chardonnay!  From Pippin Hill we then boarded the bus and headed to Veritas Vineyard and Winery where we were directed to the tank room.  It was deliciously cold down there too!  Here winemaker Emily Pelton and her father, Stephen, gave us a vertical of Veritas Cabernet Franc starting back to the 2002 vintage and Petit Verdot.  This session ended with a sneak sample of the upcoming Petit Manseng.  We were then offered lunch in the upstairs dining room with a complete tasting of current releases provided in a private tasting room.  Comments from the group?  The white wines seemed to earn the most accolades with one blogger from New York suggesting that Virginia had given her a new appreciation for Chardonnay (lest we all think that Virginia only makes Viognier, of course).  Petit Verdot seemed to trump Cabernet Franc, too.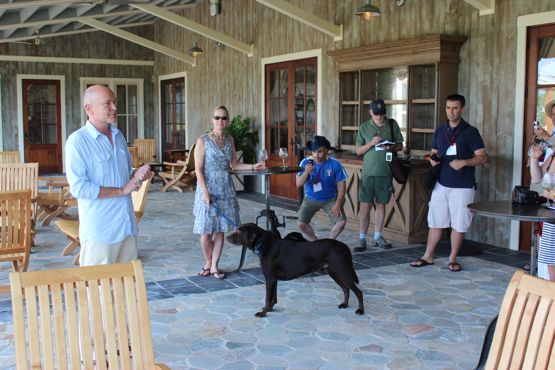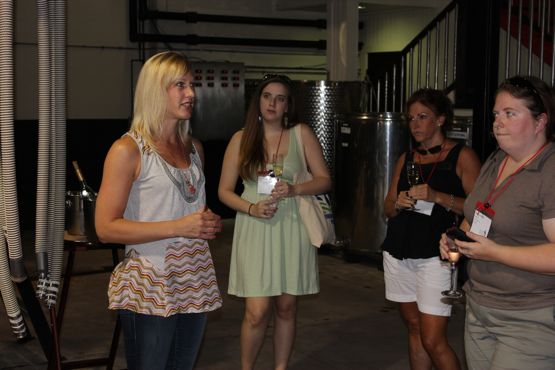 So what to conclude from these interactions?  In regard to Virginia wine, the feedback that we received was largely favorable.  Another blogger from Ohio summed up her perceptions in this way,"Virginia wines are clean and well made.  I didn't like everything that I tasted, but I liked a lot of what I tasted."  Fair enough.  We also heard admiring comments about the extensive support offered by the state government and the well-organized efforts to promote Virginia wines.  Dedication of winemakers was also noted; if anything, the weekend's hot weather gave many bloggers an appreciation for the area's challenges in making quality wines.  
In regard to other bloggers, I was impressed with the number of folks who made an effort to participate in every program offered at the event.  They were not daunted by the heat or the sometimes hectic pacing.  I was also impressed with their open-mindedness toward Virginia wines; I must admit that I was a bit nervous as to how west coast palates would receive Virginia wines.  However, a San Diego blogger extolled the virtues of Virginia reds, especially the 2007 Cabernet Sauvignon from Keswick Vineyards.  It was unfortunate, then, that a handful of bloggers who opted not to participate in these events complained about the lack of interaction between bloggers and winemakers, squawked about the heat as though anyone could do anything about it, and snubbed Virginia wines.  These complaints were usually tweeted from the comforts of their hotel room or the hotel lobby.  
For brevity's sake, I will end this post here but conclude my impressions in another post.  Before I sign off, though, Paul and I cannot thank the Virginia Wine Board, headed by Annette Boyd, enough for planning this conference.  They did an amazing job pulling all of this together.  Until next time, happy sipping from Virginia Wine Time.