The evening before we left for the Wine Bloggers Conference we took advantage of Wine Wednesday. Our sipper for the evening was the 2009 Pinot Grigio from Gadino Cellars and our dinner wine was the 2009 Rose from Linden Vineyards. They were both lovely and went with our nibbles and meal very well.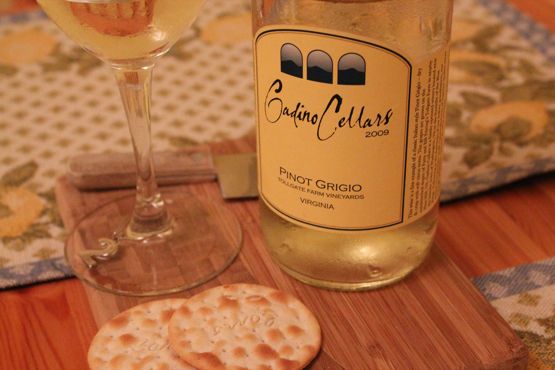 We had the 2009 Gadino Cellars Pinot Grigio with cheese and crackers. First off we noticed the light straw color and the aromatic nose of twists of lemon, subtle peach, and minerality. On the tongue we noticed the refreshing minerality and nice acidity. We noted lemon and the crisp feel and finish. It accompanied our cheese and crackers rather well on a very warm afternoon.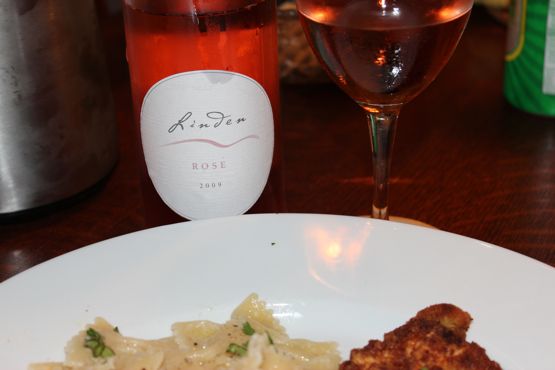 Our dinner wine was the 2009 Rose from Linden Vineyards. As we've noted before, you can't go wrong with anything from Linden. This rose had a pale pink color and a strawberry, grapefruit, and melon nose. On the tongue we noted strawberry, melon, citrus zest, and refreshing acidity. We wanted a lighter wine for our chicken and pasta and this one filled the bill perfectly. Of course this means I have one less bottle of Linden Rose on my rack!
If you visit Gadino Cellars or Linden Vineyards anytime soon, mention you read about their wines on Virginia Wine Time!