On a recent Saturday evening we found ourselves having one of our typical meals of filet and wild rice. What wine would select to pair with this meal was the question. Being a club member at Breaux Vineyards gives us access to some wines that we might not other wise get to experience. We perused the wine rack and decided on the 2007 Meritage from Breaux Vineyards. It's one of the Cellar Selection wines. We thought it might be too soon to enjoy this one but no, it wasn't.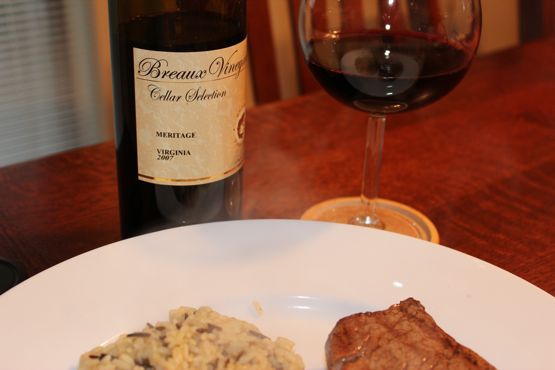 Some 2007s are still a bit young. Just to be safe we poured this one through our Soiree to give it some air since we hadn't opened it too much before dinner. Right away we noticed the dark, rich garnet color. That was a good sign. On the nose we picked up concentrated dark berries and anise. On the tongue we noted concentrated mix of dark cherry, blackberry, and raspberry. We also noted a hint of black pepper and firm tannins. While it's true that this one probably could have benefitted from some more time on the rack, it was too good to let that happen. It paired beautifully with our filets and wild rice.
If you visit Breaux Vineyards anytime soon, tell them Virginia Wine Time sent you and think about joining the wine club to have access to wines like this one.
On another note, if you're a Google+ user, click on the +1 button below to share this post with all your friends on Google+.