On Tuesday, June 28, Virginia Wine Time attended an event that welcomed heralded winemaker Dave Collins, formerly at Breaux Vineyards, to upstart winery Big Cork Vineyards in Maryland. Others in attendance include Kevin Atticks and Regina McCarthy of the Maryland Wineries Association, Dave McIntyre, wine critic for the Washington Post, and Erika and Kirsten, bloggers for Cellar Blog. Owners Randy and Jennifer Thompson hosted the event at the Big Cork Vineyard.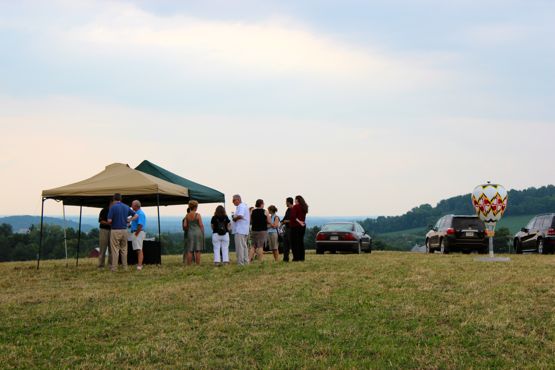 Fans of Breaux Vineyards were surprised to learn this past spring that Dave Collins would be leaving the winery after 14 years of winemaking at Breaux Vineyards. In fact, since Breaux Vineyards began operations, Collins was its only winemaker. However, the opportunities and challenges associated with a new vineyard and winery beckoned Collins to join the Big Cork effort. The implications of the move will go beyond Big Cork; the Maryland wine industry, like Virginia, has grown dramatically in the past several years. With growth comes the increased expectation that quality will also increase, and adding Collins to the Big Cork team will certainly raise the bar in that regard.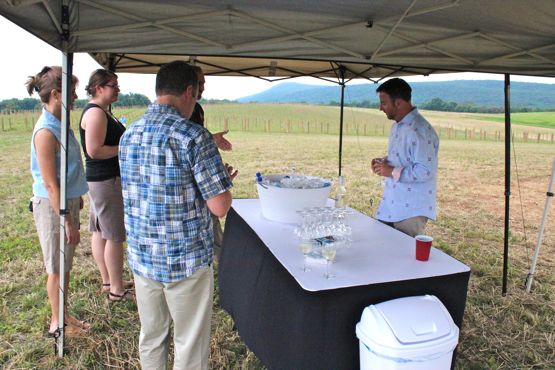 The event to introduce Collins as winemaker at Big Cork began in the newly planted vineyard. Randy Thompson welcomed guests as they arrived to the vineyard and greeted them with a glass of wine (of course). I chatted with Thompson for quite a while, and I can attest to his enthusiasm for this endeavor. The vineyard itself is actually part of 100 acres of property owned by Thompson and his family. He now has 22 of those acres planted in vines, and varieties include all of the Bordeaux red grapes, syrah, barbera, nebbiolo, sauvignon blanc, chardonnay, viognier, and albarino will be planted next year. Plans to expand plantings are also underway to reach a goal of 30 acres planted in vines. Randy also intends to go as "green" as possible in the vineyard and has already planted kestrel stations so that the flying predators can control vermin in the vineyard, and propane herbicides will be used to maintain weed control. Why propane? Thompson's business expertise is in the propane industry, and apparently heated propane can be safely used in the garden (or vineyard) to rid it of unwanted weeds. Of course, the question that I asked next was, "Why did you want to get into the tricky and difficult business of winemaking?" Thompson loves wine; in particular, local wine. Like many local wine lovers, Randy excitedly sees a craft that is only getting better over time, and he wants to contribute to that industry. While surveying his own family-held property, Randy noted that farming was always part of the land's tradition, and he believed that planting a vineyard should be part of the process.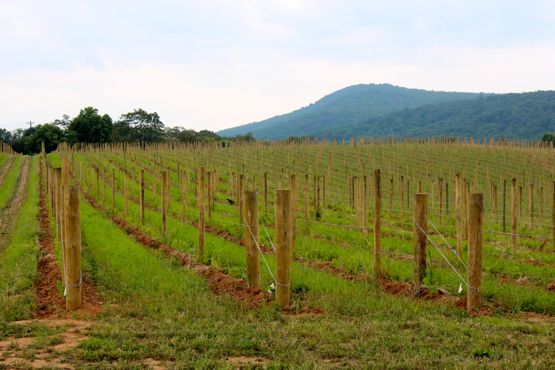 Thompson turned his attention to the guest of honor, Dave Collins, once all invited attendees had arrived. A toast to honor Collins and Big Cork was offered, and we were all invited to the Thompson home for heavy hors d'oeuvres and wine. Jennifer Thompson greeted us and led us to the kitchen where a buffet was arranged. Windows in the home allowed guests to gaze upon the mountainside landscape with the budding vineyard in clear view. The Thompson plan to eventually rent the home as a guest facility, and the breathtaking views (and wines) would certainly be an attraction. As we sipped and dined, we were able to chat with Dave Collins about operating a new vineyard and winery in an industry that is still fairly young. Collins reminded us that he got his start in the wine business when the Virginia industry was still in its infancy; in fact, he apprenticed under Lew Parker at Willowcroft Vineyards in the 1980s. From there he took the helm as winemaker at Breaux Vineyards when it began its operation in the 1990s. Big Cork Vineyards is not that far from Breaux Vineyards, so as far as Collins is concerned the micro-climates are fairly similar, and helping to start a new venture is within his realm of experience.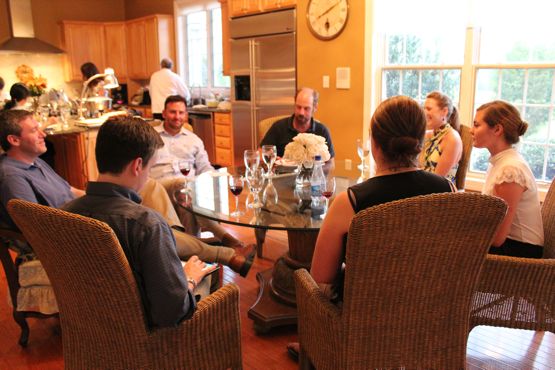 Speaking of wine, when will Big Cork open to the general public? The plan is to have wine in the bottle by summer or fall of 2012. Wines will be produced from grapes purchased from a local vineyard in Washington County, Maryland. From the estate vineyard, the goal is to produce 1000 cases from the 2012 vintage. Releases will include merlot, cabernet sauvignon, and viognier. Does Collins have any predictions about the first vintage? "You can't tell your child in the womb that it is going to be an architect," replied Collins.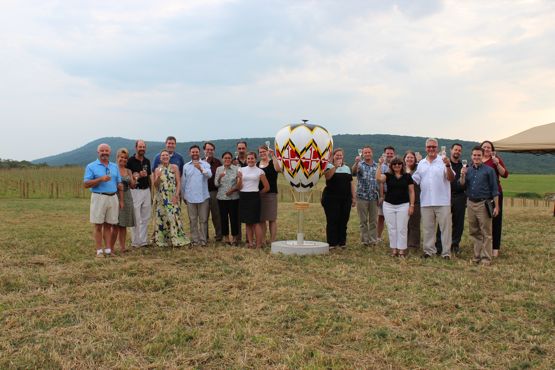 We are certain that Dave Collins will bring his excellent architectural skills to the winemaking at Big Cork Vineyards. Industry insiders Kevin Atticks and Regina were likewise enthused about the potential for Big Cork Vineyards with Collins at the helm. We will return to monitor the progress as it unfolds, and we eagerly await the first pours from Big Cork Vineyards. As the delightful evening came to a close we bid our farewells to Dave Collins as well as to Randy and Jennifer Thompson. We left feeling confident that this team has the energy, enthusiasm and experience necessary to continue the drive toward excellence that is the ultimate goal of the Maryland wine industry.