Warren's parents have been in town for the last week and we thought it would be a good idea to show them some wineries in Loudoun County. One of the wineries we visited was Notaviva Vineyards. We have visited them several times before and have enjoyed our visits. The tasting menu has expanded since our last visit so it was time to try the new wines.
We started the white wines with the 2009 Vincero Viognier. We found this one crisp, refreshing, and full of fruit. This viognier was fermented in stainless steel. Warren's father put his gold star next to this one. We continued with the 2009 Ottantotto Viognier. This second viognier was fermented in French oak barrels and contains 1% chardonnay. We noted some nice fruit flavors and a round mouth feel. We also noticed the oak presence. We finished the white wines with the 2009 Calor Chardonnay. This one was fermented in French oak barrels, contains 1% viognier, and has 1% residual sugar. We barely noticed the 1% residual sugar but did note the pear and apple flavors.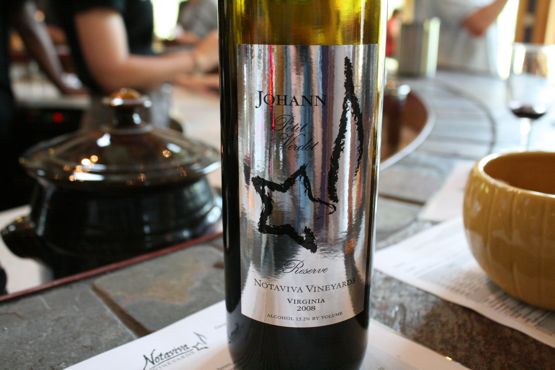 The first of the reds was the 2009 Celtico Chambourcin. This is actually a blend of 92% Chambourcin, 4% Merlot, 1% each of Tannat, Cabernet Sauvignon, Cabernet Franc, and Petit Verdot. We noted bright fruit and smoke on this one. The next red was the 2009 Cantabile Cabernet Franc. This one gets our gold star. We noted tobacco, currents, spice, and black pepper. We all agreed that this one will only get better with time. The next red was completely new to us. It was the 2008 Johann Petit Verdot Reserve. We noted blackberry and vanilla. We thinking this one has aging potential. It will surely change each time you taste it. The last red was the 2009 Gitano Chambourcin. I skipped this one but Warren noted cherry and spice. This one has 7% residual sugar.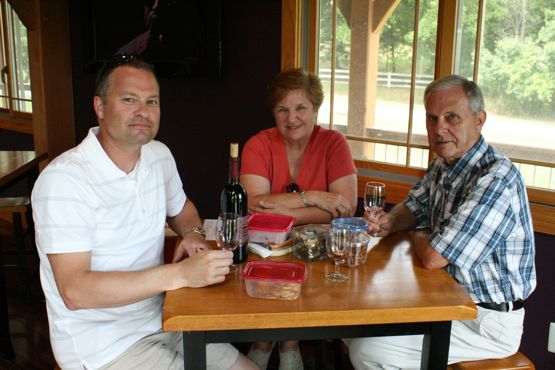 Once we finished our tasting we decided on the 2009 Cantabile Cabernet Franc to enjoy with lunch. It paired well with our ham sandwiches, hard cheeses and crackers. It certainly deserved the gold star we awarded it. As you can tell from the names of the wines, Notaviva weaves their wines with music. Each year they have a music event to celebrate their anniversary, The Notaviva Experience. It's an evening of music paired with their wines. The event is coming up soon. We won't be able to make it but you should try to attend. You can find out more information about the event here. The next time you visit Notaviva be sure to tell them Virginia Wine Time sent you!