With summer officially under way, we continue our focus on wine to enjoy during the season. This past weekend our quest took us to Paradise Springs Winery, the only winery in Fairfax County. This also was our first visit since the dedication of the new tasting room; although Paul was on hand for the celebration, I was not able to attend. So our visit had two purposes—to scout out summer pours and to check out the new tasting facility.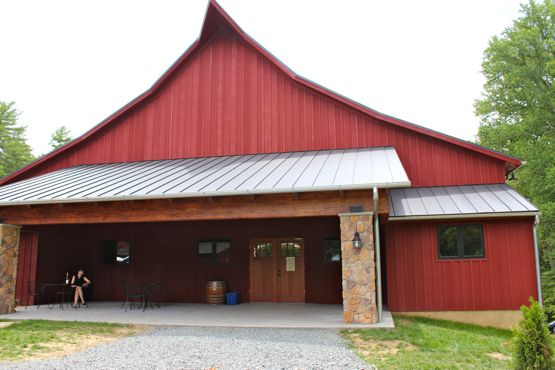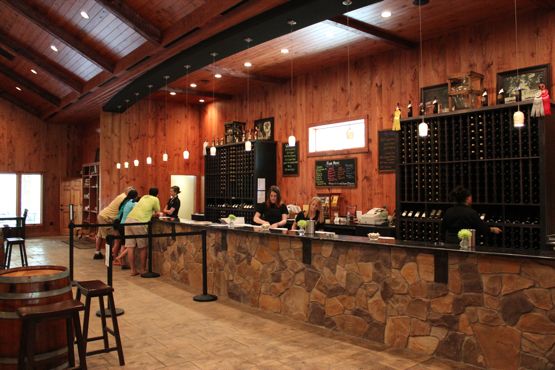 The new tasting room is indeed spacious and elegant. It was hard for me to believe that tastings were once conducted in the small cottage on the historic property. From the tasting room, the barrel room was in clear view thanks to a windowed wall that divides the two facilities. Our immediate intent, though, was to taste wines and to ascertain which would best refresh on a warm summer's day. Tasting associate Corima skillfully guided us through our tasting as we began to swirl, sniff and sip.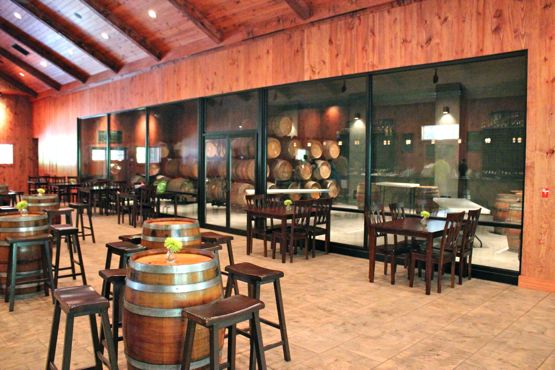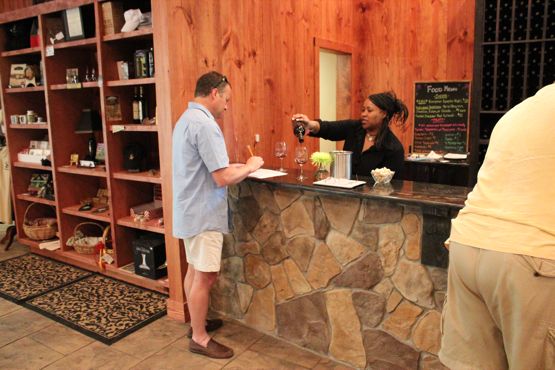 A trio of wines made the cut for our summer sipper designations. How exactly do we define a "summer sipper?" From our own tastes, we tend to prefer fruitier wines that are very dry or off-dry and best served very cold. We also look for versatility—a nice summer wine should be enjoyable on its own or with a range of foods. With these factors in mind, we tasted away and concluded that three wines from Paradise Springs Winery were indeed summer sippers. They were:
2009 Petit Manseng: 100% varietal and aged in stainless steel with some time minimal time in French and Acacia oak barrels. Very dry but fruit forward with aromas of orange peel; of the three listed here possessed the weightiest mouth feel. Serve with creamy cheeses and a fruit plate or with a seafood entrée.
2009 Sommet Blanc: A blend of Vidal Blanc, Traminete, Viognier, Chardonnay and Riesling. Less than ½% residual sugar but very fruity with melon and stone fruit elements. No oak aging here. Serve to enjoy on its own but can pair nicely with light cheeses or picnic fare. A crabcake may not be out of the question!
2010 Nana's Rose: Made from 100% Merlot and very dry. My favorite of the trio. Done in the dry French style, it was rich with ripe strawberry aromas and flavors with a hint of tart cherry in the mouth. Roses are the ultimate in versatility and pair with just about anything and every palate. (More dry roses in Virginia, please!)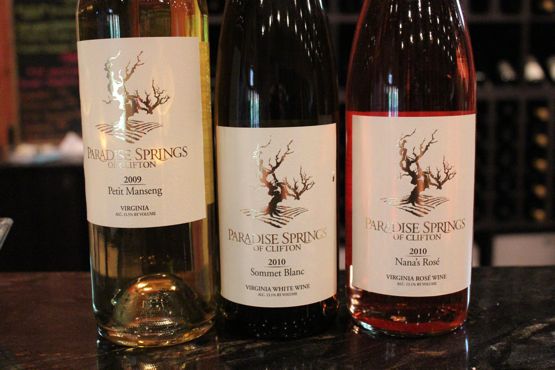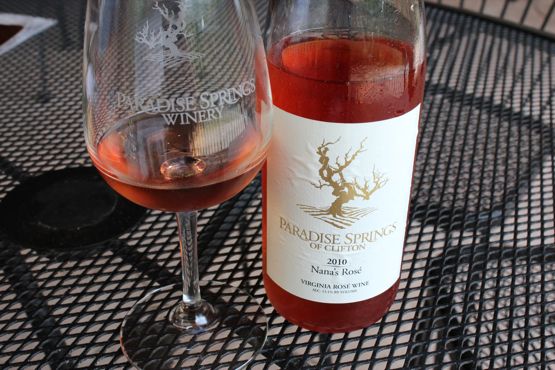 With our tasting done, we decided to share a bottle of the 2010 Nana's Rose with a cheese plate and crackers. This was enjoyed while out on the back patio that included a large fireplace. No need for extra warmth right now, but these accommodations should strike the right note in fall and winter when cooler weather calls for heavier wines and extra heat. We'll return soon to report on new developments and releases at Paradise Springs Winery; in the meantime, plan a visit to Paradise Spring Winery and mention that Virginia Wine Time sent you.