Since 2001, Wine Enthusiast has hosted a series of wine and food tasting events called Toast of the Town, and these are held in various American cities throughout the year. On Friday, May 20, Paul and I attended the Washington D.C. event that was held in the historic National Building Museum. Over 500 wines were available for tasting, and more than 30 restaurants participated.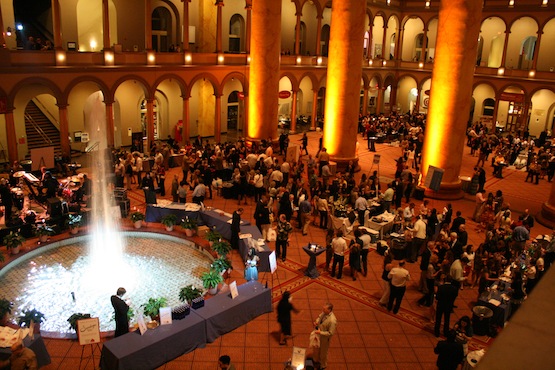 Paul and I walked into the spacious Great Hall amidst the jazz sounds of the David Bach Consort; at the center of the Hall was the majestic fountain that provided an appropriate centerpiece to the layout of tasting tables, couches, and dining areas. The building's soaring columns and sky-bound ceiling added an element of elegance and historic charm. The crowd itself ranged from hipster to the well-heeled; however, pretense did not seem to be on the menu.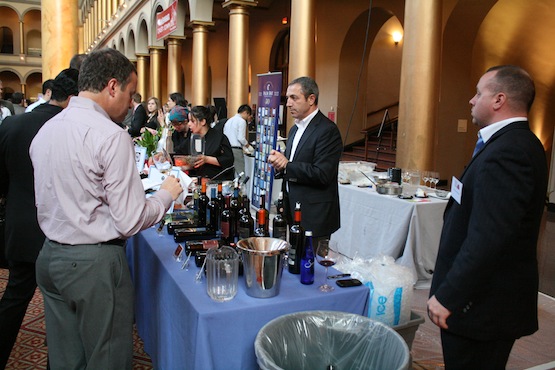 With so much wine and food to sample, we obviously needed a plan of action. In regard to wines, we decided to taste only those wines that we would not ordinarily be able to sample. California chardonnays from well known labels were not going to make the cut, for example, even though those may have been well worth the effort. Paul sipped the white wines, and I tried the red wines (though we did make some exceptions as the evening wore on.) As far as food, I tend to be the more adventurous and will try just about anything; Paul opted to stick with more familiar fare such as mini-burgers.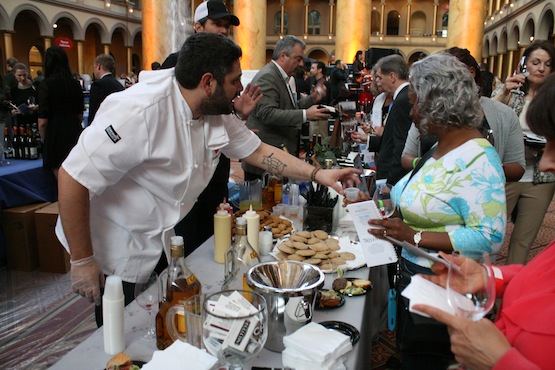 So what were our favorites? I was most impressed with the Italian wines. These included:
Rocca delle Macie: the crisp 2009 Occhio al Vento Verementino and the complex 2006 Roccato Toscano
Catello Banfi Montalcino: the 2008 Centine Rosso and the 2006 Brunello di Montalcino (raisiny fruit, anise and tobacco)
Casa Vinicola Zonin: Yes the same family that owns Barboursville! The Prosecco was excellent, but a unique find was the 2009 Insolia with its elements of citrus and hay and refreshing minerality. Favorite red was the earthy 2008 Nero d'Avola
Other favorite wines from around the world included:
Austria: Anton Bauer 2009 Rosenberg Gruner Veltliner Reserve should be considered as an alternative to Riesling or gewürztraminer.
France: Chateau Potensac Medoc 2008 was bold yet fruit-driven
Greece: Kouros 2009 Rhoditis was a dry, crisp white wine; perfect with shellfish or poultry.
Yes, we did try a couple of pours from California, and our favorite was the Ghost Pines 2009 Zinfandel with its blackberry, cherry and spice elements.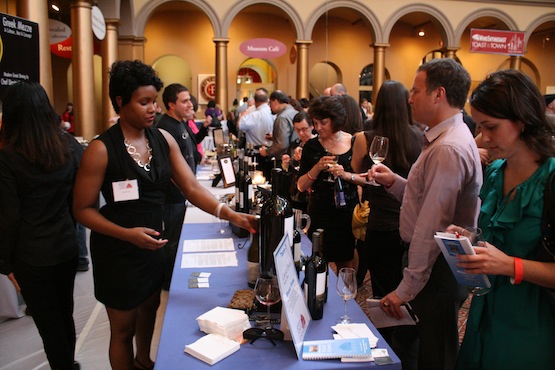 I must add that wine was not the only beverage on tap at the event. Spirits, sake, and dim sum were available for tasting, and Starbucks was on hand to serve tasters with a needed coffee break.
So what were some favorite foods, especially with wines? The most interesting dish had to be the pigtail croquettes courtesy of Jackie's Restaurant, and this was enjoyed with one of the reds from Rocca dell Macie. My taste of the Zonin Nero d'Avola had to be matched with the eggplant parmigiana from Carmine's. However, I had to sneak a second sample of the sliced filet mignon with onions and mushrooms served by Capital Grille—delicate and decadent! Paul made quick work of the mini-burgers offered by Matchbox, and he was not particular about wine pairings, though the Ghost Pines Zinfandel might have worked just fine. Of course, cheese was offered at various tables, and we enjoyed some of these with bread samples prepared by Canela Bakery.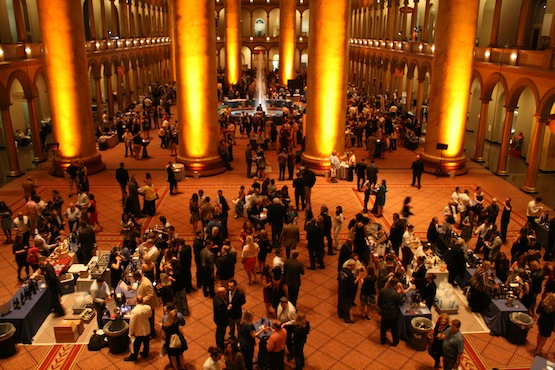 In the course of the evening, we met other writers, bloggers and wine experts. One of them was Jane Hermansen who taught me the 5 "S-es" at her wine academy known as the Greater Washington Wine School several years ago. I was thrilled to see Jane and to compare tasting notes with her.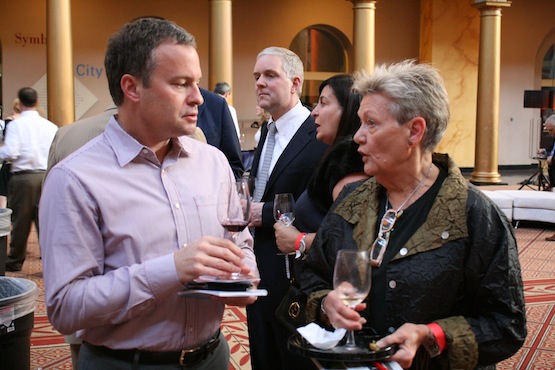 As we left the event, the David Bach Consort was in rare form, and tasters created a dance floor in front of the band. Even Paul was "Dancing in the Streets!" The Toast of the Town series truly offers a unique yet unpretentious experience that allows for the novice and expert alike to celebrate fine wine and food. If travelling to Chicago or Miami, look for other upcoming Toast events in those cities. In the meantime, be sure to check out Wine Enthusiast magazine for the latest wine news and reviews.
Of course, seek out some of the wines mentioned in this post and frequent these fine restaurants too, but be sure to mention that Virginia Wine Time sent you.