A few Sundays ago we headed to Corcoran Vineyards to get a taste of the recently released wines they have on their tasting menu. Lori and Jim Corcoran have been working hard on some new wines. It's always great to see Lori and Jim. We enjoy chatting with them about the Virginia wine industry. When we got there the tasting room was full of tasters and the lawn outside the tasting room was full of people enjoying a sunny Sunday afternoon.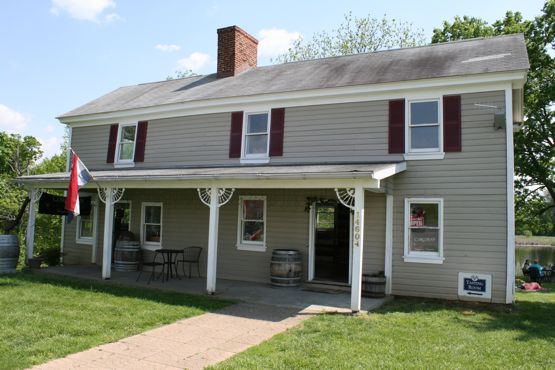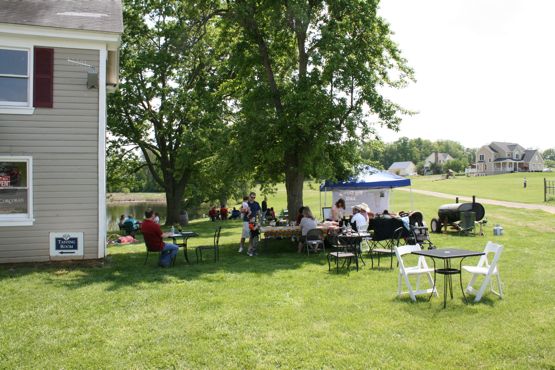 Lori was conducting the tastings that day and walked us through the new wines. Of course we began with the whites. First up was the 2009 Benevino Riesling (named for the vineyard where it is grown). This one is dry with hints of lemon-lime with some nice acidity. The next white was the 2010 Apple wine. It has 1% residual sugar and tastes like you just bit into a juicy apple. The 2009 Traminette was next. This wine had some mandarin orange zest added and it really comes through on the nose and on the tongue. I also noted a hint of spice as well. We finished the white wines with the 2008 Cello. This one is Corcoran's version of an Italian Cello. It's made from Petit Manseng with lemon-zest. It's very lemony. It will be featured at Landsdowne as an aperitif. We could see having this one with some goat cheese on a slice of baguette. All of these whites made me think of warm summer days on the deck, patio, or balcony. I could see enjoying a glass of any of them on my balcony. All of the fruit wines are produced in limited quantities so make sure you get yours soon!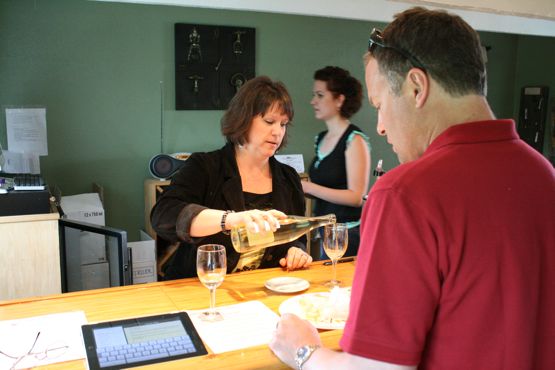 We then moved on to the reds. We began with the 2009 Hunters Run Rose. You know we enjoy this one since we've written about it before. You can't go wrong with this Rose. You'll enjoy it. Next up was the 2009 Chambourcin. We have enjoyed Lori's Chambourcin in the past and this one didn't disappoint. I'm not a huge Chambourcin fan in general but enjoyed this one. We noted cherry, cranberry, nice acidity and a smooth finish. Lori informed us that the 2010 Chambourcin has been bottled but will not be released for some time. The 2009 is ready to enjoy now and we agree. Next up was the 2009 Cabernet Franc. This is a classic cab franc. We noted dark cherry, raspberry, with some hints of spice and pepper. Yum! Next up was the 2010 RAZ. This is a blend of merlot and raspberry. When you bring this one to your nose you get the raspberry right away. It follows through on the tongue as well. This one should be served cold and maybe with some dark chocolates. The final red was the 2010 USB. This is Corcoran's port-style wine created from 100% Chambourcin and aged in Whiskey barrels. I was expecting high alcohol on this one but it's only 13%. Of course you get the hint of whiskey but mostly I noted bramble berries. The name is interesting as well. Jim Corcoran said USB doesn't stand for Universal System Bus but that it means Universal Sweet Beverage. I got quite a chuckle from this because I know what a USB port is…from the computer world. Love it!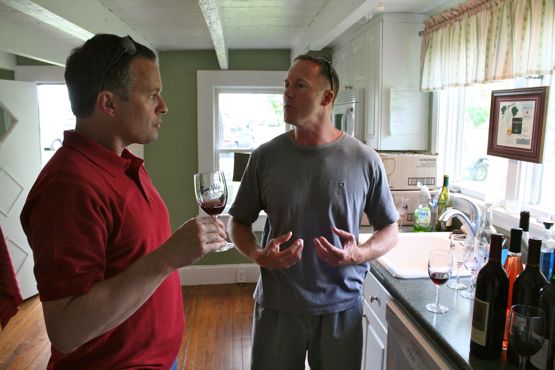 After our tasting we were able to chat more with Lori and Jim and (as noted before) we met and chatted with Tom Johnson from Nova Ridge Vineyards. Lori was telling us about how her new labels. They are greener because they only appear on the front of the bottle. I think you'll enjoy the new look. We left with several bottles of wine with promises to let Lori and Jim know when we enjoy them. If you haven't been to Corcoran lately, this is the time to plan a trip. With such a diverse tasting menu, there's something for everyone. And by the way, did you know Corcoran also has a brewery? We'll plan to visit the brewery soon. When you visit Corcoran Vineyards be sure to tell them Virginia Wine Time sent you!