Well, not really. Last week I was invited by Tiffany Van Gorder, general manager of Balzac Communications & Marketing, to attend a luncheon and wine tasting at the W Hotel. Featured at the event were wines from Lombardy. Readers may know that I enjoyed last year's Taste of Lombardy event at the Palomar Hotel, so I could not refuse an invitation to attend the again this year. A history of wines and winemaking in Lombardy was provided in last year's post, so rather than repeat that information again, I will simply provide the link to that article here for readers to enjoy. My focus now will be this year's event and the wines that I sampled.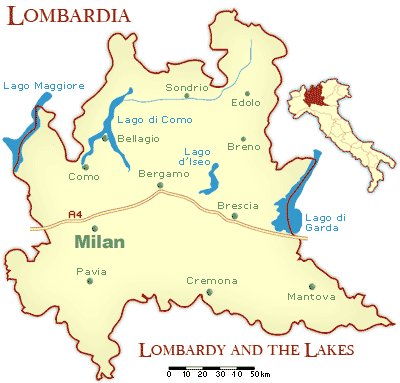 Tasters were greeted to the event with a glass of Franciacorta, a wine which looks like a sparkling wine but is labeled Franciacorta. Sippers may be familiar with Prosecco, another style of Italian bubbly; however, the tasting notes explained that Franciacorta "names the growing area, the production method and the wine…" It can be made from Chardonnay and/or Pinot Noir although Pinot Blanc may also be used. Franciacorta is produced by secondary fermentation in the bottle, and in an interesting historical note, the process goes as far back as the Middle Ages when Benedictine monks first produced the wine. The growing region, located in the northeastern region between Lombardy and Venetia, was officially approved in 1967 with the boundaries similar to those that were defined in a statute approved in 1429. Of course, it is served in a flute so that its bubbles can race to the top of the glass. Crisp and refreshing with bright apple notes, it was a nice way to start the event.
The dining tables were organized according to the various wineries representing the Lake Garda territory at the event with three wineries listed per table. Wines from the designated wineries were then served their wines with the courses served at the luncheon. A creamy risotto topped with shrimp was served for the first course, and this was paired at my table with an offering from the Monte Cicogna label, the aromatic 2007 Il Torrione made with 100% Riesling Renano. Fruity with a nice mouth feel, it paired well with the risotto. Feel free to also serve this with a brie-style cheese. The second course featured a braised beef topped with fresh dill partnered with a 2009 Gropello from Averoldi. This presented a dark garnet color with elements of juicy berries and spice on the nose and palate. Quite nice with the beef, it should also pair well with summer sausage and tangy cheeses. Lamb chops were served with the third course alongside the more complex 2005 Akros Riserva from Cantina Bergamasca. Aged for three years in French oak, this blend of Merlot and Cabernet Sauvignon was rich in dried fruit aromas and flavors with additional nuances of anise and vanilla. Though fine with lamb chops, I'd serve this one with almost anything that moos, quacks or oinks. Cheesecake finished the luncheon and served with the delightful Moscato di Scanzo; a red Moscato, the lovely floral nose was truly intoxicating! Chocolates or blue cheese might also be a match for this rich dessert wine.
Representatives from the wineries sat at our tables during the luncheon, and this provided an opportunity for tasters to learn more about the wines from the Lombardy region. Of interest to me was the conversation about reaching a larger American consumer base as it recalled many conversations that I have had with local winemakers. Both share a number of similar obstacles. Wineries in both regions tend to be small and therefore yield limited productions. Furthermore, varietals that grow well in these regions are not necessarily ones that have immediate name recognition. When was the last time you looked for an Italian Gropello, for example? Probably the last time you were in search of that Petit Verdot from Virginia! The perceived American palate is yet another dilemma. There is no doubt that Americans may be more willing to sip beyond California these days; however, the Napa region with its familiar styles and varieties still captivates the American consumer. And the Italian wines that are most familiar to Americans tend to be low-end, vast productions of Pinot Grigio and Chianti. Therefore, part of the marketing model for both Virginia and Lombardy winemakers has to be educating the American consumer to encourage them to "drink" outside of the box. Price inevitably came up as yet another inhibiting factor—how much will the American consumers pay for a bottle of wine? High quality but limited productions tend to make for a more expensive bottle of wine. This is probably the chief issue that Virginia wineries grapple with, but it was also the issue shared by the Lombardy winemakers. (However, I will say that some of the price points that were quoted to me seemed more than reasonable given the quality of wines that I tasted.)
Lunch came to end, and Tiffany invited us all to visit the 16 stations which represented the various wineries of the Lombardy region. Each station offered wines that best expressed the vineyards' terroir. With glass in hand, I made my rounds to the various stations to swirl and sip away. What were my favorites? That will be the focus of my next post. Until then, visit your local wine shop and ask for a wine made in Lombardy; be sure to mention that Virginia Wine Time sent you!