On Friday evening we continued enjoying the nice weather on my balcony by enjoying our sipping wine as well as our dinner wine. There was a cool breeze perfect for sipping and enjoying the sunset.
We selected the 2008 Chardonnay from Pollak Vineyards as our sipper. We enjoyed it with a creamy St. Angels cheese and baguette. We noted pear, apple, and honey on the nose with very similar notes on the tongue as well as slightly toasted edge on the finish. It paired perfectly with our nibbles. You can't go wrong with any of the wines from Pollak.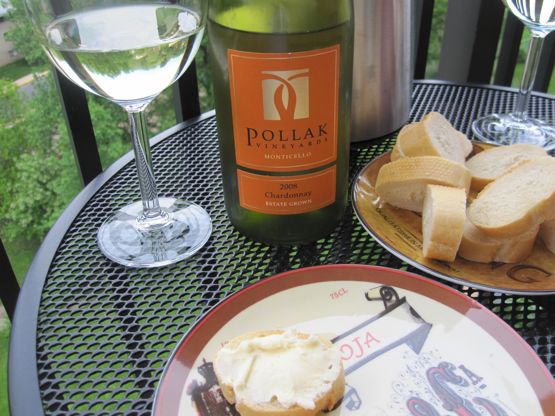 For dinner we had filet mignon, wild rice, and mixed veggies. Warren selected the 2008 Merlot from King Family Vineyards. When I taste a wine like this I wonder what it would be like if I had left it on the rack a little longer. On the nose we noted smoke, dark cherry, blackberry, and dried herbs with a whiff of tobacco. In the mouth we noted dark berry flavors, similar fruit as the nose with the addition of vanilla. We also took note of the long finish. Of course this wine paired perfectly with our meal. Just like the Pollak wines, you can't go wrong with any of the wines from King Family. They happen to be one of our favorite wineries.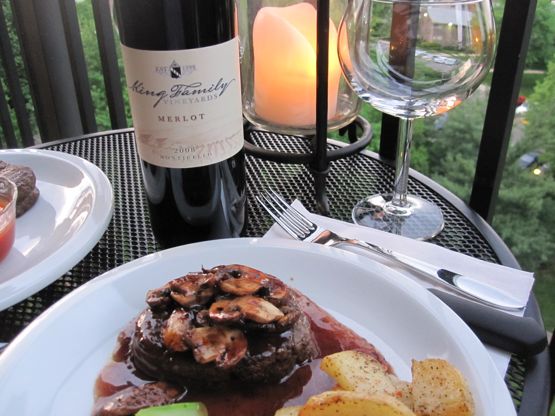 If you haven't been to Pollak or King Family, you simply must plan a visit soon. And if you do, tell them Virginia Wine Time sent you!