On April 13 2011 , third president and wine visionary Thomas Jefferson would have turned 268 years old; fittingly, Jefferson Vineyards remembered the event on April 16 with a Meritage Vertical Tasting. On display for tasting were Meritage blends from 2002 to 2009; of course, Virginia Wine Time was there swirl and sip!
Winemaker Andy Reagan greeted us in the refitted barrel room where the tasting was held. This facility is located across from the tasting room, and it now includes a fireplace with comfy sofas and bar space. Barrels continue to share some of the space to create a hip environment for tasters to enjoy these kinds of events. In keeping with this informal vibe, Regan wisely planned a decontructed tasting which allowed guests to visit different bar stations to sample Meritage vintages while noshing food pairings appropriate for each vintage. The result was an unpretentious evening of well-crafted wines, excellent food and great company!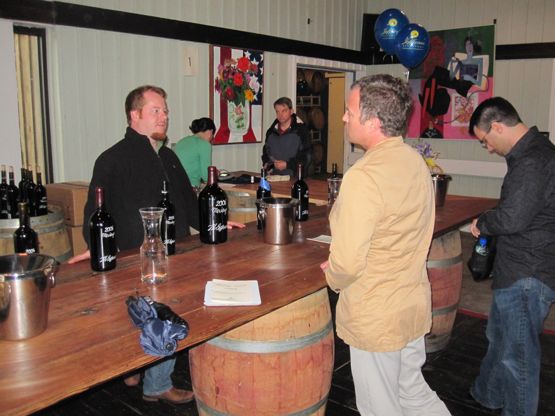 Station #1 featured the 2004 and 2006 Meritage partnered with ham biscuits. Paul and I both favored the earthy 2004 Meritage with its mixed berry and dried herb elements. I found it to be elegant yet rustic enough to enjoy with the salty ham. Station #2 featured the 2005 and developing 2009 vintages, and these were paired with seared duck breast. Paul favored the rich 2005 Meritage blend with its amoras of dark fruit and spice. While I also enjoyed this one, I recognized the potential in the 2009 Meritage. Both the 2005 and 2009 vintages were products of hot, dry summers, and I suspect that the 2009 vintage will be a blockbuster wine. It was already rich with dark plum and cherry fruit complimented by earthy notes that will create a complex pour. Of course, this one is still in the barrel, but I expect that Reagan will earn several medals with this one.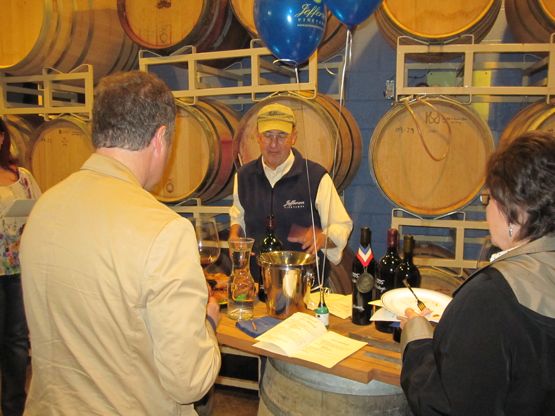 So on to Station #3 where we sampled the 2008 and 2007 Meritage blends. Unlike the Merlot- based blends that dominated the Meritages at Stations #1 and #2, these featured Cabernet Franc in the starring role. This was a coin flip for me; however, I reached a more nuanced conclusion. Both were excellent, but the 2008 Meritage is more accessible and could be enjoyed now. If cellaring is the goal, then opt for the 2007 Meritage, the product of a stellar growing season with extreme drought conditions, reduced yields, but more concentrated flavors (sounds like 2010?). Complex fruit with earthy elements of tobacco and cedar made for a rich, bold wine that should age quite well. (I made a note to take home a bottle each of the 2007 and 2008.) Oh, and these were partnered with a sliced beef tenderloin—quite divine!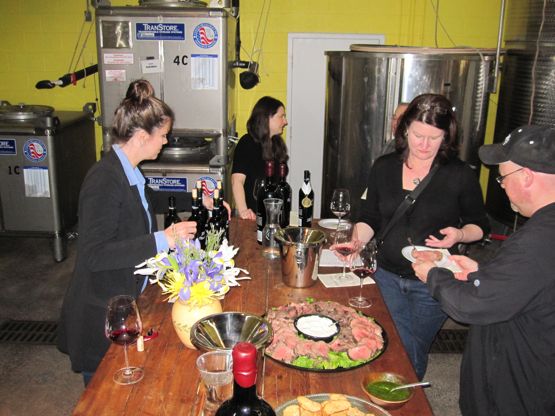 The tasting ended back in the tasting room with a sip of the 2002 Meritage and the blockbuster blend of Meritage 7.8.9 crafted by Reagan from a blend of the 2007, 2008, and 2009 Meritage vintages. The 2002 vintage was produced from yet another stellar growing season; dried fruit, licorice and tobacco characteristics prevailed here. The latter blend will be BOLD—wait for the release in April 2012 but anticipate the need to either decant or age. Of course, take my course of action and buy two bottles—decant one bottle to serve upon purchase and save the other for a future occassion. These were paired with strong cheeses and dried fruit.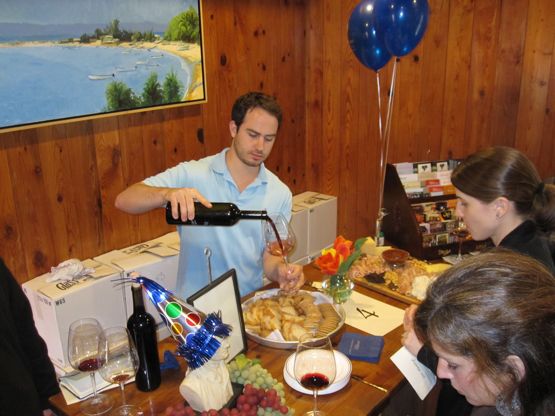 As always, these events seem to fly by very quickly, and we were able to join this tasting with Frank Morgan of Drink What You Like and the dynamic duo who write Sip Swirl Snark after the tasting. Andy gave us a preview tasting of the 2010 Viognier. Amazing! We can't wait for the release! It might even rival the 2007! Andy was a gracious host and spent much time with us to present the vintages as they were poured. We always have a great time with our fellow wine bloggers and Andy and his crew. We could not think of a better way to celebrate the birthday of Thomas Jefferson, and he would be quite proud of the Meritage blends poured in his honor at Jefferson Vineyards.  Plan a trip to Jefferson Vineyards, and mention that Virginia Wine Time sent you!