I'm seriously backlogged with posting about our experiences, but I'll try to get caught up in the next couple of weeks. I will start with the most recent experiences and feature Chester Gap Cellars and Hume Vineyards.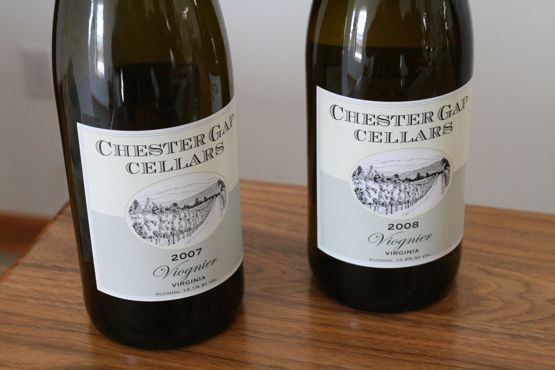 I'll begin with Chester Gap Cellars. We always looks forward to running into Bernd Jung in the tasting room at Chester Gap Cellars, and this time was no exception. In fact, Bernd conducted our tasting; of course, he began with the white wines. Viognier is a specialty at Chester Gap, and Bernd produces both a stainless steel and barrel-aged version. Paul preferred the crisp 2008 Viognier with its floral nose and fruity flavors; however, I always tend to prefer barrel-aged over stainless steel. These always seem more substantial to me, and Bernd treated us to a comparison of the 2007 Viognier Reserve and the 2008 Viognier Reserve. Both were very good, but I kept reaching for the 2007 vintage. It presented a nice integration of floral aromas, stone fruit elements and oak nuances. However, the 2008 vintage was equally nice with citrus notes and a honeyed texture. With spring in the air and summer not so far away, do try the slightly sweet 2009 Cuvee Manseng and its heady tropical fruit characteristics.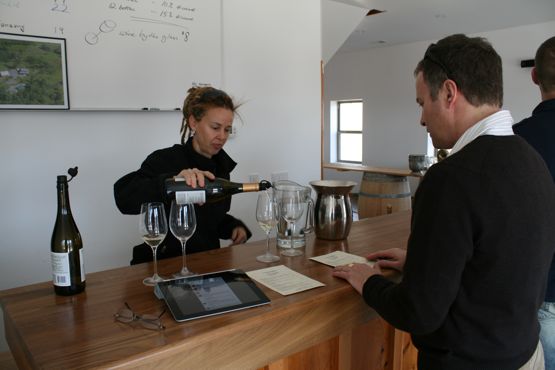 Of the red wines, we both enjoyed the fruit forward 2008 Pettit Verdot with its dark berry and tobacco/earthy characteristics. Enjoy with roasted meats, leg of lamb or on its own with strong cheeses! We enjoyed a glass after our tasting—sans food.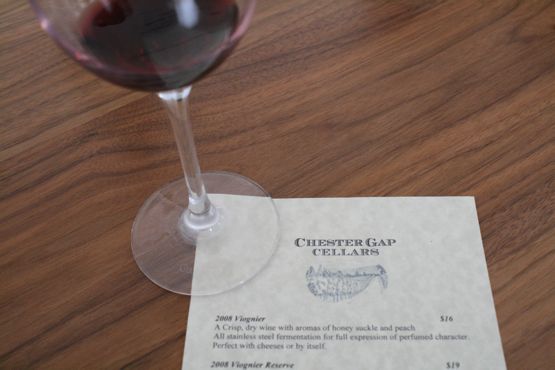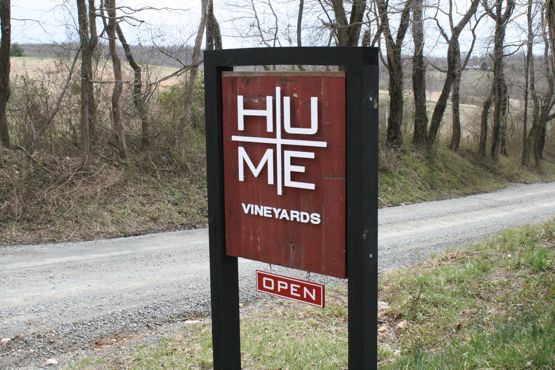 We were eager to make our return to Hume Vineyards since several months had passed since our first visit. We recalled an unfinished tasting room but quality wines on the racks. This time around, we witnessed a finished facility and a crowded tasting bar; therefore, lots of things are going right at Hume Vineyards. Owner and winemaker Stephane Baldi guide us through a tasting of wines, and we were very pleased with the newly released 2010 Seyval Blanc. Crisp with a refreshing minerality, it presented notes of pear, melon and hay. Crabcakes should be served with this one! Of the reds, I was still a fan of the 2008 Detour which seems to be opening up quite nicely. Dark fruit and earthy elements prevailed here, and decanting would still be advised for those who wish to pour this one now. Chambourcin fans may be pleased with the 2010 Chambourcin, another new release at Hume Vineyards. The tasting notes suggest that this one is bold, and I will not argue with it! Big and jammy with 15.1% alcohol, it makes for an assertive wine. This was the first 2010 bottled red that we sampled, and when winemakers claim that 2010 may be the year for Virginia to rival California for big reds, this may be proof positive. Serve with big steaks and baked potatoes loaded with cheese and bacon—and then plan to hit the gym for about a week!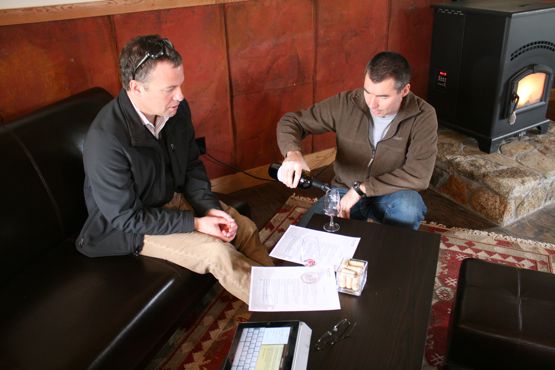 With spring already here and summer not so far away, think about picnic and barbeque fare with your favorite Virginia wines. Out of Virginia wine? Plan a trip to Cheaster Gap Cellars and Hume Vineyards to replenish your wine racks, and mention that Virginia Wine Time sent you.