Glen Manor Vineyards held a barrel tasting this weekend, and we attended the event so that we could sample the developing wines from the 2010 vintage. We keep hearing about the potential for the 2010 vintage to be among the best ever for Virginia, and this barrel tasting gave us the first opportunity to see how this vintage is progressing in the barrels.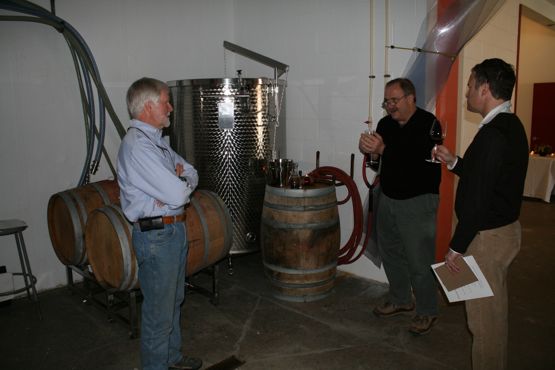 We must admit that we are big fans of winemaker Jeff White, and we had high hopes going into the tasting. We were not disappointed at the end of our tasting. Four red wines and one white wine were offered for sneak peaks, and all were intense in aromas and flavors. We started with the 2010 Cabernet Franc, and we noted dark fruit and earthy characteristics; these elements along with a dash of spice were even more evident in the 2010 Hodder Hill, a blend of Cabernet Sauvignon, Merlot and Petit Verdot. The Hodder Hill was developing in new French oak barrels for the tasting but the rest of the aging will eventually occur in older French oak barrels.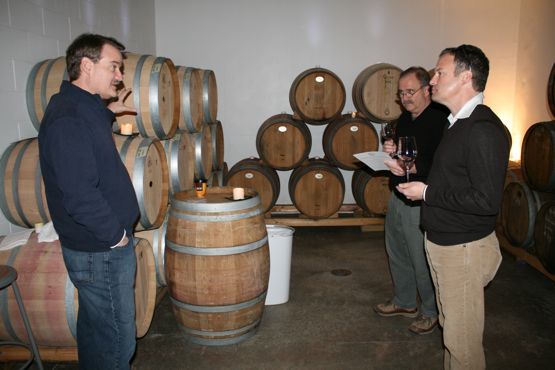 Stations III and IV allowed us to compare the 2010 barrel sample and the special release 2009 Petit Verdot that was already bottled. The 2010 will be a dynamite pour upon release—inky and jammy with lots of bold black fruit and spice, it was easy to conclude that this will be a blockbuster. However, only three barrels were produced, so it will indeed be limited. I must say, though, that I was as enamored with the elegant 2009 Petit Verdot offered at Station IV; it offered the characteristic dark fruit and spicy components that are associated with Petit Verdot but seemed more structured and refined. Candle lights and dinner parties with this one!
Our final sample was actually from a tank, and it featured the 2010 Late Harvest Petit Manseng. Waves of tropical fruit flavors seemed to say "aloha" in the mouth; at only 5% residual sugar, it could serve as a dessert wine or a partner with a cheese course and some proscuitto on the side. Speaking of food, I must add that the barrel samples were offered alongside a variety of foods that included mousse truffle canapes, mushroom fritters, empanadas, and dark chocolate truffles. My favorite was the fig preserve and mascarpone serve atop savory walnut shortbread paired with the Petit Manseng.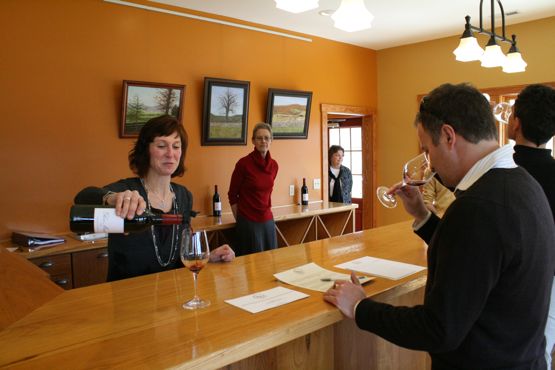 So when to expect to see these wines in the tasting room? Probably in 2012; however, the tasting room menu now features enough current releases to keep Glen Manor fans quite happy. Jeff White continues his excellence with Sauvignon Blanc; the 2009 vintage featured classic elements of citrus and grass with a vibrant acidity and minerality that beg for springtime crabcakes. The reds included the 2009 Cabernet Franc, 2008 Hodder Hill, and the 2008 Vin Rouge. All were well crafted; however, we both concurred that the bolder 2008 Vin Rouge was our favorite; this blend was heavier on the Petit Verdot (33%) with other components including Cabernet Sauvignon, Merlot, and Cabernet Franc. I noted aromas of blackberry, black cherry,tobacco and pepper with some anise to boot; similar fruit characters abounded in the mouth with a lenghty finish.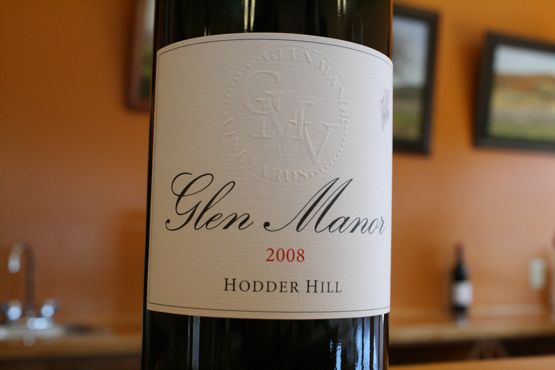 Needless to say, we left Glen Manor Vineyards with a few bottles of our favorite wines. We'll be back soon, though, and we encourage readers to stop by for a tasting. Be sure to mention that Virginia Wine Time sent you.