On Saturday we attended the Merlot Vertical Tasting at Breaux Vineyards. We arrived a few minutes early and had time to do a regular tasting. While we were tasting we were able to chat with Jen Breaux. It was great catching up with her. She informed us that Breaux will be announcing their new winemaker in about a week. They've had some great candidates and are excited about the new energy coming to Breaux. She also told us that famed winemaker Michael Shaps will be consulting with Breaux over the next year to help make the transition a smooth one. We were excited to hear that Michael Shaps would be conducting the Merlot Vertical Tasting. As our tasting came to an end and the vertical about to begin, Jen told us of the plans to expand. There are plans to build a new inventory building and tasting room. There will also be a club room! We are looking forward to the additions coming to Breaux.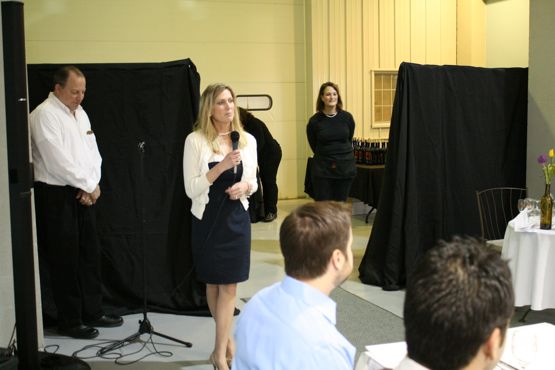 After an introduction from Jen Breaux and a taste of the 2010 Cabernet Rose (pre-release) the Merlot Vertical began. Michael Shaps informed us about the wines we'd be tasting. We tasted merlots from 2000, 2001, 2002 (reserve), 2004, 2006, and 2007. The wines were presented in pairs with a delicious course to enjoy with each pair of wines. We began with the 2000 and 2001 vintages. These were served with grass fed beef stewed with shitake mushrooms and grape tomatoes served with roasted turnips and grilled zucchini. Of these two both Warren and I enjoyed the 2000. We noted extracted fruit, anise, plum, and toffee. I thought this one paired perfectly with the grass fed beef.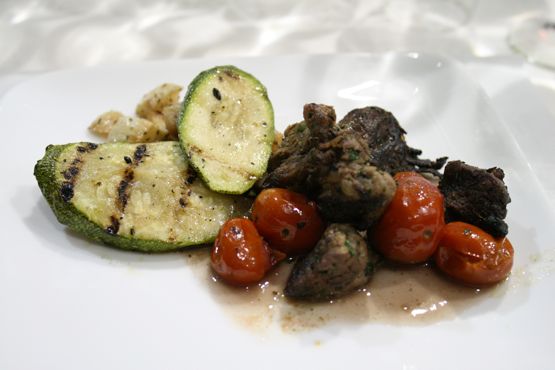 The second course of free range chicken over gnocchi tossed in pumpkin sage cream sauce and dusted with smashed pecans and served with sliced pecorino-romano cheese was served with the 2002 reserve merlot and the 2004 merlot. Of these two vintages the 2002 reserve merlot was the hands down winner. We have written about the 2002 reserve before and absolutely love it. We noted raisin, dates, tobacco, anise and plum. I only have one bottle of this vintage left on my rack and I'm hanging on to it. It only gets better with time.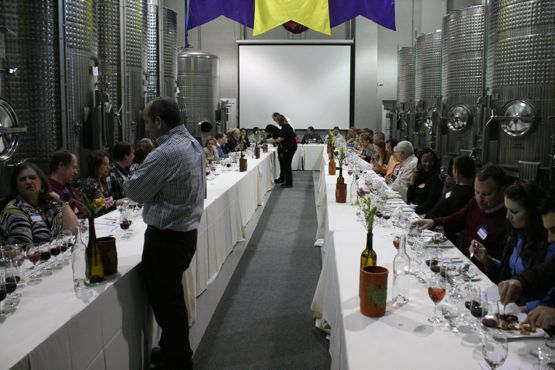 The 2006 and the 2007 merlot vintages were served with grilled lamb and roasted onion terrine served with warm over rosemary roasted fingerling potatoes and peas with lamb gravy. The 2007 merlot stood out during this course. We noted its dark color, dark fruit characteristics and light tannic presence. Once again the pairing was perfect.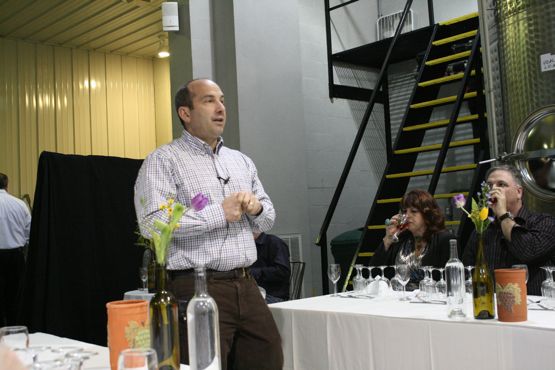 After each course Michael Shaps surveyed the participants to determine their favorites. The consensus was pretty much on target. Warren and I both selected the 2002 Merlot Reserve as our favorite of the day. Our second and third selections were split. I selected the 2007 as my second and Warren selected the 2000. In third place I selected the 2000 and Warren selected the 2007. We thought all these vintages were excellent examples of the merlots being produced by Breaux.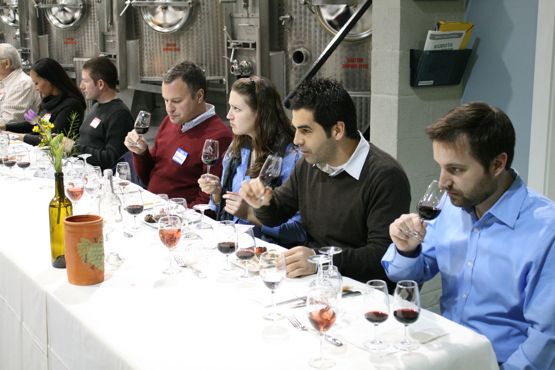 We finished the event with a taste of the Lot 816 Merlot barrel sample. While tasting the sample we chatted with other attendees and Breaux friends. Before leaving we picked out Cellar Club selections. Michael Shaps did a wonderful job leading us through the vertical. With all the news of changes coming to Breaux, the future looks bright! The next time you visit Breaux Vineyards be sure to tell them Virginia Wine Time sent you!