Our cider tasting event was a blast, but we were able to fit in a couple of wine tasting too. Along the way was Cardinal Point Vineyard and Winery and we were fairly certain that our last visit was well over a year or so ago. We also gambled that Sarah Gorman, sister of winemaker Tim Gorman, would be in the tasting room, so decided to stop by for a tasting and visit.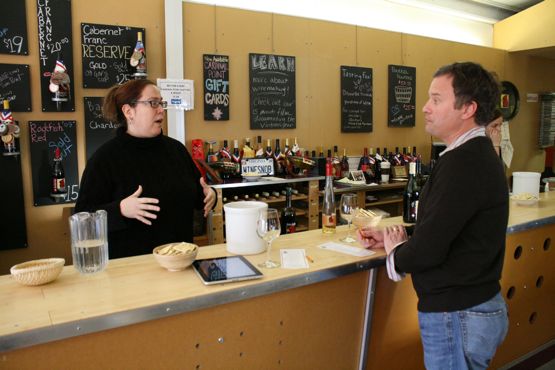 And indeed Sarah was in the tasting room upon our arrival! Sarah conducted our tasting and filled us in the latest happenings at Cardinal Point Vineyard and Winery. Five white wines were offered for tasting, and we both agreed that teh 2009 A6 was the gold-star winner. A blend of Viognier and Chardonnay, it presented pear and honey characteristics with a longer finish. I detected some cedar on the nose too. Nice for spring—I'd serve with shellfish now that crabcake season is around the corner. Sarah offered a comparison tasting between the 2008 Barrel Select Chardonnay and the 2009 Barrel Select Chardonnay, and I found the 2009 vintage to be more vibrant with apple, pear, and honey elements and a rich mouth feel. Paul became more nostalgic when he sipped the 2009 Quattro, a blend of Riesling, Gewuztraminer, Viognier, and Traminette.This is our traditional Christmas tree trimming wine that we serve with baked ham; in fact, Paul began to hum White Christmas as he brought his nose to the glass.
Of the red wines, an intriguing blend was the 2008 Cab F+Vio, and as the label implies it is a blend of Cabernet Franc and Viognier. Certainly a lighter bodied red wine, it offered bright red berry aromas and flavors with some spice notes too. A nice sipper especially for those who do not like red wines, this could also be served with herbed poutry or lamb chops. However, the ultimate favorite for both of us was the yet to be released 2009 Union, a blend similar to the impressive "3" blend. It's a blend of three varietals from Cardinal Point. Tim Gorman, the winemaker created it on his own. Sarah gave us a top-secret sample of this one, so we'll keep quiet on the details until the release date. Like suspense? For now, we can say that this is a blend of Petit Verdot, Cabernet Franc, and Tannat. Otherwise, we'll keep readers posted on this one as it develops!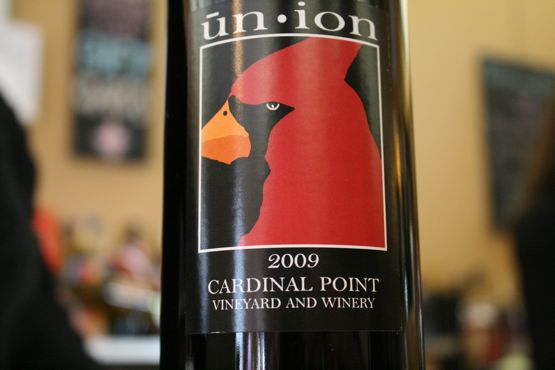 As always, it was a pleasure to sip and chat with Sarah Gorman. Sarah confirmed what we've heard along the wine trail about 2010—lower yields but spectacular fruit quality. Expect good things from the vintage. With spring in the air, stop by Cardinal Point Vineyard and Winery to enjoy a tasting of their current releases, and mention that Virginia Wine Time sent you.