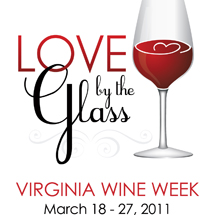 Wine lovers – get ready to toast the second annual Virginia Wine Week: Love by the Glass, March 18 – 27, 2011. Virginia Wine Week is a statewide promotion that features Virginia wine by the glass at participating restaurants and wine shops across the state. Virginia Wine Week combines the best of culinary traditions at restaurants across the state with elegant local wines and special tasting menus. Special events throughout the week along with Love by the Glass travel packages give visitors a lot to love about wine travel in Virginia.
Virginia is becoming a major wine destination, with more than 190 wineries statewide and ranking fifth in the nation for wine production. Virginia was recently named one of the top five up-and-coming wine regions by Travel + Leisure magazine, adding to the state's allure to wine lovers everywhere.
We received the above information from Virginiawine.org. Go to Virginiawine.org to find out where you can get Virginia wine by the glass!