How's that for a play on literary titles? Anyway, Frank Morgan of DrinkWhatYouLike teamed up with cider makers Diane Flynt of Foggy Ridge Cider and Chuck and Charlotte Shelton of Albemarle CiderWorks to organize a cider tasting at the Albemarle CiderWorks tasting room. We joined other bloggers and winemakers for the event and the evening ended with a cookout, wine and more cider!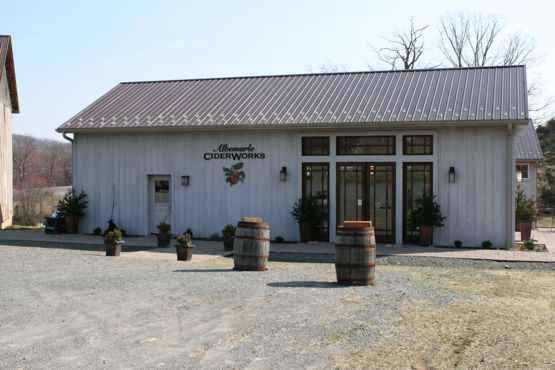 A caveat must be issued here—neither Paul nor I have any experience with cider; therefore, our opinions must be taken with a huge grain of salt. Before we tasted, Charlotte Shelton provided us with a brief history of cider making in Virginia, and does it indeed go back to colonial times. Remember, the winemaking experiments were unsuccessful despite best efforts by early settlers, and even Thomas Jefferson was confounded by Virginia's difficult climate. Apples, however, did grow well, and orchards were widely planted in Virginia. Virginia hard ciders were widely enjoyed, and John Adams began each day with a glass of the beverage. Over time, American palates moved away from hard ciders, and during Prohibition, of course, all alcoholic beverages were illegal. Although the Virginia wine industry began its renaissance some time ago, the cider industry has undergone a more recently revival;in fact, Foggy Ridge Cider and Albemarle CiderWorks are the only cider houses now operating in Virginia.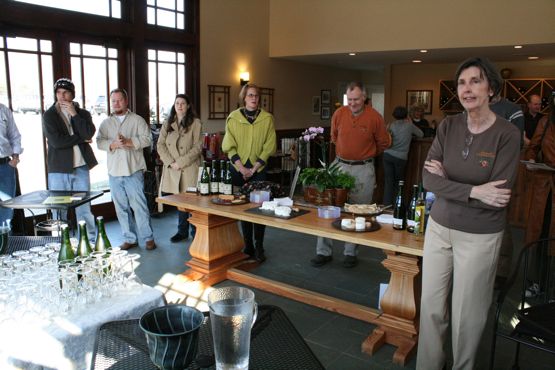 With that background in mind, we felt like we were revisiting a slice of Americana. Albemarle CiderWorks began its tasting with the CiderWorks 2009 Old Virginia Winesap which had the appearance of a bubbly sparkling wine. I applied my wine tasting techniques to the cider and observed a floral nose and a tart, acidic presentation in the mouth; assuming that I did okay with this one, I continued to swirl, sniff, and sip away. My own palate trended toward the Foggy Ridge offerings with the Foggy Ridge 2009 Serious Cider and the 2009 First Fruit topping my list of favorites. Serious Cider is made primarily from the Yarlington Mill apple and seemed lean, clean and elegant with lengthy apple flavors. First Fruit was simply delicious and presented the aromatics and mouthfeel more akin to a Chardonnay. Apples used here include Parmar, Harrison and Graniwinkle. As tasters sipped away, locally made artisan cheeses were passed around, and the creamy, full mouth texture of the Old Chatham Shepherding's Kinderhook Creek was more than a match with the fuller-bodied First Fruit.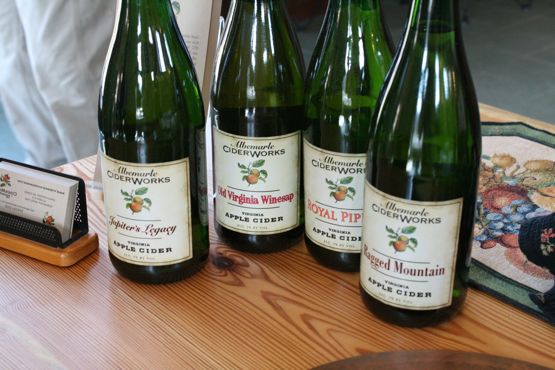 Of the Albemarle CiderWorks offerings, I found the 2009 Royal Pippin most appealing. Made from the Pippin apple, it was fruity and clean with a refreshing effervesence. Paul concurred on this one, and we both enjoyed it with the creamy Caromont's Bloomsbury cheese.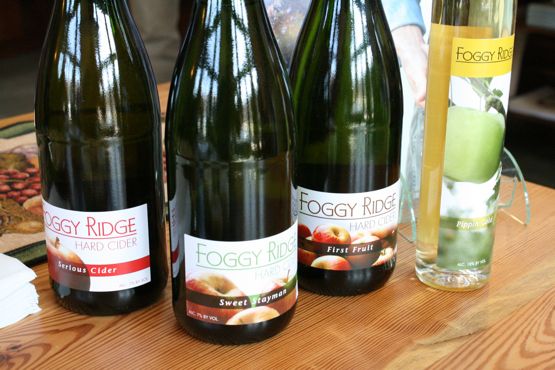 The Sheltons and Diane Flynt continued to educate us as we sampled the various ciders. Like grapes, apple flavor profiles are impacted by terroir, and varieties are carefully selected so that they suit soils and climate. The tannic Yarlington Mills apples used in the Serious Cider, for example, grow best in orchards located at a 3000 foot elevation in the Blue Ridge Plateau. These cider makers are also on a mission to debunk stereotypes about ciders—too sweet, cheap buzz, not for the dinner table, etc., In fact, most of these ciders were dry with residual sugars clocking in at well under 1%; moreover, all were at a 7% alcohol level. And do not hesitate to serve these elegant ciders at any dinner gathering!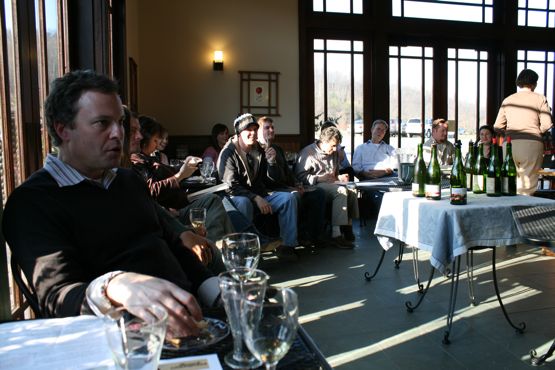 After the tasting, we continued our tastings and conversations over a cook out! Frank and Nancy (from Virginia Wine In My Pocket) grilled burgers, favorite wines and ciders were opened, and a nice evening was had by all. In the group picture below you can see we all had a wonderful time enjoying the wines and ciders. A HUGE Thank you to Diane, Charlotte, and Chuck and all the staff at Albemarle Ciderworks for their wonderful hospitality and to all the wine bloggers, winemakers, and members from the Virginia Wine Board Marketing Office. We had a great time! Thank you!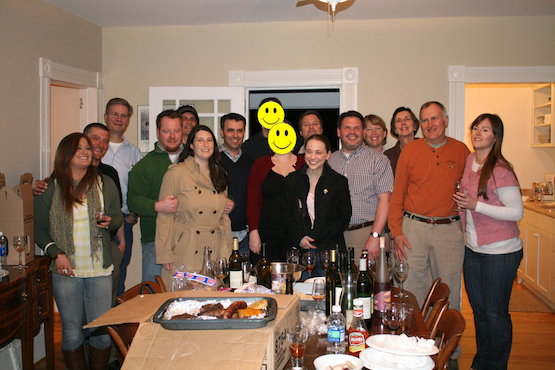 Plan to sample ciders sometime this year, and be sure to pay a visit to Foggy Ridge Cider and Albemarle CiderWorks. Mention that Virginia Wine Time sent you.