It's that time of year when we go to Naked Mountain Vineyard and Winery to enjoy lasagna and wine. Which wine did we enjoy with lasagna? Well, to figure that out we had to complete a tasting of wines at the tasting bar, of course!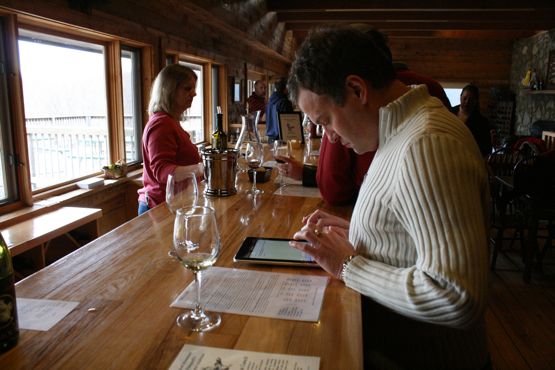 The 2006 Barrel Fermented Chardonnay and the sweeter Chardonnay Riesling were the two white wines offered for tasting. My favorite was the Barrel Fermented Chardonnay with its aromas of pear and vanilla; I also enjoyed its creamy mouth feel. Paul preferred the fruity characteristics of the Chardonnay Riesling, and I think he had visions of a warmer spring day and a refreshing fruit salad when he savored this one.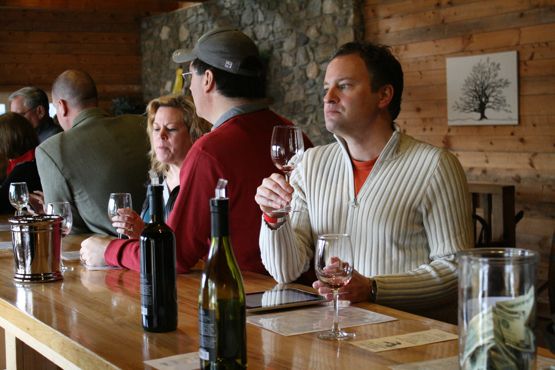 Speaking of food, we certainly had lasagna on our minds when we sampled the red wines. The Rhone-inspired 2006 Scarlet Oak Red earned my stamp of approval. Created from a blend of 45% Syrah, 45% Mouvedre, and 10% Tannat, it presented a smoky nose with cherry and raspberry aromas with a whiff dried herbs to boot; similar flavors with a toasty edge were evident in the mouth. Paul, however, was more inclined toward the newly released 2007 Raptor Red, a blend of Tannat (31%), Merlot (30%), Petit Verdot (20%) and Cabernet Franc (19%). Darker fruit elements abounded here with a smoky/earthy nose. I concurred that this blend offered a bolder, more complex wine; from the 2007 vintage, it will only improve with time.
So with lasagna on the way, we settled on a glass of our favorite red wines; I enjoyed a glass of the 2006 Scarlet Oak Red, and Paul sipped the 2007 Raptor Red. As we sipped and nibbled, we met cellar master Brooke Walter who hinted at exciting possibilities for the upcoming releases. She was particularly enthusiastic about the possible release of a stand-alone Malbec. Brooke also assured us that new owners Randy and Meagan Morgan were commited to maintaining the strong winemaking tradition at Naked Mountain Vineyards. Needless to say, we promised to return in the near future to sample new releases at Naked Mountain Vineyards and Winery.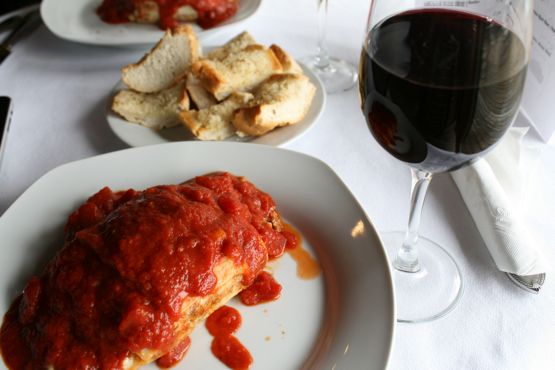 We should also mention that the sausage lasagna is amazing at Naked Mountain, so plan to enjoy a lasagna lunch with a glass of wine at Naked Moutain Vineyards and Winery. Please mention that Virginia Wine Time sent you.