Recently we stopped at Piedmont Vineyards to visit with our friend and winemaker Gerhard von Finck. We always enjoy catching up with Gerhard and tasting his latest releases. This time he also treated us to some barrel samples!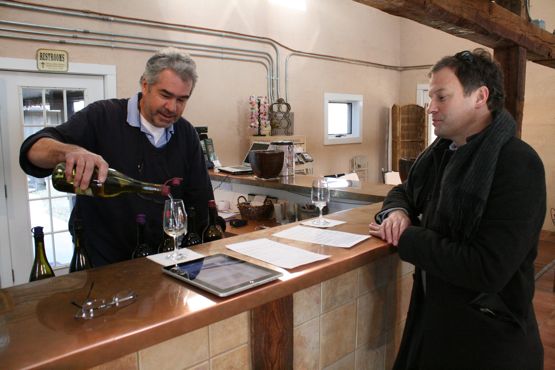 The current lineup of white wines consist of three different chardonnays. Piedmont is known for chardonnay and this lineup doesn't disappoint. We started with the 2009 Hunt Country Chardonnay. This one is unoaked and presents a crisp edge with fruit all around. This one received my gold star. Next up was the 2009 Native Yeast Chardonnay. Warren noted this was a complex wine with creamy notes. The final chardonnay is the 2009 Special Reserve Chardonnay. This one was aged nine months on the lees in Hungarian oak. It is a nice round, buttery chard with hints of oak and a long finish. This one received Warren's gold star.
We started the reds with the 2008 Hunt Country Red. This one is merlot based. We noted ripe, red fruit, with an easy finish. I think this one would go well with pizza. Next up was the 2009 Cabernet Franc. This one is 100% cab franc and spent nine months on oak. We noted a raspberry nose and big, smooth raspberry notes on the tongue. This one became our gold star winner for the reds. Warren and I both enjoyed this one. Next up was the 2006 Merlot. This merlot spent 30 months in oak yet has enough fruit left to sit nicely on the tongue. The last red was the 2006 Cabernet Sauvignon. We noted some earthy elements, cedar, and nicely integrated tannins.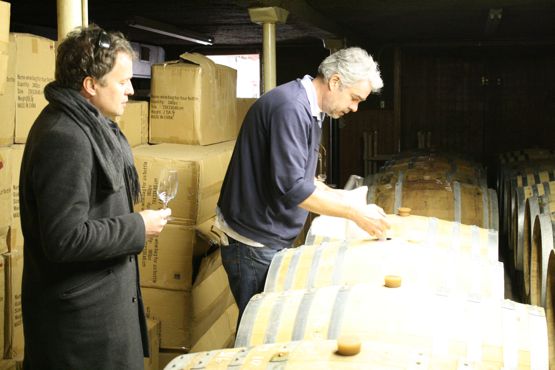 After our tasting Gerhard took us to the barrel room. We were able to sample a few wines still in barrels. We were able to taste chambourcin that was going through ML (malolactic fermentation) and was quite yeasty. However, you could see the direction it was going. We also tasted a cabernet sauvignon and a merlot. Both of these were really developing well in the barrels. I really enjoyed the merlot and look forward to it being bottled. It's always fun to see wines in the process and attempt to figure out what they'll be like when bottled.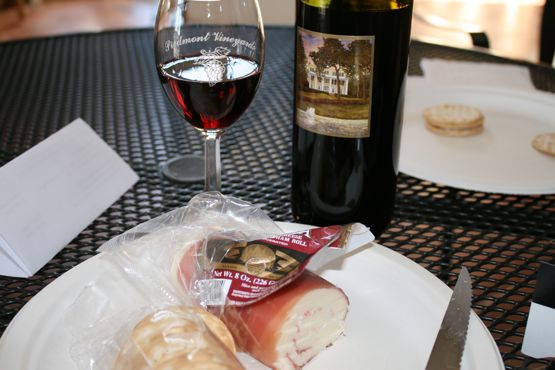 Once we finished the sneak peek from the barrels, we selected the 2009 Cabernet Franc to have with lunch. We had a prosciutto and mozzarella roll with crackers for lunch. Gerhard joined us and chatted about wine the whole time. What a great afternoon! Plan a trip to visit Piedmont Vineyards soon and tell Gerhard Virginia Wine Time sent you!