I had an early dinner tonight without wine so I decided to peruse my rack for something different. I had several things to choose from but decided on the 2007 Merlot French Oak Select from the Cellar Selection from Breaux Vineyards. I was really looking for just a sipper but ended up with a bigger wine than I was expecting. On the bottle it says it was aged in new French oak barrels for 31 months. It being from 2007, I probably should have left it on the rack longer. Over all though, I really enjoyed this one but should have had food as well.
I see my ChapStick left a lip print on my glass!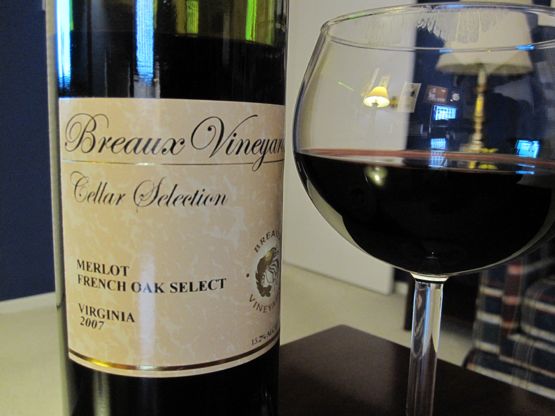 On the nose I got a hit of coffee at first and then it gave way to some dark fruit and tobacco. In the mouth I noted dark fruit, prune, mocha, and tobacco. I also noted some pretty big tannins. They coated my tongue pretty strongly. The bottle does mention firm tannins so I should have been expecting them. There is a lingering finish with fruit characteristics. I know I've mentioned it many times before but being a club member at Breaux really does have it's benefits. Having access to wines like this is just one of the many benefits. Next time you visit Breaux Vineyards tell them Virginia Wine Time sent you!