That's the question Paul asked this past Friday night, and I already planned to prepare panned-fried chicken breasts topped with a wine sauce. A side of angel hair pasta tossed with butter and parmesan cheese finished the dish. The next question? Of course it was, "What Virginia wine should we have with dinner?" My decision was the 2008 Chardonnay Reserve from Keswick Vineyards.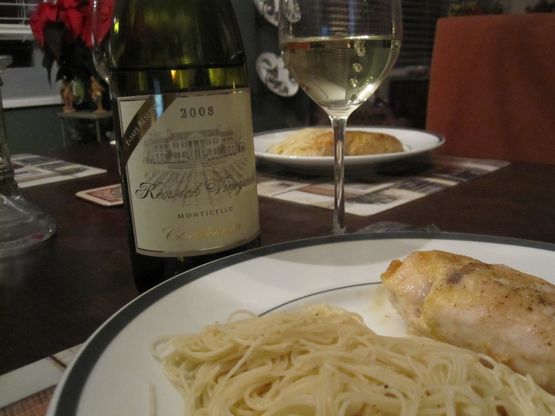 With dinner on the table and candles already lit, my trusty notepad was beside my plate and at the ready to take notes on this Chardonnay. It presented a pale straw color in the glass, and the nose was greeted with aromas of pear, apple and hazelnuts. Simlar fruit characters were evident in the mouth with a honey/caramel texture and toasted edge. We both noted a lengthier finish, too. It proved to be the perfect partner with our meal, and we only regretted finishing the bottle!
So now that 2011 is in full swing, look for more regular postings from us. We resolve to try even more Virginia wines this year, and the 2008 Chardonnay Reserve from Keswick Vineyards got us started on the right track. Plan a visit to Keswick Vineyards soon, and be sure to mention that Virginia Wine Time sent you.