On Sunday we went to the Holiday Wine Mall at the Dulles Expo Center. It was a great opportunity to taste many Virginia wines and pick up some gifts for all the special people on our holiday shopping list. We took the opportunity to taste wines from some of our favorite wineries, taste wines from a few new wineries, and of course chat about Virginia wine.
We tasted the wines offered by the newest additions Kilaurwen and Annefield Vineyards. Have you heard of either of these?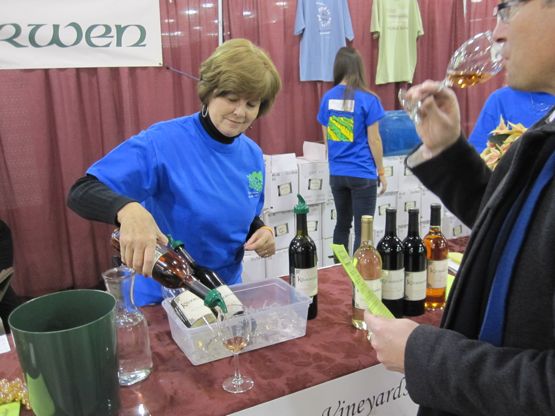 Kilaurwen is so new they don't have a tasting room open yet. They plan to be open in April 2011. They are located in Stanardsville Virginia. Until the tasting room is open they will be pouring and selling their wines at festivals. We were able to taste their Rose, Fiesta White, Cabernet Franc, and their Fiesta Red. Of these I enjoyed the Cabernet franc with its raspberry and blackberry notes and hint of pepper. When Kilaurwen opens up next week, we'll have to plan a trip to taste their wines again. They are working on creating a website so I don't have a link to include.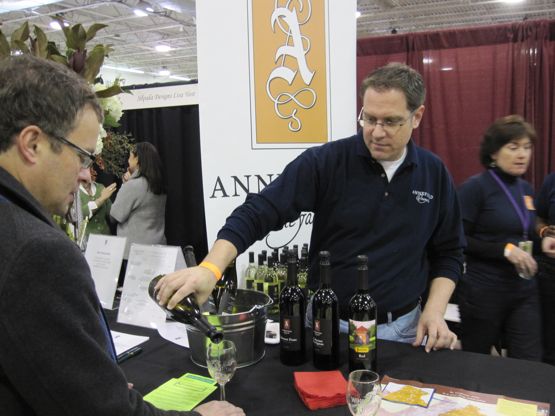 Annefield Vineyards was the other newbie. Annefield is located in Saxe, Virginia. The tasting room is a renovated plantation house dating back to 1858. We had a great time chatting with owners Stephen Ballard and Michael Leary. They told us all about their property, vineyards, and tasting room all while we were tasting the wines. We had the chance to taste their Chardonnay, Viognier, Cabernet Franc, Cabernet Sauvignon, the Annefield Red and the Annefield White. Michael Shaps is the winemaker for Annefield and has done an amazing job with these wines. I placed one gold star next to the Chardonnay which is light and crisp with hints of pear and lemon. I placed my other gold star next to the Cabernet Franc. I noted integrated tannins, spice, and pepper. I consider these the absolute stand out wines from the whole show. I only bought two bottles of wine from the event….the Chardonnay and the Cabernet Franc from Annefield Vineyards. If you get the chance to taste their wines, you simply must. And be sure to tell them Virginia Wine Time sent you!