Warren's parents are in town for Thanksgiving so we decided to take them to a few wineries in Loudoun County on Sunday. I also needed to pick up my Cellar Club selection at Breaux Vineyards so we stopped there first. We always have a great time at Breaux. Our favorite tasting associates Bruce and Silvia, were at the tasting bar and Bruce conducted our tasting. We also ran into our wine friends Susan and Stacy.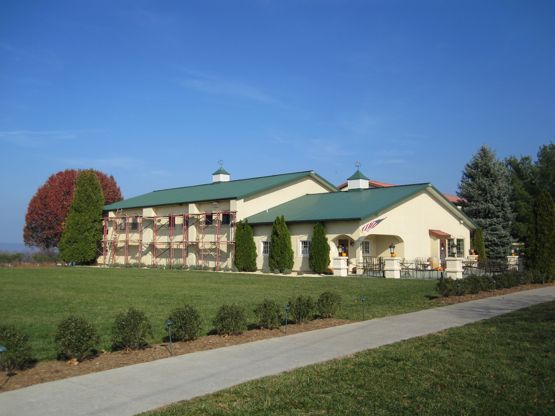 Since we visit Breaux on a regular basis there usually isn't anything new for us to taste but this time there was a new cab franc and several barrel samples to try. After sampling all the regulars, we go to the 2006 Marquis De Lafayette. It was released about two months ago. It's 100% Cabernet Franc and we noted dark plums, raspberry, pepper, and spice. It has a smooth ending as well. We thought this one would be perfect with turkey on Thanksgiving. While at the tasting bar we were also able to taste the 2009 Viognier. We really enjoyed the floral and honeysuckle notes on this one. There is so little left that it's not even on the tasting menu. If you want a bottle you need to get to the tasting room soon. The 2009 Viognier received one of our gold stars!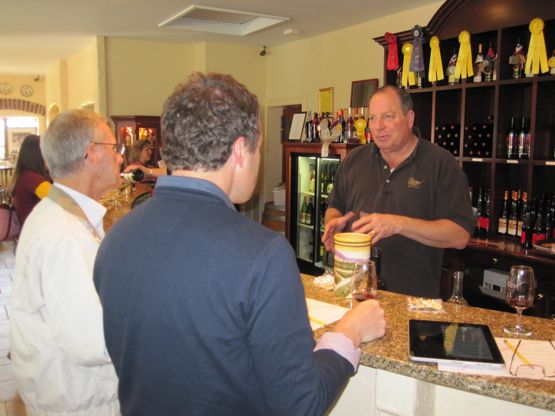 After our regular tasting we moved on to the barrel samples. We were able to taste samples of the 2008 cab franc, the 2008 malbec, the 2008 syrah, the 2008 petit verdot, and the 2007 nebbiolo. We're not sure if these barrels will be blended to make other wines or if they will become stand alone wines. It's too early to tell. However, we did enjoy the 2008 cab franc. It's really fruity right now with hints of jam and spice. We think this one will turn out to be really nice. We decided to award a good star to this one. We look forward to tasting it in the bottle.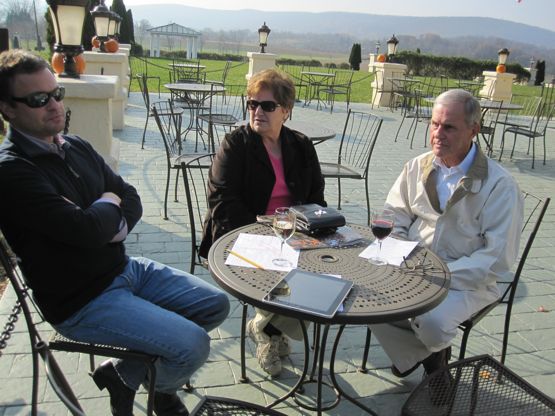 After tasting all the wonderful wines and chatting it up with Bruce and Silvia and Susan and Stacy, Warren opted to enjoy a glass of the 2008 Barrel Select Chardonnay and his dad selected the 2004 Merlot to enjoy on the patio. If you stop at Breaux anytime soon, tell them Virginia Wine Time sent you!