Our last spate of winery visits found us at Fox Meadow Vineyards. We realized that our previous visit was sometime in the late fall or early winter of last year, so we were well over due for a tasting. With taste buds at the ready, we made our way to the tasting room to sample the latest pours at Fox Meadow Vineyards.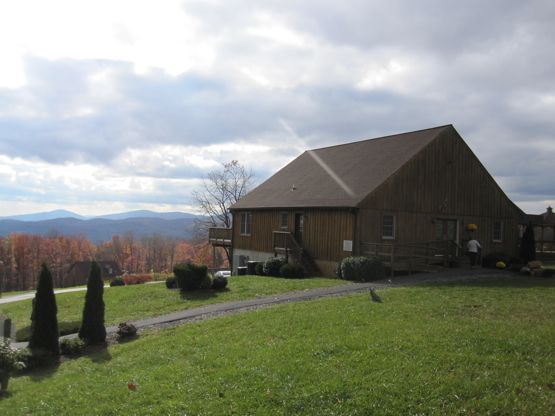 Fox Meadow Vineyards was quite abuzz with activity upon our arrival on a Saturday afternoon. I'm sure the seasonal temperatures, colors and nice wines had something to do with it. Of the white wines that we sampled, Paul favored the 2008 Oak Chardonnay aged for ten months in both French and American oak barrels. He appreciated the fruity nose with pear and pineapple notes with some honeysuckle to boot; pear flavors and a toasty finish made for a classic Chardonnay. My own favorite was the sneak sample of the yet-to-be released Reserve Chardonnay which was aged for 20 months in French oak barrels. This heavier-bodied Chardonnay exhibited fruit characteristics of pear and roasted pineapple with a toasted nut finish and a creamy mouth feel. Spicier foods might pair well with the Freezeland white, a sweeter, fruity wine; of course, we think of our friend Michael Tyler when we sample these wines, and we dutifully place the initials, MT, next to this selection.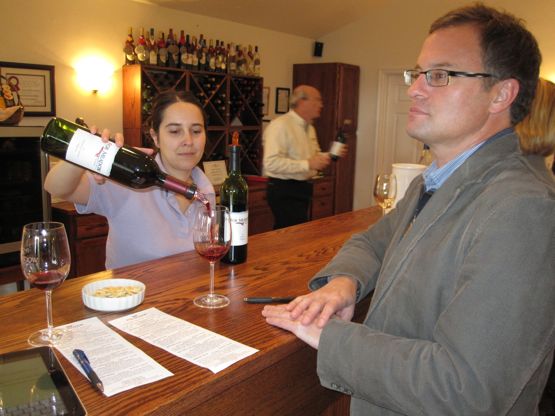 Of the red wines, the unanimous favorite was the 2007 Renard Rouge. A complex meritage-style blend, it presented brambleberries and plums on the nose with additional earthy and spicy elements. Nice tannins make for a food-friendly wine if steaks are on the menu. The 2007 Renard Rouge won gold at the Governor's Cup, and it is an example of the excellent reds that constitute the class of '07 in Virginia. Those who are in search of a lighter-bodied red may prefer the 2007 Cabernet Franc with its raspberry and spice characteristics.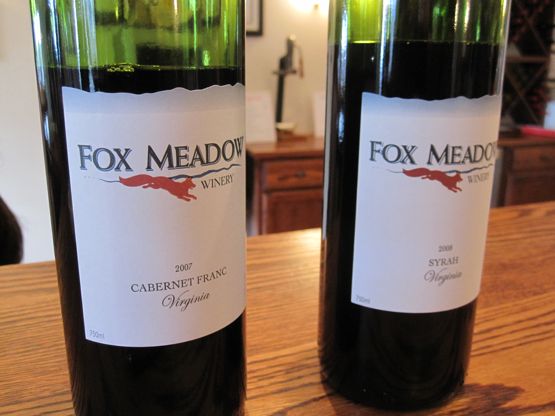 With our tasting completed. we shared a glass of the 2008 Oak Chardonnay while out on the deck to enjoy a nice fall afternoon. We plan to return to Fox Meadow, but readers may want to visit even sooner. Be sure to mention that Virginia Wine Time sent you.