We've recently raved about the 2007 Topiary from Boxwood Winery, and that review caught the attention of Cat Coughlin, tasting room manager at Boxwood Winery. Cat invited us out to the winery for a tour and tasting, and we could not refuse the offer. We also got to chat with Rachel Martin, Executive Vice President and daughter of owner John Kent Cook. In our conversations with Cat and Rachel, the word "passion" was frequently used, and passion for excellent wine was on full display at the winery and tasting room.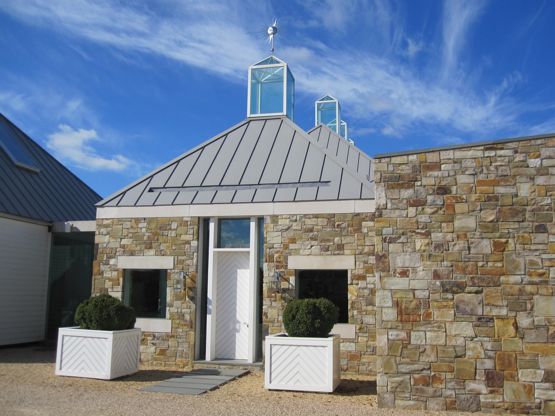 The Boxwood facility is quite impressive, and the winery itself rests on the 165 acres of land that was once owned by aviation pined Billy Mitchell. John Kent Cook now owns the property, and he made the decision to use part of the acreage to plant a vineyard. Boxwood released its first vintage in 2005, and the winery opened in 2008. The winery was designed by Hugh Newell Jacobsen and can be described as contemporary yet elegant . Stone walls line the interior and surround a circular stainless steel tasting bar; from the tasting bar, glass doors and panels allow tasters to view the adjacent chai, tank room and barrel room. We were warmly greeted by Rachel Martin who kindly included us in a tank tasting already in progress with a team from the Park Hyatt. Our sneak preview was a sample of the yet-to-be bottled 2009 Topiary, the Cabernet Franc/Merlot blend. It presented spicy notes with plum and pepper characteristics; earthy nuances were evident, too. This blend was already aged in French oak barrels for twelve months, and upon bottling it should continue to develop quite nicely.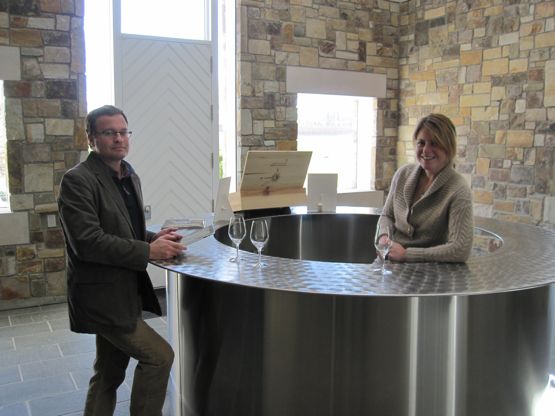 From the tank room, Rachel led us to the chai where the state of the art bottling equipment was on full display. Winemaker Adam McTaggart led the tour here and explained that overhead pipes pump wine from tanks into bottles; this system minimized the use of hoses in the bottling process. Boxwood Winery is dedicated to cork enclosures, too. From there, Rachel resumed our tour which continued into the circular barrel room. Barrels lie atop rocks that serve as humidity controls, and the room was constructed underground to help in maintaining a constant temperature of 55 to 65 degrees. It was in the barrel room that I asked Rachel two questions: What was behind the decision to focus on red wines, and why in Virginia? Her reply? Passion. Rachel and her father have a passion for red wines, and they likewise possess a passion for Virginia wines. Both believe that Virginia is capable of producing excellent red wines, and their aim is to push the quality levels even higher. To that end, the Boxwood team of winemakers, vineyard managers and consultant reads like a list of Who's Who in the winemaking industry. Noted viticulturist Lucie Morton designed the sixteen acres of vineyards; Professor of Enology Richard Vine advised Jacobsen on the winery's design, and heralded Bordeaux winemaker and consultant Stephane Derenoncourt consults with McTaggart. In fact, Derenoncourt was featured in this month's Wine Spectator with Boxwood Winery given a starring role. Spectator went on to review two of Boxwoods wines: 2007 Boxwood received 88 points, and 2007 Topiary earned 87 points.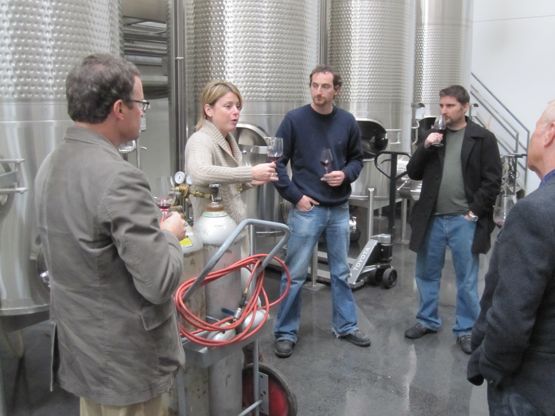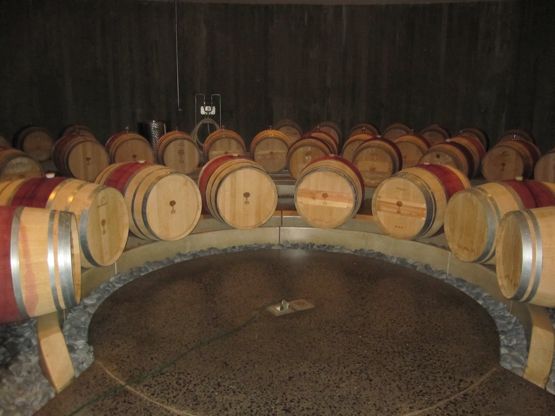 With our tour completed, we made our way to the tasting room located in the heart of Middleburg. Cat was already prepared for us with glasses and wines at the ready. We were able to taste through all of the red blends, and these included the Boxwood blend from the 2006, 2007, and 2008 vintages. I should note here that the Boxwood is a Medoc-style blend with Cabernet Sauvignon as the dominant grape with Petit Verdot and Merlot playing supporting roles. Our winner was the 2007 Boxwood with its concentrated dark fruit features and aromatics of anise, tobacco and cedar. Nice tannins on the finish made for lovely pour. The structured 2006 presented more of the spicy/earthy elements with blackberry and plum flavors. The 2008 was the fruitier of the Boxwood vintages and made for a more accessible wine.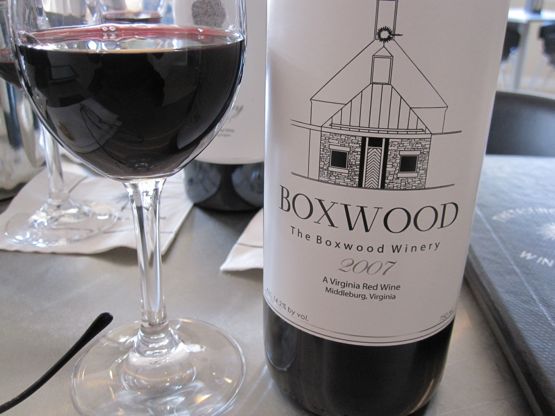 We also sampled the Topiary blend from the 2007 and 2008 vintages. Topiary is the St. Emilion-style blend with Cabernet Franc as the primary grape; sidekicks include Merlot and Malbec. Our favorite here was also from the 2007 vintage. Aromatics include dried fruit such as dark currants, cherries, and dates with similar dark fruit flavors in the mouth that finished with some spice. Tannins were velvety. The fruitier 2008 vintage presented red fruits and herbal characteristics; like its 2007 sibling, the 2008 finished smooth.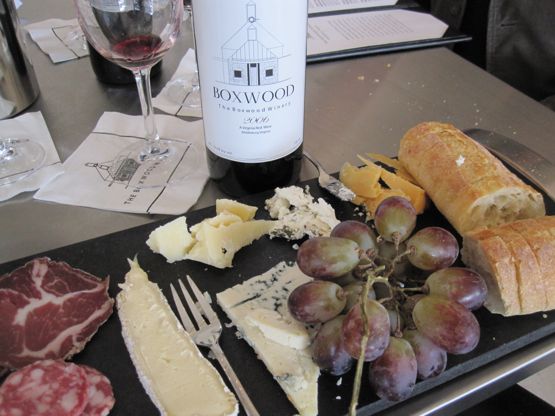 As Cat conducted our tasting, we asked her why she got involved in winery business. Her answer? Passion—the same word used by Rachel. Like Rachel, Cat sees the potential in Virginia wine, and the passion that she witnesses from the Boxwood team likewise inspires her. We think that all of this passion is paying dividends, too. With excellent wines already topping the charts, we will all be hearing more about Boxwood Winery in the future; in fact, Rachel Martin believes that the 2010 harvest has the potential to produce the best Boxwood reds. We are already anxious to sample these upon release!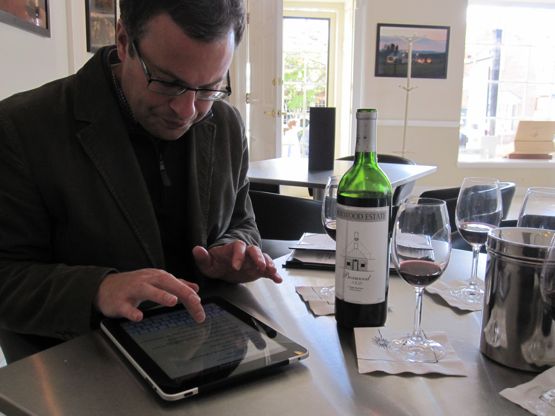 Plan a visit to Boxwood Winery, and a visit to the tasting room is as easy as getting to Middleburg. The tasting room includes an enomatic dispenser that will allow tasters to sample Boxwood wines as well as other wines from Bordeaux and Italy. Plan a visit to Boxwood Winery and tasting room, and be certain to mention that Virginia Wine Time sent you.