My last post detailed the results of the Eastern Shore winery tastings. Our delightful afternoon found us sipping and chatting with winemakers at Bloxom Vineyards, Holly Gorve Vineyards, and Chatham Vineyards. Our meet-up continued after our winery visits, though, and we all stayed at the Green Valley Farm Bed and Breakfast. We all brought bottles of wine to enjoy with a delicious meal prepared by the sipswirlsnark team; we also got to appreciate our comfy accommodations provided for us by our hostess, Chantal Deel.
As dusk set it, we continued to all get better acquainted, and what better way to socialize than with favorite Virginia wines. Before we knew it, the sipsters had the kitchen knives flying away with their preparations for the evening's meal. Their menu started with their own olive tapenade and a spread made from edamame. As they donned their favorite chef's hats and took charge in the kitchen, we sipped on glasses of Pollak Vineyard's Durant White and the 2007 Glen Manor Sauvignon Blanc. We fed the horses that live on the grounds and watched as the stars began to twinkle. It was a classic autumn evening—cool and crisp!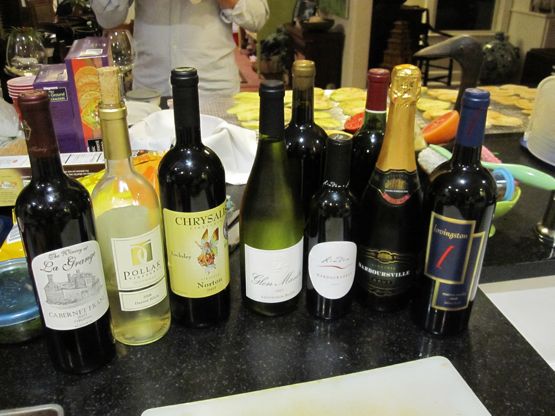 Before long we were dining on grilled flank steak, stir-fried green beans, and sliced eggplant sauteed with parmesan cheese, and favorite red wines were compared at the dinner table. The gold stars for the evening seemed to be the Linden Vineyards' 2007 Hardscrabble Red and the 2006 Merlot from Lovingston Vineyards. (I seemed to take an extra pour of Chrysalis' 2005 Norton Locksley Reserve; sometimes it's okay to be the oddball.) Dinner ended with a decadent chocolate tart, and then it was off to bed.
Chantal made breakfast for us all in the morning, and it was quite a spread that she prepared. Eggs, sausage and biscuits with gravy, bagels, bacon, fruit with yogurt—it seemed endless. There is no doubt that Chantal runs a cozy inn with well-appointed bedrooms, an outdoor fireplace to complement the patio, and gardens that feature brilliant flowers and fragrant herbs. Horses live on the property, and visitors can expect to see deer, geese and turkeys frequenting the grounds.
Be sure to visit wineries on the Eastern Shore and plan to stay at Green Valley Bed and Breakfast. Mention that Virginia Wine Time sent you.