Frank Morgan of drinkwhatyoulike.com organized a bloggers' tour of wineries on the eastern shore of Virginia, and we gladly tagged along; we were also joined by the dynamic duo who write swirlsipsnark.com. On the agenda for the merry band of bloggers was tastings at Bloxom Winery, Holly Grove Vineyards, and Chatham Vineyards. With pens (and iPad) in hand and palates ready, we embarked on our mission.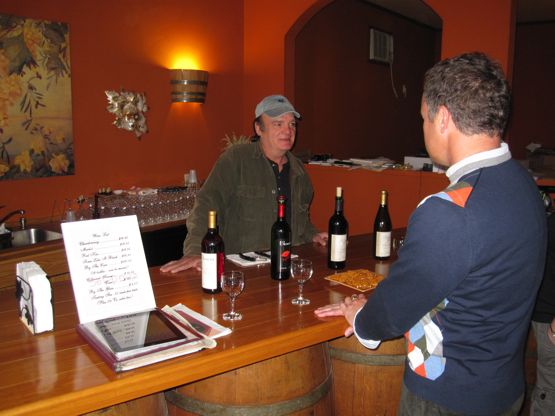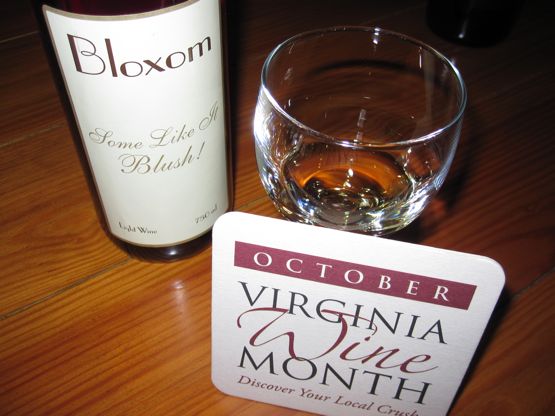 Bloxom Winery: The first thing we noticed was the wood-fired outdoor oven. Owners and winemakers Robert and Francesca also make authentic Italian pizza in the oven as well as fresh Italian bread, and we can attest to the excellence of the pizza. In fact, Francesca treated us to a freshly-baked pizza as we tasted at the bar—YUM! Robert conducted our tasting, and we learned that the winery opened in 2004. Bloxom Winery produces about 900 cases of wine, and all of the fruit used in the wines are grown on the estate. Robert started winemaking as a hobby while he lived in New York, and he became proficient enough to plant his own vineyard in Virginia. Our preferred wine here was the 2009 Chardonnay with its ripe pear notes and honeyed texture. All of the wines at Bloxom Vineyards are done in stainless steel including the Chardonnay. Sweet wine lovers may find the Some Like It Blush an interesting pour; it contains 3% residual sugar and is very, very pink. A bit too candy-like for my tastes, but I know that our friend and guest critic Michael Tyler would appreciate this one.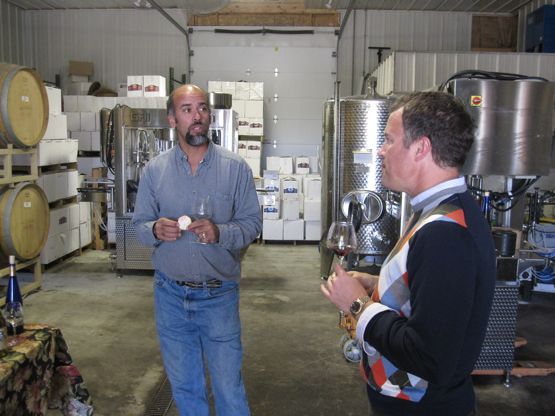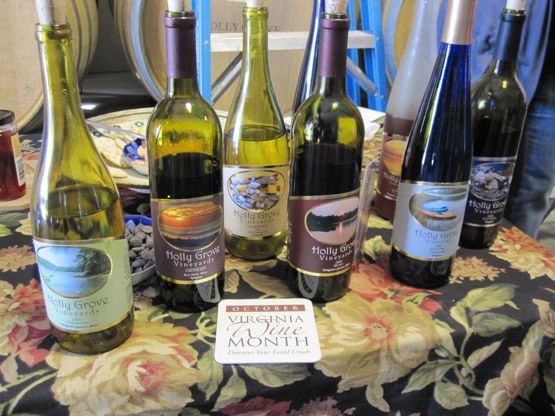 Holly Grove Vineyards: Paul and I sampled these wines a while ago at a wine festival, and we recalled being impressed with what we tasted. We were no less impressed with the current lineup this time around. Warm greetings were extended to us by assistant winemaker and enologist Paula Paschall, and our tasting was conducted in the barrel room so that we could also experience some barrel samples. Awaiting us was an impressive spread of cheeses, chutneys, chocolates, crackers and bread that paired with the wines to be tasted. Winemaker and owner Jonathan Bess met up with us to conduct the tasting and to provide some background about the vineyards, the wines, and the winery. Our tasting actually started with some tank samples of white wines, and the most impressive of these was the upcoming Coastal Trio, blend of Chardonnay, Petit Manseng, and Viognier. We noted a floral nose with some tropical fruit characteristics and a refreshing minerality. Look for this one to sell quickly upon released! Of the bottled whites, our gold star favorite was the 2008 Chardonnay with its pear notes and toasty finish. It presented a creamy mouth feel but does not undergo secondary malolactic fermentation. I'm always on the lookout for roses, and the 2009 Sunset Rose was fruity and refreshing; made from Merlot, I noted raspberry and strawberry aromas and flavors. It was slightly sweet but still crisp—one to keep on hand for the upcoming holiday gatherings when a variety of wine preferences may be visiting for dinner. The red wines were likewise well-crafted, and we both favored the Genesis, a non-vintage blend of the 07 Cabernet Franc, the 08 Merlot, and the 08 Petit Verdot. I detected a hint of violet on the nose with abundant dark fruit aromas and flavors and a hint of dried herb. A plummy pour indeed! Merlot lovers might appreciate the lighter-bodied and accessible 2008 Merlot with its smoky nose and dark cherry flavor. Of the barrel-sampled reds, I was most partial to the 2009 Cabernet Franc; it's a lighter-colored pour, and Jonathan and Paula may decide to blend it with a bit of Petit Verdot for color. However, I'd leave it alone; the lovely raspberry, strawberry, and spice characteristics recalled some of the Cabernet Francs from the Chinon region. The 2009 offering from Holly Grove should prove to be a classic.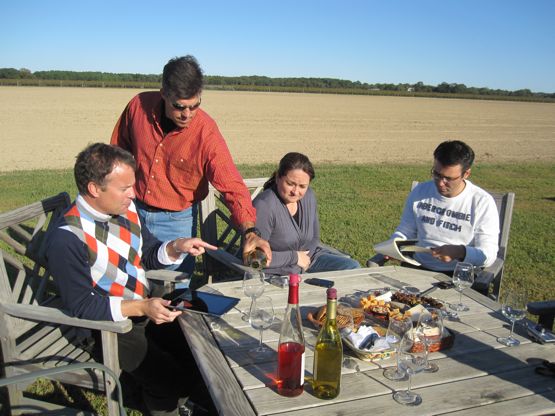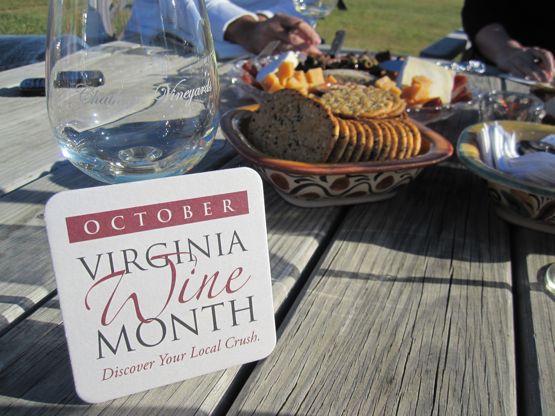 Chatham Vineyards: This was our final stop of the day, and winemaker and owner John Wehner conducted our tasting. We had never sampled the wines from Chatham Vineyards, so this was a first-time experience for Virginia Wine Time. On a gorgeous fall day, John guided us through the tasting menu outdoors, and a very generous deli platter awaited us at the table. Cheeses ranged from hard, smoked gouda squares to soft brie wedges; also included were slabs of chicken pate, bowls of olives and almonds, and drops of dried quince. Of course, the white wines were presented first for tasting, and Paul and I reached split decisions here. Paul opted for the 2009 stainless steel Chardonnay with its citrus notes, pear flavors, and crisp minerally finish. I preferred the 2009 Church Creek Chardonnay which is a blend of Chardonnay that was aged in both French and Virginia oak for nine months. Ripe pear characteristics were noted with creme-brulee at the finish. A perfect food wine, this one should complement shellfish and pork. Of the red wines, we both favored the 2008 Church Creek Cabernet Franc with its violet nose, brambleberry flavors and spicy edge. Aged for two years in French oak barrels, this one had a longer finish. I should also note that it is blended with some Merlot and Petit Verdot, so it does offer more complexity. Port lovers may appreciate the Late Harvest Dessert Wine made from Merlot. Serve at the end of a meal or on a cold day with dried fruit and strong cheeses. As we sipped and nibbled, John presented to us some of the history of the Chatham estate. It does indeed have a long history dating back to the 17th century. John and his wife planted vineyards on the property in 1999 with a first vintage produced in 2001. Twenty acres of the historic property are planted in grape vines with Merlot being the most planted grape. John Wehner learned winemaking from his parents who had a vineyard on their property in Great Falls, and we must say that John learned the craft quite well. These wines were all well-made, and John's dedication to the best vineyard practices and winemaking methods shined brightly in the bottles.
So ended the wine tour with our blogging colleagues. But were we done with food and wine? Of course not! We made our way to the B&B where we all stayed for the evening and began phase two of our writers' meet and greet. More on that in our next post. With fall colors now beginning to peak through, plan a trip to the eastern shore and visit these wineries, but be sure to mention that Virginia Wine Time sent you.