Our evening sipper last night was the 2008 Michael Shaps Chardonnay. We paired this one with a creamy Brie smeared on baguette slices. Recently we've gotten into having our cheeses with bread instead of crackers. The creamy brie with its slight nutty flavor seemed a perfect match with the fuller-bodied Chardonnay.
Has anyone noticed that I'm trying to include the Virginia Wine Month coaster in many of my pictures this month?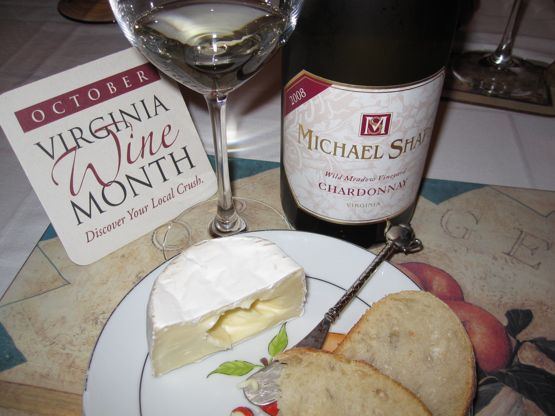 The 2008 Michael Shaps Chardonnay presented pear mores, toasted hazelnut, and pineapple on the nose. We noticed similar flavors in the mouth with a touch of apple and a creamy mouth feel. The texture of the cheese went really well with the mouth feel of the wine. This is one really nice Chardonnay. Tell us what gems you are finding during Virginia Wine Month. This is our first post for Regional Wine Week. Yay!