To celebrate the arrival of fall, we donned our favorite sweaters and took an afternoon drive to Potomac Point Winery. It was a gray day for sure, but the temperatures were cool and the breeze was crisp. As we made our approach to the winery, we were certain that we would enjoy a lunch ordered from the winery's care with whatever wine we favored at the tasting bar. Of course, that required tasting wines first—oh well!
Tasting fees are paid up front, and tasters can choose from options that include a basic tasting or a premium tasting that includes all white wines, red wines and dessert wines. We opted for the premium tasting. Of the white wines, I favored the gold-medal winning 2008 Chardonnay Reserve that was fermented in French oak barrels. Pear and melon characteristics prevailed with subtle almond flavors at the end; it gave a buttery mouth feel, too. A classic! Paul preferred the crisp 2009 Chardonnay that was aged in stainless steel yet possessed the mouth feel of an oak-aged Chardonnay. An interesting dessert wine was created with the Petit Manseng varietal. The 2007 Vin de Paille was produced from Petit Manseng grapes that were wind dried for 45 days, and the result was an amber colored, sweet wine that presented aromas and flavors of honey, dried apricots, and almonds.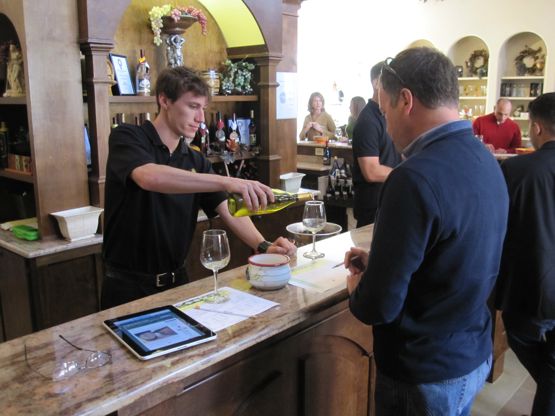 On to the red wines, and we reached a unanimous decision. Our gold-star winner was the smoky 2008 Petit Verdot. Tobacco on the nose with fruit characters of dark plums, and black cherries were noted with a splash of anise to boot. Buy now but serve later—it's certainly age worthy. Norton lovers might prefer the jammier 2009 Norton with its violet nose and spicy edge. However, red wines need not be bold and complex; they can be lighter and more forward with the intent to enjoy now. That was the case with the 2009 Abbinato which was a blend of Sangiovese and Touriga Nacional. It too presented a smoky nose with cherry and herbal notes to suggest a bistro-style wine to be served with pizza, burgers, picnic fare, or a variety of cheeses.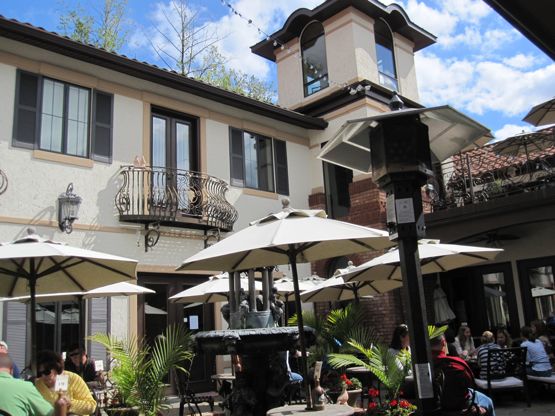 With our tasting done, we were ready for lunch. The winery features an on-site restaurant that serves cheese plates, tapas, or fuller entrees. Seating arrangements include an indoor setting complete leather sofas, patio seating, and a second-floor veranda. We were determined to enjoy the cool yet refreshing autumn breezes while out on the patio, and we ordered a deli platter that included spicy pepperoni, baguette, and an assortment of cheeses. Our wine of choice? Any of the reds would have paired quite well, but we deemed the 2009 Abbinato to be the most versatile with our plates and palates. An easy sipper, it complimented the variety of flavors and food textures on our plates.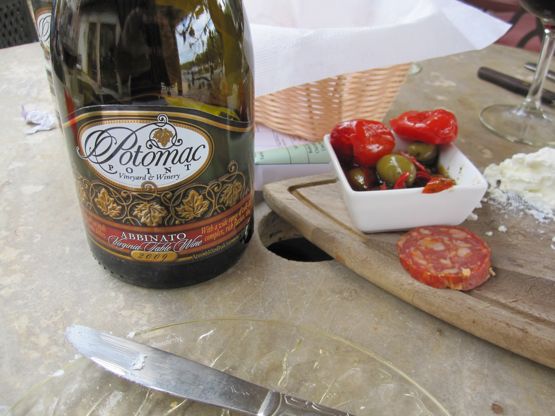 So fall is in the air, and it's also Virginia Wine Month. Celebrate with fall colors and Virginia wine with a trip to Potomac Point Winery. Mention that Virginia Wine Time sent you!