October is Virginia Wine Month, and Virginia Wine Time kicked things off with a trip to Yorktown to participate in the Yorktown Wine Festival. The Yorktown Wine Festival was held this past Saturday, and at least twenty-one wineries poured their latest releases for festival goers.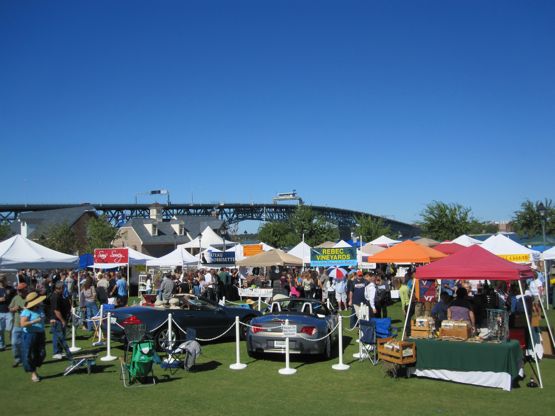 I visited almost all the booths and I must say the stand out wines of the festival were from Montedomaine. Montdomaine has been around since the 1980s but they don't have a tasting room and only pour their wines at festivals. This is the first festival where we've seen Montdomaine and we really enjoyed their wines. They poured three wines, and I sampled their 2009 Chardonnay, the 2008 Viognier, and the 2008 Merlot. All three were consistently well-crafted.. It was too difficult to pick a gold start winner. I'd give gold stars to all three. Nice job, Montdomaine!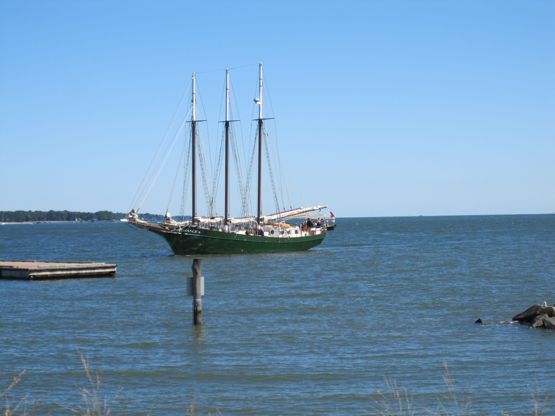 Of course I sampled many other wines. Here is a list of the wines I thought stood out at the festival.
San Soucy-Cabernet Franc
Grayhaven-2008 Sojourn Petit Verdot
Saude Creek-2008 Meritage
Montdomaine:
2009 Chardonnay
2008 Viognier
2008 Merlot
Democracy Vineyards-Revolution
Vault Field-Chardonnay (the white wines and the rose here were all consistently good)
Athena-Meritage
DelFosse-2008 Chardonnay and the Merlot
The Yorktown Wine Festival was unique in that festival goers were treated to the scenic beauty of the York River shore line with its sandy beaches and rhythmic splashing of tidal waves. On a perfect clear and crisp fall day the setting was perfect for wine, food, and music. There was even an opportunity to visit historic sites; after all, Yorktown was the site where Cornwallis surrendered to end the American Revolution in 1781.
The advantage to attending small wine festivals such as the Yorktown Wine Festival is that tasters can sample the wares from more distant or remote wineries. The Yorktown Wine Festival featured such distant wineries as San Soucy, Davis Valley, and Rebec. Think about attending one of the smaller wine festivals soon. For a list of upcoming wine festivals, be sure to visit the Virginia Wine website.
Here are some other photos from the festival.