Caroline and Todd, long time readers of the blog, recently took a trip to visit several Virginia wineries. They decided to share their impressions with us. Thanks Caroline and Todd!
Davis Valley Winery – 1 September 2010
We visited the Davis Valley Winery, which is nicely situated just outside Rural Retreat and Groseclose, VA. The winery itself is located on top of the hill on the property. Of their 300 acres, 45 are currently planted. They started growing grapes in 2000, and opened the tasting room/gift shop in 2005. They make circa 8,000-12,000 cases per year, but expected this to be a smaller crop after the winter snows and a dry summer. We sampled six wines. First was the Chardonnay, which had a crisp, pleasing nose and a light finish. Their chambourcin was sweeter than most chambourcin, and would probably be best served below the average cellar temperature for most reds. Their corot noir, the product of a test vine the winery received some time back from Cornell, had an essence of plum. Todd found it more enoyable than most pinot noirs and felt that it would stand up to more robust or spicy dishes than the average pinot. We had a split decision on the Cabernet Franc, with Todd finding it fruitier and less tannic than the average cabernet franc. Their autumn red was a blend produced from the corot noir grape but was aged in oak, and was sweeter than the previous corot noir. While it was sweeter than most dry reds, it was not sticky sweet like some dessert wines. Last was the Virginia Breeze White sweet wine, which had hints of pears and was sugary, but not to the point of being cloying, and may be a good complement to most desserts. Our hostess said that they tend to get visitors from a wide range of locations – recent guests had come from New Orleans, Philadelphia, Norfolk, and Florida. They have been regular participants in festivals in NoVa, such as Vintage Virginia.
(This is the Davis Valley entrance gate, with the winery on the hill in the background.)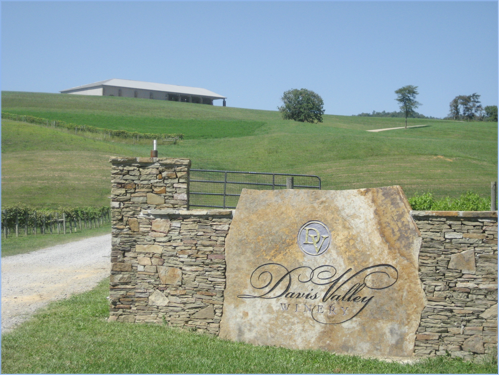 Abindgon Winery – 1 September 2010
The second winery we visited on 1 September was the Abingdon Winery. We arrived late in the afternoon when the sun was angled through the trees. Their property is striking with a creek running along the front edge of the land and a small wooden bridge for vehicles to cross to the parking area. The winery has been open since 2001, and has a broad offering of 24 wines this year. A visitor can choose six to taste; we shared our tasting to afford us sips of circa ten wines. Their norton, unfortunately, was sold out, though I would look forward to tasting the next vintage.
(This is the entrance to the Abingdon Winery grounds.)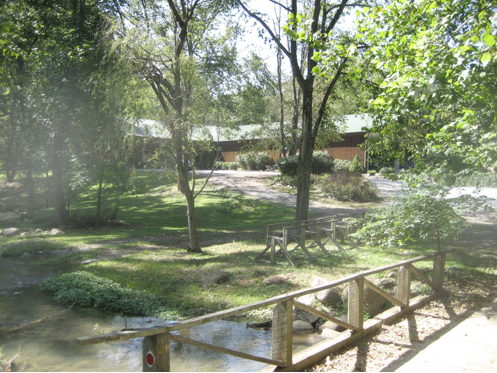 The first wine we sampled of which was the 2008 chardonel, a hybrid of chardonnay and sevyal. This wine was aged in oak for a few month and had hints of melon with a very light nose. Their oak-aged 2008 chardonnay indeed had a nice hint of oak, enough to be noticeable but not enough to overpower the butter or other aromas. The 2009 white pinot noir had an essence of pear, and was reminiscent of a sauvignon blanc. The 2009 viognier was very crisp, and is likely good with light dishes or cheeses, and would be particularly suitable on a hot day. The 2008 cabernet franc had a nice nose and a fresh taste with a hint of chocolate. Next was the 2008 cabernet sauvignon, which was light for a cabernet sauvignon but nonetheless very enjoyable. It had distinct but not excessive tannins. We both gave high marks to the 2008 chambourcin, as Todd found it to have the spicy finish typical of the best Virginia chambourcins and a smooth finish, while Caroline thought it had a ripe, full nose and a dry finish. Caroline found their 2008 Royal Blend red to have a rich and complex nose, and a smooth feel on the tongue. She felt it would go well with red meat or grilled vegetables. Their white Triple Duck dessert wine was sharp and would be enoyed by those who love thick, flavorful sweet wines. We were both quite impressed with this winery, as its wines were consistently high in quality. I would rank it at or near the top tier of Virginia wineries we have visited, up there with Linden, Jefferson, and Cave Ridge,
(This is our hostess at Abingdon, pouring a white dessert wine.)

(Pours at Abingdon Winery.)
MountainRose Vineyards – 2 September 2010
We had a good visit to MountainRose Vineyards, which is a closely-knit family operation. Their vineyards are on reclaimed land from an old coal mine, and all of their wines are named after coal veins in the area. They have 10 acres on-site, ten in Castlewood, and are planning to lease three acres of merlot for next year. They also plan a reisling varietal next year. They were, unfortunately, out of their dry Jawbone red, though the next release is in the bottle now and is expected out in November. Our hostess described the Jawbone as similar to a Shiraz.
(This is fhe MountainRose winery, with the tasting room and patio at the front.)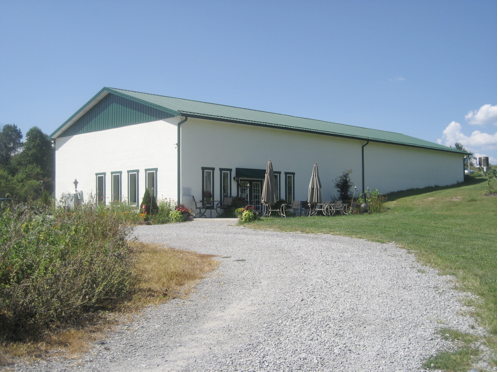 Our first sample was their Imboden white, which was similar to a chardonnay, and was a very dry mineraly white. Our hostess noted that chardonnay tends not to grow well in the area, but this was their closest-in-charachter white. It did indeed have some buttery hints like a chardonnay, and while very crisp and having less fruit than most chadonnays, was still very enjoyable. The Splashdam white is a reisling/traminette blend. It had citrus tones and a hint of pear, and its sweetness was well-balanced, making it seem less sweet than many reislings. The sweeter Banner white had essence of peach, and as advertised, was sweeter than the two previous whites. Their Darby blush exceeded our expectation, and had just the right amount of sweetness to match its perfect rose color. It is recommended for serving with eggplant parmesan or seafood. Their Sweet Mountain Rose is made from the Niagra grape, and is similar to a Muscadine. The hostess noted that it is less sweet than the previous year's, and it got a bronze medal in the Indy competition. It would make a good sangria base or would be a good red wine for a hot day, thought Caroline.
(This is the hostess at MountainRose pouring Caroline a taste of one of their whites.)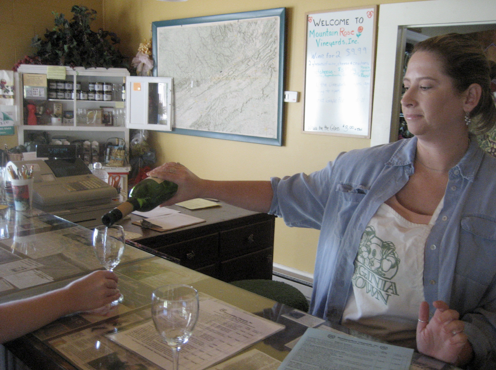 The Dorchester red is named for the coal seam on which the winery sits, and while it has a sweet nose, this chambourcin/tannat blend is drier and more mineral in taste than one might expect, with hints of oak and cherry. The hostess suggested that it could make a good base for a steak marinade as well. The sweet Pardee red is a chambourcin/chancellor blend, which had hints of honey and an ample dose of sugar. It is one of the winery's best sellers, and is good wine for none-wine-lovers to drink to lower their cholesterol. The hostess suggested using it for mulling or sangria. Their Autumn Gold, harvested in the style of icewine, would be best with non-sweet items such as dark chocolate or nuts. It won an award at the 2007 Virginia State Fair, and has won other prizes. Also notable was that the winery has redesigned their labels for this year. Again, we were pleasantly impressed with this winery – enough so to buy a case – and we will look forward to tasting the upcoming release of Jawbone Red.
Vincent's Vineyard – 2 September 2010
We visited the new Vincent's Vineyard outside Lebanon, VA, less than a year after their opening on 15 October 2009. This is a winery that will be a great attraction for fans of sweet wines. This being their first vintage, some of the wines did not have year designations for the vintage. Their cabernet franc was enjoyable, milder and less tannic than most cabernet francs, yet still robust enough to stand up to most red meat dishes. Their off-dry white wine, Angler's Choice, made from chardonel grapes, would be good as recommended with fish dishes or desserts. Their traminette had a very sweet nose and could be described as floral in the taste. Again, this would be a great wine for lovers of sweet wines with pronounced sugars. The Make Me Blush, mande from chambourcin, had a tangy finish, and was also quite sweet. Their Shepherd's White, a blend of chardonel and vidal grapes, was sweeter than the traminette. For a dessert wine, the Shepherd's Red was drier than one might have expected, with a complex nose, and more tannins and less sweet than many dessert wines. Served cold, it reminded one of a chilled mulled wine, albeit with more subtle spices and sugars than a fully mulled wine. We bought one Cab Franc and one Shepherd's Red, with the intention of serving the latter over the holidays. Our hostess mentioned that they plan to attend the holiday wine expo at Dulles in December.
(This is the Vincent's Vineyard tasting room.)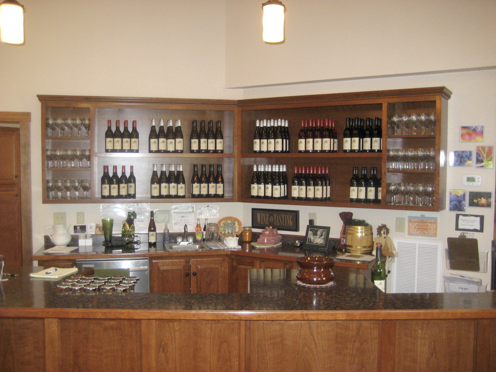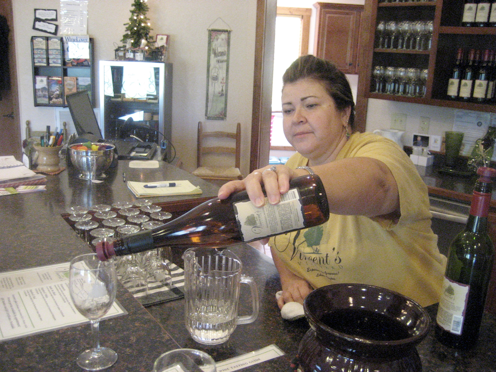 (A sample poured at Vincent's)
Another winery, Coltsfoot Winery, opened in the Abingdon area recently. They do non-grape fruit wines, including an off-dry cranberry wine, blueberry,strawberry and eldeberry sweet wines. We did not get a chance to visit them, but learned about them at the Abingdon farmers' market and will seek them out when we are back in that area. We greatly enjoyed our trip down to this part of the state. Abindgon Winery and MountainRose were definitely the highlights – it is hard to beat their combination of high quality and reasonable prices. I do not know how often we will be down this way again, but we will definitely be placing orders from these two wineries in the not-too-distant future to supplement the purchases we made on the trip.
Iron Gate Winery, North Carolina – 7 September 2010
We arrived at Iron Gate just upon its opening at 10:00a. Our hostess, Kay, noted that they have 60 acres in all of vines, including eight acres on the farm. They started production in 2000. The first wine we tasted was the 2006 Sauvingnon Blanc. (Kay noted that 2007 was a difficult year for the vineyards, due to a bad frost during the winter and a dry growing season.) The '06 had a very light aroma, and hints of grapefruit and minerals on the tongue. The 2008 sauvignon blanc had a fruitier aroma and a more floral taste. The 2006 chardonnay had well-balanced oak and butter, with hints of apricot at the finish as well. Their Pack House Red (no year given) was billed as an off-dry wine with 1% residual sugar. It had no real undesirable syrupy sweetness despite the residual sugar. It was recommended for Italian dishes and had cinnamon and cigar smoke overtones. The 2006 chambourcin was the best of the bunch, with light spice hints balanced with oak and cherry. The 2006 Merlot was very dry and well-made, while the Cabernet Sauvignon was solid with balanced tannins and hints of tobacco. The Rustic Blooming dessert wine was a Niagara/Chambourcin blend with just the right amount of sugar. The sweet Flue Fire white wine, their best seller, had hints of roses in the aroma and had a floral taste, again with a balanced amount of sweetness. Their Green Apple wine was a gewurztraminer with apple juice added for taste. At only 9% alcohol, it was light and slightly tart, but it had none of the bitterness one might have expected. It was remarkably smooth despite the combination of fruits. Similarly, their Blackberry wine is also a merlot with blackberry juice added. Also at 9% alcohol, it was light and enjoyable served cold – akin to a wine cooler. The winery has a very picturesque outdoor seating area, with a stage and a dance floor. The winery has events throughout the year at which musicians come to play.