It's been two years since we have posted about a tasting experience at Hillsborough Vineyards, and we decided to update ourselves about the latest offerings at the winery this past weekend.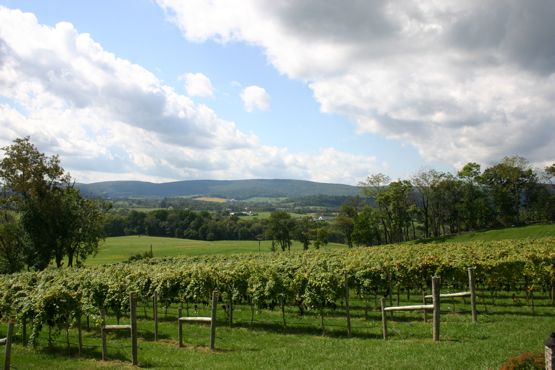 Tastings are now offered at tables and presented in four flights. The first flight presented the two white wines, Carnelian and Opal. Both are blends that include Chardonnay. Our star for this flight was the floral scented Carnelian 2007, a blend of Rousanne and Chardonnay. Pear and almond elements were apparent with a crisp, medium finish. Opal was also quite pleasant and currently features petit Manseng as well as Viognier and Chardonnay. Richer bodied, this aromatic wine would pair well with shellfish.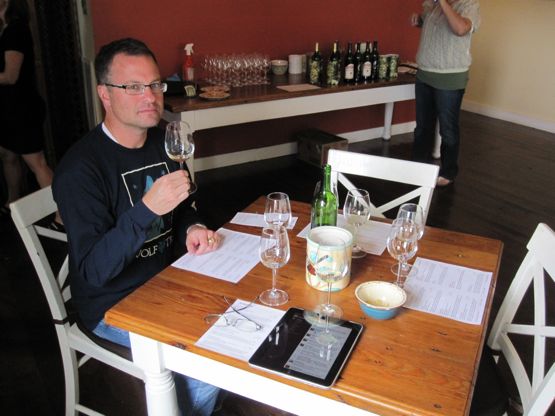 The second flight and third flights all featured red wines which ranged from the medium-bodied Garnet 2007 to the inky, bolder Onyx 2007. Garnet 2007 is a blend of traditional viniferous grapes that includes Cabernet Sauvignon, Merlot and Petit Verdot. Still young, this gemstone presents cherry and violet aromas and flavors. However, we split our gold star awards. Paul favored the Bloodstone 2006 with Fer Servadou (85%) prevailing in the blend. Supporting roles are played by Cabernet Sauvignon (10%) nd Tannat (5%). Earthy elements dominate in this full-bodied wine, and Paul noted ash and tobacco on the nose. Firm tannins and a nice structure make this one a perfect partner with steaks or game. My own star went to the Onyx 2007, the boldest of the red wine offerings at Hillsborough. Intense, inky color and layers of flavors that include dark plums, mocha and spice suggest a more complex wine. Definitely age worthy and from the classic 2007 vintage to boot, I'd serve this one with a very hearty meal on a very cold night!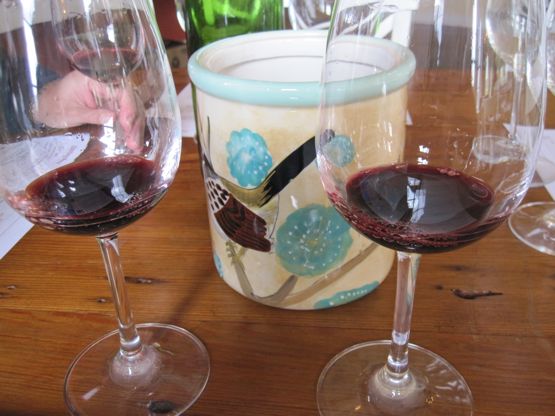 The final flight featured the crips, Provence-style rose, Seferfina 2008. Roses are versatile and by no means are they meant to be enjoyed only during summer. Herbed poultry or baked ham are commonly found on holiday menus, and Serefina should pair quite nicely with them. In fact, we enjoyed a glass of the Serefina after our tasting with a cheese plate and spicy summer sausage! Heavy cheese courses, though, should be partnered with the Moonstone 2008 made from late harvest Viognier. Aromatic with rich apricot flavors, its honeyed texture would compliment blue cheeses served with a warm baguette.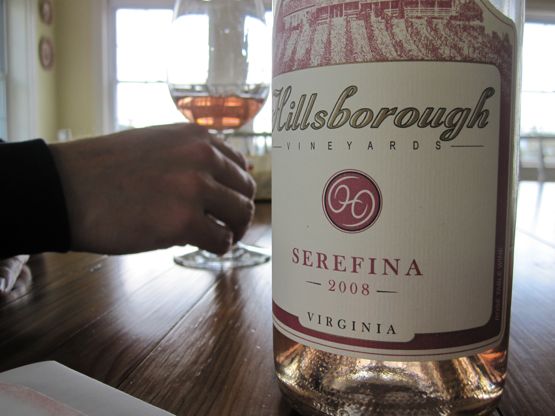 With our tasting done, we chatted for a bit with winemaker and owner, Bora Baki. Future plans include a phasing out of Viognier, a variety that Baki finds difficult to grow in the Hillsborough vineyard. Instead, efforts will be spent on Rousanne and Petit Manseng; these will be the sole varietals found in future productions of Carnelian and Opal. We're paying closer attention to Petit Manseng as it is appearing more frequently on the tasting menus and has the potential to rival Viognier as a flagship varietal in Virginia.
We promised Bora to return to Hillsborough Vineyards much sooner next time, and we know that readers will want to visit even sooner. Please mention that Virginia Wine Time sent you.